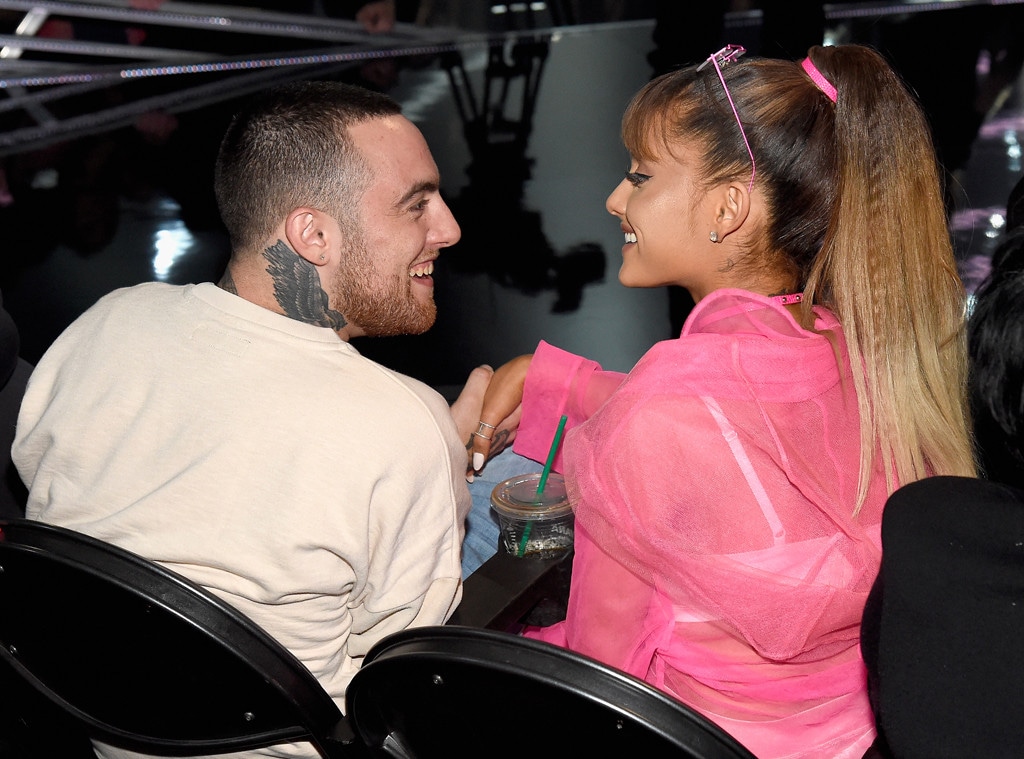 Kevin Mazur/WireImage
Some things are just impossible to get over that quickly.
Ariana Grande  broke up with Mac Miller because the relationship had turned toxic. According to friends of the late rapper, she had tried to be a rock for him in his ongoing battle with substance abuse—a battle that addicts fight forever, even when they're decades into sobriety—but they ultimately couldn't make it work. Grande didn't want to watch him go down that destructive road.
But she thought she was going to have way more time to work it out.
"Unconditional love is not selfish. It is wanting the best for that person even if at the moment, it's not you," Grande wrote in May, her first public comment regarding their breakup. "I can't wait to know and support you forever and I'm so proud of you!!"
Instead, Miller died on Sept. 7 at the age of 26. The official cause of death has not been released, pending the results of toxicology tests, but authorities initially considered it an apparent overdose.
Grande, understandably, was devastated.
Her initial public reaction was simply to post a black and white photo of her ex-boyfriend the day after he died, Miller looking up soulfully at Grande as she snapped the photo, allowing only a glimpse of her sneakers at the bottom of the frame.
A week later she posted a video she shot of him at dinner one night, the two of them laughing as she encouraged him to tell her a certain story. He's wearing a hoodie that says "Everything will be ok."
"i adored you from the day i met you when i was nineteen and i always will. i can't believe you aren't here anymore," Grande wrote on Instagram. "i really can't wrap my head around it. we talked about this. so many times. i'm so mad, i'm so sad i don't know what to do. you were my dearest friend. for so long. above anything else. i'm so sorry i couldn't fix or take your pain away. i really wanted to. the kindest, sweetest soul with demons he never deserved. i hope you're okay now. rest."
In the meantime, Grande's fiancé, Pete Davidson, got back to work on Saturday Night Live and continued to marvel in interviews over his dumb luck that Grande had let him into her life, let alone loved him and was planning to marry him.
It's "definitely going to happen, for sure," he told GQ this summer. On Sept. 24, Davidson reiterated on The Howard Stern Show that they had a wedding "game plan."
But three weeks later, they broke up—and it wasn't exactly a surprise.
Not because of anything Davidson or Grande did. Not because they had rushed into living together, let alone getting engaged. Not because they didn't really love each other.
But because Mac Miller died, and at the end of the day Grande didn't want to mourn the shockingly definitive end of one relationship on her own timetable and terms while trying to build a life with someone else.
It wouldn't have been fair to herself and it certainly wouldn't have been fair to Pete, no matter how understanding or supportive he was. As it turned out, she wasn't the "happiest [she'd] ever been."
"She has been struggling emotionally and is not in a situation where she should plan a wedding," a source told E! News after she and Davidson split up, the news breaking just a day after she was spotted backstage at SNL, the two of them still behaving like a couple. "She had to take a step back and just breathe for a minute. She's been completely overwhelmed and wants to slow down."
Another source said that Grande was "truly hurting from the death of Mac and feels very overwhelmed with her life right now. Ariana hasn't given herself enough time for the grieving and healing process, and feels like her emotions are out of control."
The insider added, "She's been battling her feelings and knows that she needs to take time for herself right now."
Just yesterday, Grande included another video of Miller in her Instagram Story, in which he's looking dapper in a tuxedo and talking to Ariana's grandmother Marjorie, known affectionately in the Grandeverse as her Nonna. 
"She's been very upset and torn up about a lot of different things," a source told E! News last Friday. "She's trying to clear her head and just keep going, living each day one at a time."
Sometimes just striving to put one foot in front of the other after the death of a loved one is all a person can manage.
"I met him when I was 19," Grande told Cosmopolitan in the spring of 2017. "We have loved and adored and respected each other since the beginning, since before we even met, just because we were fans of each other's talent. We weren't ready at all, though, to be together. It's just timing. We both needed to experience some things, but the love has been there the whole time."
They first collaborated in 2013 on the remix of her song "The Way" and shared a kiss in the music video.
"When I went back to my old school, elementary, middle school, the other day when I was in Pittsburgh, and everyone was freaking out like 'You kissed Ariana Grande.' I was like 'Yeah, you know how I do,'" Miller joked with MTV News at the time.
While Miller insisted his 2016 album The Divine Feminine wasn't just an ode to Ariana, it was about love, positive energy, the feminine underpinnings of the universe and...did we mention love?
"One of my favorite things about making music is being able to capture the human experience from different angles," the rapper, who burst onto the scene with his 2011 debut LP Blue Slide Park, told Vice's i-D. "And I feel as though I'm an artist that's not sewn into an identity." When he was finishing his critically acclaimed GO:OD AM and people asked what he wanted to do next, he said, "It got me thinking about how I don't feel I've tackled love enough."
Making The Divine Feminine "was about using my experiences as inspiration and broadening them into something that's deeper than just a personal narrative—really getting into the idea of love," Miller, who was born Malcolm McCormick, said. 
He continued, "To me, love is the most beautiful emotion and no matter what, you're overwhelmed. It's like nothing exists anymore. That's where we start—that blinding, overpowering love high. It gets into sex, issues, resolve; it goes through this path that applies not just to love of another person, but love in general, the feminine energy of the planet."
Miller also said, "My grandma has the best love story in the world; that story is what I've been chasing my whole life. Seeing her love for my grandfather has inspired me from both sides of the table, about how a woman can treat a man and a man should treat a woman."
Similarly, Grande was very close to her grandfather Frank, Marjorie's husband, who died in 2014. In addition to the video of Nonna and Mac together, she posted several pictures of her granddad over the past several hours in honor of what would have been his birthday today. Frank and Marjorie were married for 67 years.
On The Divine Feminine, Grande joined Miller on the song (and in the video for) "My Favorite Part," in which he sings, "I know you far too smart / Before things come together, they have to fall apart / It's been a while since I've been sober / This life can be so hard... I'd rather talk about you."
He wrote it before he started dating Grande, Miller told People, but "we made that song and started becoming close again. It's very dope and I like how that worked out."
And that wasn't all that was working out for him.
"The idea of being 100 percent clear-headed was something I realized I had never done," Miller told Nylon about the new experience of working on an album while completely sober. "As soon as I felt what it felt like to wake up every day and feel good every morning, I realized how important that was for me. You can do so much with a day. I spent so many days just waiting for the next one to come.
"Now, I'm excited for every day, which is really great. As soon as I learned that I could do things creatively sober, then it was good. As long as I can still be creative, I'm geeked. It's even better because before, my every other aspect was destruction. Now I can do both which is important because they feed off each other."
And he and Grande, who performed "The Way" and his tune "Dang" together onstage at the One Love Manchester benefit concert in June 2017, truly seemed to have carved out a happy niche for themselves.
But kicking self-destructive tendencies isn't so simple. Miller had been using drugs on and off since he was 15, at one point developing a cough syrup-and-soda habit that led to him gaining 40 pounds—which he lost mainly because he didn't want to be heavy on his own MTV series, Mac Miller and the Most Dope Family, which ran for two seasons.
"I kicked it. But it's addictive; don't mess around," he told MTV in 2013. "I don't know how down and bad I was—but I guess I was."
Mac "had a lot of good stuff going on," Shane Powers said on his podcast, The Shane Show, last month. "Ariana and him were together and they were very much in love. And I have to say, she was incredible when he was first sobering up. She was a f--king G to him. There could not have been anybody more supportive of him being sober than Ariana.
"I saw that, I was around it," Powers continued, "I took phone calls from her, 'How do I help? What do I do?' This little girl was unbelievably involved and helpful to him being healthy. Because whether he's an addict or not, the way that Mac partied was not healthy."
In April 2017, talking to W, Miller indicated that he wasn't entirely abstaining from substances.
"You know what, it's funny because this is what I realize, I'm learning more and more what I want to share and what I don't," the artist said. "Because I'm always just like—I sit down in interviews, and I just talk, and there's no thought in my head of like, Don't say that. Someone asks a question, and I'm like, 'Yeah, da da da da da,' and all the sudden we're talking about issues I had with my dog that made me cry. I don't know.
"But," he continued, "I've spent a good time very sober and now I'm just, like, living regularly. I think it's important. I don't believe in absolute anything, but I think not sharing that type of information, because it becomes like, 'Oh he's sober, oh he's not, oh he has a beer, oh my god.' I just realized some things are important to just keep for yourself. That was a learning experience. But it was important to let everyone know that I wasn't doing f---ing crazy amounts of hard drugs. That was good to get out there."
In his own public response to Miller's death, Ariana's brother Frankie Grande, who marked a year of sobriety in June, wrote on social media that his sister's former boyfriend was the one who inspired him to seek help.
"He was a good friend and was wonderful to my sister," Frankie wrote. "He was the reason I went to the rehabilitation center where I was detoxed safely from all of the drugs alcohol and medications I was taking, when I couldn't imagine living without them. 
"It was the place where I found the community of support that showed me that living life without drugs was a possibility and I would never have discovered that if it weren't for Malcolm. I remember when I would get 30, 60, 90 days clean and Malcom would be there with a gift and a card and words of encouragement... telling me that he knew how hard getting sober is and how impressed he was that I was succeeding."
When Grande and Miller broke up in May, the separation looming since before they traveled to Coachella together in April, fans took it hard. They took it harder when, less than two weeks later, Miller was arrested after leaving the scene of a DUI crash, having hit a utility pole.
Accusations that she had caused him to fall off the wagon or had abandoned Miller in his hour of need, or otherwise stomped on his heart after, according to at least one guy, he poured out his feelings about her in The Divine Feminine, prompted Grande to set the record straight about what had become the undeniable dynamic of their relationship.
"How absurd that you minimize female self-respect and self-worth by saying someone should stay in a toxic relationship because he wrote an album about them, which btw isn't the case (just Cinderella is ab me)," she began. "I am not a babysitter or a mother and no woman should feel that they need to be. I have cared for him and tried to support his sobriety & prayed for his balance for years (and always will of course) but shaming/blaming women for a man's inability to keep his s--t together is a very major problem.
"Let's please stop doing that. of course I didn't share about how hard or scary it was while it was happening but it was. I will continue to pray from the bottom of my heart that he figures it all out and that any other woman in this position does as well."
A source told E! News after the split, "Ariana was holding Mac together for a long time and it wasn't a good relationship for her." She had started dating Davidson and was "in a very good place and very happy."
But she didn't know that there wouldn't be more time.
Multiple sources have said that she and Davidson aren't entirely out of contact, but she did return the $100,000 engagement ring he gave her in June and things remain up in the air. They still care about each other but it wasn't the time to move forward.
"Their relationship was not healthy the way it was going," one source said. Another source close to the both of them said, "Their relationship was complicated and, while they made each other happy, the passing of her ex-boyfriend weighed heavily on the two of them."
Davidson is working it out his way, cracking jokes about the breakup and raking himself mercilessly over the coals at a benefit show over the weekend in L.A. SNL is on hiatus until Nov. 3, and last week our source said he was "concentrating on himself and work."
Which is for the best, because Grande didn't want to have two complicated relationships at once.
For her 24th birthday last year, Mac Miller wrote to her (via Her), "Happy birthday to this adorable pure soul who has reminded me what being happy feels like. Thank you for loving me so good.
"I think it's supposed to be 'so well' but I don't care. I love you and can't wait for all of the adventures."
By the time her 25th birthday rolled around in June, Miller had deleted all of his previous Instagrams and he didn't start fresh until July.
"I was in love with somebody," he told Beats 1 host Zane Lowe a couple weeks before his last album, Swimming (which was mined for clues about Grande but was conceived years ago), came out Aug. 3 . "We were together for two years. We worked through good times, bad times, stress, and everything else. And then it came to an end, and we both moved on. And it's that simple, you know?" It was "strange" that she was engaged, Miller acknowledged, but "it's all positive energy. I am happy for her and moving forward with her life just as I'm sure she is with me."
With only one of them still able to move forward, there's a lot left for Ariana Grande to unpack on her own.