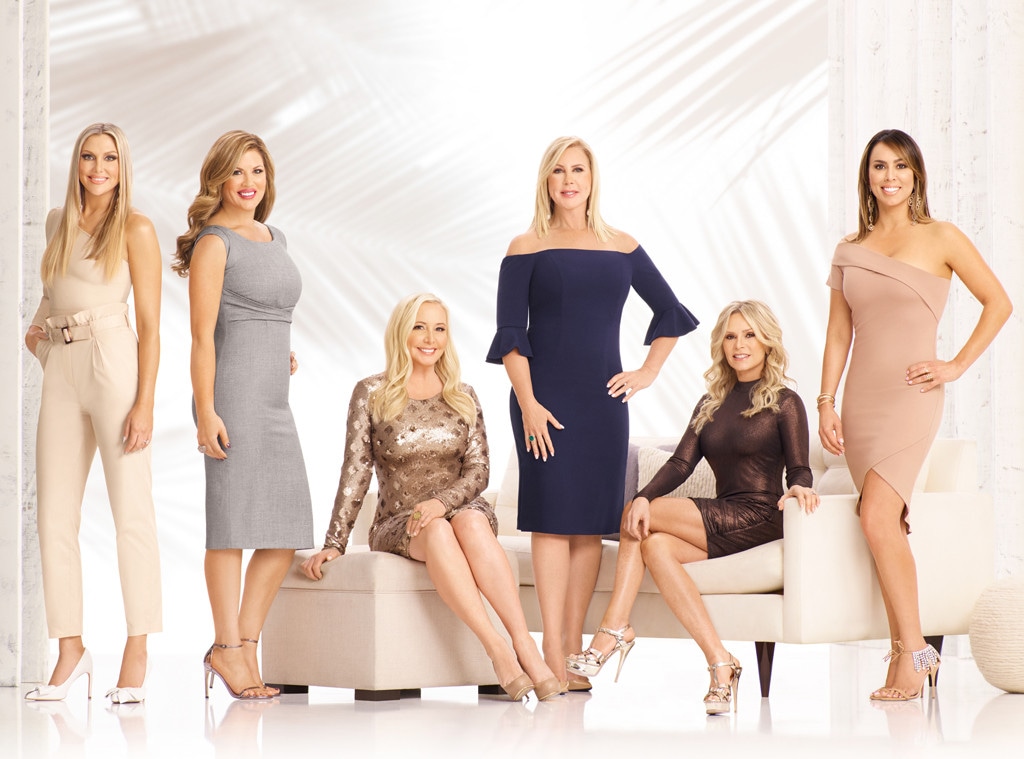 John Tsiavis/Bravo Media
Would it be a Real Housewives vacation without an explosive fight between friends? No, reader, it wouldn't. The Real Housewives of Orange County delivered on the vacation drama during the second episode of the Jamaica trip when a dinner turned into an all-night fight between…Shannon Beador and everyone? Maybe everyone but Emily Simpson? It's hard to say.
Emily and fellow newbie Gina Kirschenheiter had been trying to bond with Shannon, but haven't had much luck. Meanwhile, Tamra Judge was getting tired of the negativity and said Shannon was being a Debbie Downer on the vacation. That, coupled with some lingering animosity over a perceived imbalance in their friendship and Tamra was not exactly thrilled with Shannon.
What started at dinner spilled over to the van ride back to the hotel, then outside the hotel and finally inside their penthouse that was still lacking air conditioning. Kelly Dodd and Vicki Gunvalson suggested Shannon go on medicine to deal with the emotions she was struggling with. It didn't go well.
"This is a very difficult episode for me to watch. First, to re-live the pain I was going through at the time in a fairly new separation, but also to hear what my friends were saying behind my back," Shannon wrote in her blog, noting she would dive into everything at the reunion. "It can only get better from here," she said.
Kelly explained why she thought Shannon could benefit from some sort of medication in her blog. "Let me say this: I'm not saying or implying that Shannon is crazy. Life is crazy! What I have witnessed has given me concern. There's no shame in seeking treatment. It's up to everybody to find their own solutions and figure out what works for them," Kelly wrote. "Maybe after this conversation, Shannon will take steps to deal with her emotional pain so she doesn't take it out on other people. I don't know what it will take for her to believe we were trying to help. In the meantime, there was nothing we could do to calm her down."
In her blog, Tamra explained her feelings more.
"The constant negativity was driving me crazy. I was at my breaking point with Shannon. I love my friend dearly, but it wasn't OK for her to act this way anymore," Tamra wrote.
Shannon's main excuse for her behavior was she had a lot on her plate between her QVC business, divorce, raising her kids, and then learning she had to move. "Saying you have too much on your plate to acknowledge somebody on vacation makes no sense. Here's the thing: It's really hard for me to tell Shannon when she's acting out, because all she does is get mad and ices me out. So I just don't say anything most of the time," Tamra said. "It really upset me that Shannon would go off on me at the restaurant. I am the one that is always there for her, makes excuses for her behavior, and supports everything she does. Sometimes it's exhausting!"
Tamra said everybody was speaking from a place of concern, but Shannon can't see it.
"When you continue to complain about the same thing over and over again and do nothing about it, I can't feel sorry for you anymore. You have choices in life. Either you can be happy or you can be miserable. I told Shannon it's time for her to flip the switch and be happy," Tamra wrote.
After the fight, Shannon ignored everybody's calls and emails and did not go on the excursion.
What happens next? Watch The Real Housewives of Orange County on Mondays, 9 p.m. on Bravo.
(E! and Bravo are both part of the NBCUniversal family.)