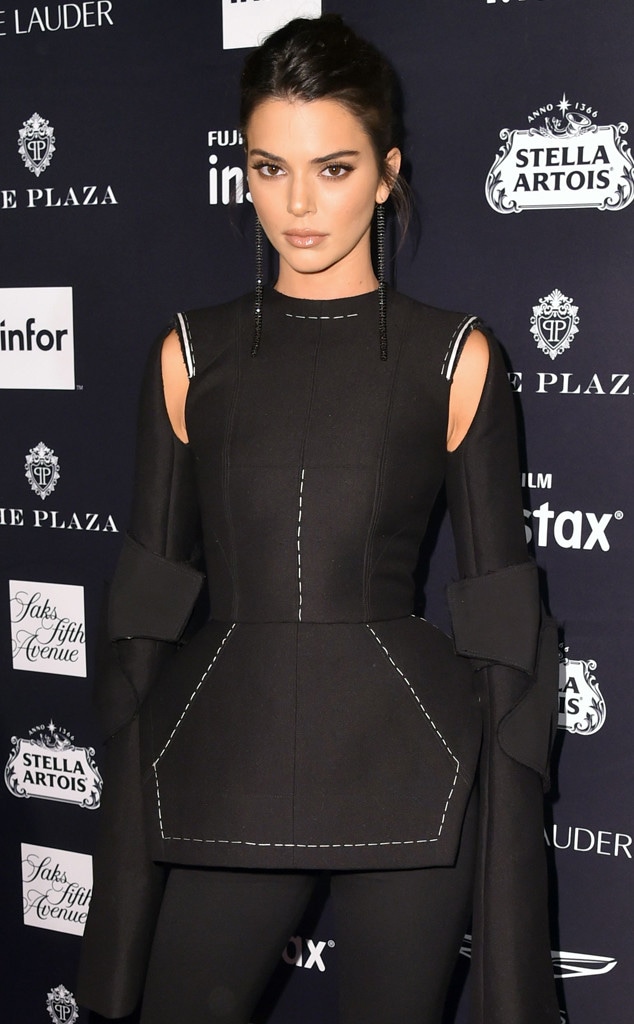 Stephen Lovekin/Shutterstock
Vogue is responding to backlash and accusations of cultural appropriation after publishing photos of Kendall Jenner in an afro hairstyle.
The photos were posted over the weekend on the fashion magazine's Instagram page. Both portraits of Jenner show her wearing the '70s hairstyle and have captions that honor the Council of Fashion Designers of America. One caption said, "Fifteen years and 150 finalists later, the @CFDA/Vogue Fashion Fund prize has created global stars, local heroes, a must-watch New York Fashion Week, and, most important, a true sense of community among designers of all ages and backgrounds—all with differing aesthetic and commercial aspirations—who communicate, collaborate, and essentially care for one another through the fun and not-so-fun times."
Jenner posed alongside model Imaan Hammam, who wore her hair straight,  in one of the pictures.
While Instagram users have both praised and criticized Vogue and Jenner, the magazine has spoken out to clarify the inspiration behind the photos. In a statement obtained by E! News, Vogue said, "The image is meant to be an update of the romantic Edwardian/Gibson Girl hair which suits the period feel of the Brock Collection, and also the big hair of the '60s and the early '70s, that puffed-out, teased-out look of those eras. We apologize if it came across differently than intended, and we certainly did not mean to offend anyone by it."
Jenner has faced backlash before for similar reasons. In April 2017, she appeared in a Pepsi ad in which she leaves a photo shoot to join a protest passing by on the street. Near the end of the commercial, she hands a can of Pepsi to one of the police officers standing in a row. Afterwards, the cop takes a sip and smiles, and the rest of the crowd erupts in cheers. 
The moment in the commercial reminded many people of a famous photo of protester Iesha Evans standing calmly as two Louisiana state troopers approach her in riot gear.
Pepsi pulled the add one day later. "Pepsi was trying to project a global message of unity, peace and understanding," the company said in a statement. "Clearly we missed the mark, and we apologize. We did not intend to make light of any serious issue. We are removing the content and halting any further rollout. We also apologize for putting Kendall Jenner in this position."
Jenner later addressed the controversy during her April 2018 cover photo shoot for Vogue. "Obviously, my intention was not to hurt anyone," she said at the time. "Honestly, I just hid out. It hurt me that I hurt other people."
The model added, "I am a huge people pleaser, and that is what my job has always been: You come to set and you do what you're told."