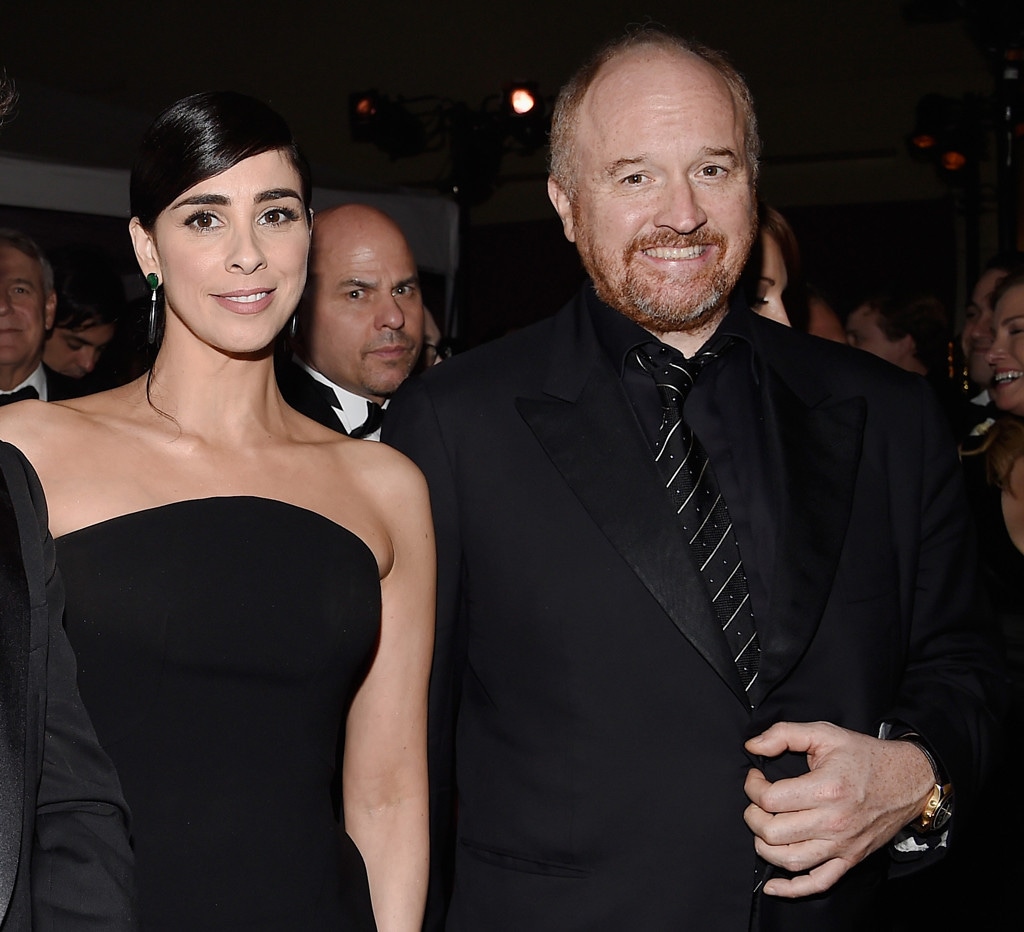 Kevork Djansezian/Getty Images
You just never know what Howard Stern's radio guests are going to talk about.
On Monday morning, Sarah Silverman started her week by appearing on SiriusXM's The Howard Stern Show.
During the lengthy conversation, the comedian opened up about her relationship with Louis C.K. and shared some surprising memories including the time he masturbated in front of her with consent when they were younger.
"I know I'm going to regret saying this," the Emmy winner shared. "I've known Louis forever. I'm not making excuses for him, so please don't take this that way. We are peers. We are equals."
She continued, "Sometimes I'd go, 'F--k yeah, I want to see that!' … We were only just friends. Sometimes, yeah, I wanted to see it. It was amazing. Sometimes I would say, 'F--king no, gross,' and we got pizza."
Back in November, Louis made headlines after five women accused the comedian of sexual misconduct.  He would later apologize to the individuals who came forward in the New York Times expose.
"These stories are true. At the time, I said to myself that what I did was okay because I never showed a woman my dick without asking first, which is also true. But what I learned later in life, too late, is that when you have power over another person, asking them to look at your dick isn't a question. It's a predicament for them. The power I had over these women is that they admired me. And I wielded that power irresponsibly," he shared in his statement. "I have been remorseful of my actions. And I've tried to learn from them. And run from them. Now I'm aware of the extent of the impact of my actions."
Louis added, "I have spent my long and lucky career talking and saying anything I want.  I will now step back and take a long time to listen."
While talking with Howard, Sarah made sure to explain that her encounters are "not analogous to the other women that are talking about what he did to them." She insisted that they were simply "letting our freak flags fly."
Recently, Louis made a return to the stage and made an unannounced appearance at the Comedy Cellar in New York. When asked about the controversy surrounding his return, Sarah had mixed emotions.
"I get it. I'm not in the business of telling people how to feel. He's my brother and I love him," she explained to Andy Cohen Monday on SiriusXM's Radio Andy show. "I can understand, I can try to understand him... I think I'm too close to really see the big picture."