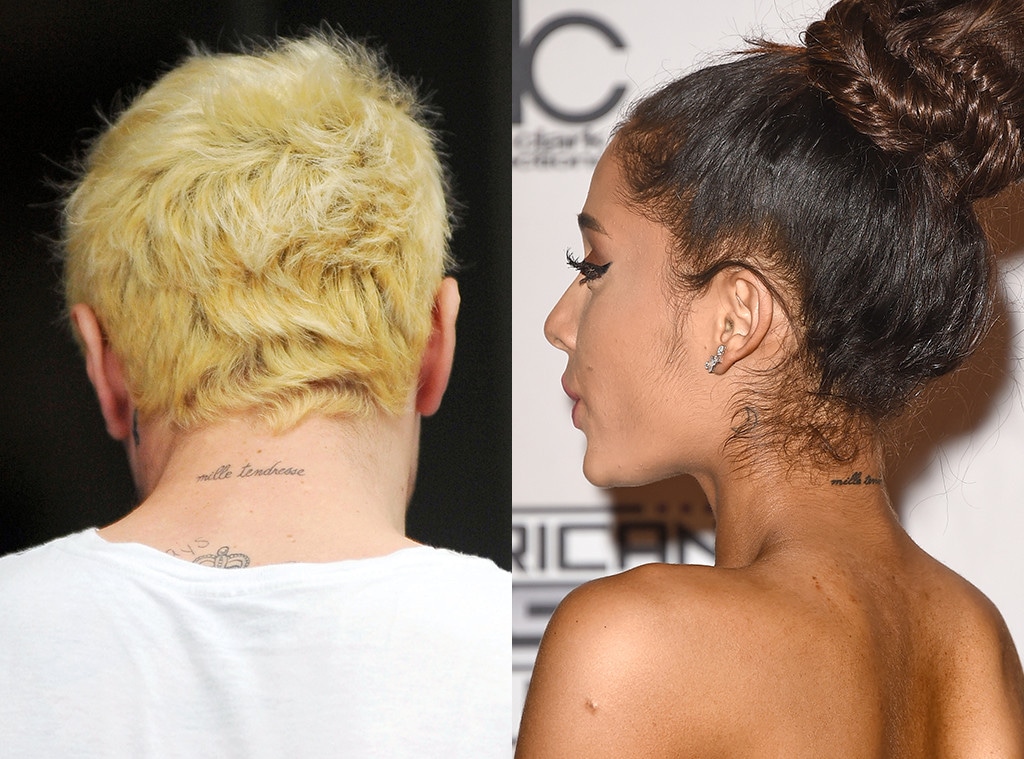 UMV/Star Max/GC Images; Getty Images
Did no one learn anything from "Winona Forever"?!
Couples can do an infinite number of things to show their affection for each other, from elaborate gestures like whisking your partner away on a surprise getaway to the more day-to-day stuff such as making time for date night or taking out the trash simply so your beloved doesn't have to.
And yet so many still go for the branding of the flesh. 
"Um, I've been covering a bunch of tattoos, that's fun," the newly single Pete Davidson told a Los Angeles audience at a benefit show on Saturday night, acknowledging that getting at least four tattoos commemorating what turned out to be a short-lived engagement to Ariana Grande may not have been the best choice. "I'm f--king 0 for 2 in the tattoo [department]. Yeah, I'm afraid to get my mom tattooed on me, that's how bad it is." (He also had a tattoo of ex Cazzie David's face, which he covered up before proposing to Grande.)
But Grande wasn't any less enthusiastic about their long-term prospects, hence the Band-Aid she wore on her left ring finger last week, right where the word "Pete" was etched early this summer.
There's just something about having either their boo's name or a symbol that means something super romantic to the both of them tattooed on their skin that keeps people coming back for more, despite all the evidence that writing "forever" doesn't always translate. 
Except when it comes to your removal options which, like excising someone from your life, is painful, requires multiple steps and takes an unfortunate amount of time and money.
Johnny Depp infamously had "Winona Forever" scrawled on his arm in tribute to his early-'90s soul mate Winona Ryder, and that ended up being replaced by "Wino Forever"—which also turned out not to be such a great idea for the mercurial movie star.
And even Depp didn't learn from that. He's had the "S-L-I-M" once tattooed on his knuckles in honor of now ex-wife Amber Heard altered twice, first to "S-C-U-M" and, in April, to "S-C-A-M." 
"I've only done one session on it, but it is incredibly, incredibly painful," Megan Fox described the process on Ellen back in 2012. "Wherever the ink is, the laser hits it and it sort of pops up like little pieces of popcorn and explodes your skin. It's really awful. So kids, don't ever get tattoos!"
The Transformers star was not having a relationship tat removed; rather, she had realized that Marilyn Monroe was a person to admire but not necessarily aspire to being like. But that, not including getting more ink to alter the existing message or pattern, is what people such as Angelina Jolie, Heidi Klum, Adrienne Bailon and Russell Brand have gone through to wipe the epidermal slate clean.
Jolie had "Billy Bob" and a dragon inked on her left shoulder in honor of what turned out to be a three-year marriage to Billy Bob Thornton, and it was eventually painstakingly replaced by the geographical coordinates of the birthplaces of her six children and longtime partner Brad Pitt.
Getting inked in honor of Pitt seemed like a safer bet, including when she had three Thai sak yant tattoos added to her back in early 2016 by artist Ajarn Noo Kanpai, whose handheld method using steel rods mounted with a surgical steel needle is said to be way more painful than the normal agony associated with the process. Pitt, who in 2015 surfaced with an "A" and, separated by t-line like a two-column chart, the first initials of all the kids on his right wrist, also got inked by Kanpai on the side of his stomach, a gesture that's said to "spiritually bind" a couple.
Jolie filed for divorce months later.
Getty Images for Harper's BAZAAR
But if you can't take a shot with the person who for all intents and purposes at least seems to be your forever-love, what can you do?
At least most of Pitt's initial tattoo is salvageable, as Heidi Klum demonstrated when she had "Seal" removed from her right forearm, but left the initials of her four children that were spelled out in stars next to it.
In Justin Bieber's case, at least there's so much going on all over his body that the picture of Selena Gomez's face blends right in.
BG024/Bauer-Griffin/GC Images
"Uh, this is my ex-girlfriend," he said, pointing to the likeness on his left arm in a video for GQ. "So I kinda try to cover her face up with some shading, but people still know."
Melanie Griffith initially dabbed makeup where the name "Antonio" used to be on her right shoulder after her 18-year marriage to Antonio Banderas ended in 2014, the nude skin making it look as if his name had literally been erased.
Once again, tattoo removal is a process, and at one point the veteran star cheekily taped a patch with "Mel" written on it over the heart, signaling her renewed appreciation for herself and her own company.
Adrienne Bailon let Extra go with her to the Laser and Skin Surgery Center New York to have the "Robert A. Kardashian" tattoo on her bottom removed after two unsuccessful attempts at other places—and  about five years after it didn't work out (to say the least) between her and Rob Kardashian. Still, it was going to be a five-visit process.
"For me, I feel like getting the tattoo was painful, and I think living the last six years with somebody's name on your body is a little weird," she said, laughing, "and that's a bit more painful to, like, have to explain that to my kids." (Attention Ariana: Bailon swears by the PicoSure laser if you're looking for a spot in NYC...)
"I'm not going to lie to you," The Real co-host said while lying on the table, "I was so nervous and I think I've had really painful experiences before doing laser-tattoo removal, like literally smelling my flesh burning." This time, "I literally didn't even get to the chorus of the song [she was listening to] and he was done."
No word on what Kardashian did with the "Adrienne Eliza Bailon" script on his rib cage, but Blac Chyna had the "Future" script tattoo on her hand removed when she started dating the Arthur George sock purveyor in early 2016.
When she first showed off the "Future" tattoo in October 2015, Future himself seemingly denied that it had anything to do with him—or at least that he was dating anybody.
"Single & focusing on what makes me happy," the rapper, who had messily broken up with Ciara in late 2014, tweeted. "Satisfying my fans with great vibes& waves consistently is the Turnup..winning." (Ciara, incidentally, had to get the tattoo of her ex-fiancé's initials removed from her ring finger, too.)
Dimitrios Kambouris/WireImage
Like Pete Davidson, Eva Longoria had several odes to husband Tony Parker inked here and there on her body, including his name on the nape of her neck and their wedding date on her wrist, none of them usable after their divorce in 2011.
"This is a tale for all young kids," the actress said in documenting a 2016 trip to removal specialist Dr. Tatoff on Instagram Story. "It hurts to get a tattoo, but it's 10 times worse getting it off!"
Information that would've been helpful for Katy Perry in 2010 when she and Russell Brand got matching Sanskrit tattoos reading "Anuugacchati Pravaha" ("go with the flow") after they got engaged.
"It was her idea. It's always her idea," Brand said on Jimmy Kimmel Live in December 2011, shortly before they split up but also shortly after after they both went and got more art, the comedian scoring one for his favorite football club, West Ham, and the pop star emerging with a candy cane swirl. "She's always scribbling permanent things on my body for a laugh."
At least going with the glow is decent life advice if you're in no rush to suffer physical pain on top of emotional numbness. Kaley Cuoco hightailed it to Studio City Tattoo two months after filing for divorce from Ryan Sweeting to get a butterfly drawn over the wedding date on her upper back. Denise Richards similarly had the "Charlie" on her ankle masked by a winged fairy.
No word yet on what Channing Tatum and Jenna Dewan are going to do with the matching "side by side" tattoos—borrowed from their wedding vows—that are on his chest and her ankle, which they got on their honeymoon. They announced their split in April.
"It was a joint decision. We always wanted to get a tattoo of something together," Tatum told People at the time. "We weren't going to do each other's names. We wanted to do something symbolic. It was in one of our vows to each other. We took it from that."
Simply, getting tattoos is a trend that started in the 4th millennium and has shown no signs of slowing down.
"So, obviously you know I—we—broke up or whatever but when me and her first got engaged we got tattoos," Pete Davidson continued his story on Saturday. "And it was, like, in a magazine, like, 'Was Pete Davidson stupid?' And 93 percent of it said 'yes.' So my boy, he was like, 'Don't listen to that s--t, man. They're literally f--king haters.' And I'm like, 'yeah, f--k that. I'm not stupid.'
"And the other day we were in my kitchen and he was like, 'Yo bro. Turns out you were stupid.'"
But he's hardly alone.