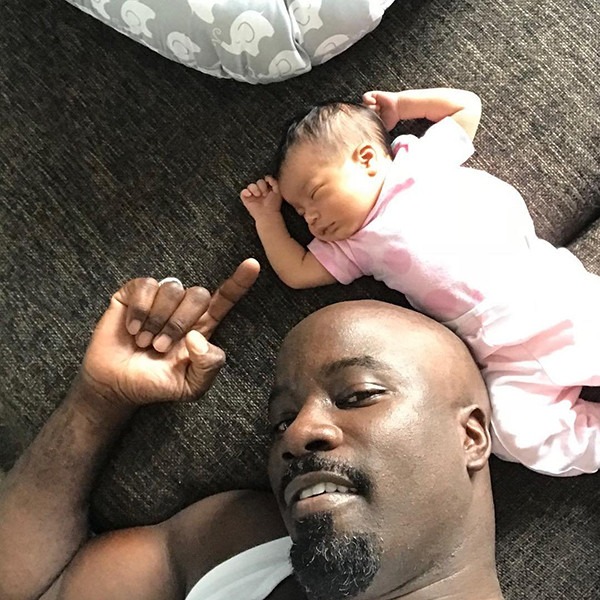 Instagram
Mike Colter had a pretty good weekend, all things considered.
On Saturday, multiple outlets reported Netflix had canceled Marvel's Luke Cage after two seasons. The news came one week after it pulled the plug on its sister show, Marvel's Iron Fist. Mike broke his silence on the matter Sunday, writing on Instagram, "Luke Cage represented something more than just entertainment. Marvel's Luke Cage added to our social commentary and made viewers think by challenging the norm and putting out a character that reflected the everyday hero, one with flaws, strengths and everything in between. I am forever grateful to Marvel and Netflix for letting me portray such a prolific character. Thanks to the amazing fans."
The actor also revealed something else: he and wife Iva Colter, a Netflix executive, had just given 3-year-old daughter Naiella Colter a sibling. "As one door closes, another has opened, with the birth of my second daughter. Born this week. A lot of great memories," he wrote on Instagram, sharing a picture with fans. "Time to make more. Always forward, forward always."
Elodie Yung, who played Elektra in The Defenders, commented, "Congrats Mike!" Antonique Smith, who starred as Detective Nandi Tyler in Luke Cage, added, "She's beautiful! Congrats!"
Mike did not share his daughter's measurements, name or weight with fans.
Marvel and Netflix issued a joint statement over the weekend, confirming the series had been axed from its lineup. "Unfortunately, Marvel's Luke Cage will not return for a third season," the statement read. "Everyone at Marvel Television and Netflix is grateful to the dedicated showrunner, writers, cast and crew who brought Harlem's Hero to life for the past two seasons, and to all the fans who have supported the series." In the aftermath, series showrunner Cheo Hodari Coker tweeted, "A lot [of] memories. A lot of individual thank you calls to make. Just want to say thank you to Marvel, Netflix, the best writer's room, cast, crew, the Midnight Hour, all those who graced the stage at Harlem's Paradise and the most incredible fan base in the world." Cheo also ended his note with the character's call to action, writing, "Forward always..."