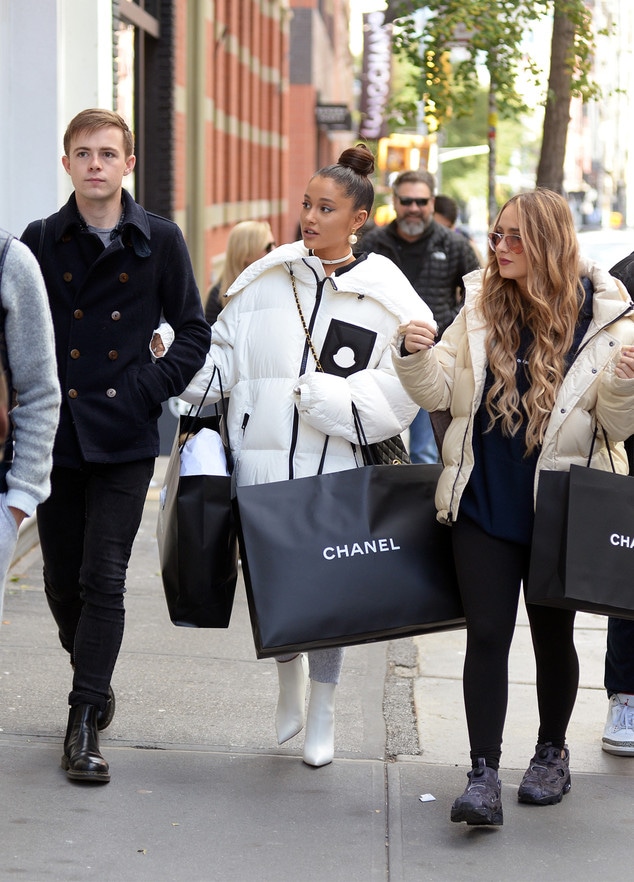 Splash News
New wardrobe, who dis?
On Sunday, Ariana Grande took a stroll with some of her friends in New York City and enjoyed a day of shopping, especially at Chanel. The "No Tears Left to Cry" singer looked extremely stylish as she walked down the street in a giant white parka, grey pants and white Christian Loubtouin pointed-toe boots. She traded in her signature high ponytail for a top bun instead.
Grande displayed some of the bags on her Instagram story alongside two cute, small dogs. 
Right in the middle of her Instagram story between pictures and Boomerangs of her shoes and dogs, the artist uploaded a note that preached self-love. "Protect your peace, get rid of toxicity, cleanse your space, cultivate love," it said.
Grande and her fiancé Pete Davidson  broke up and called off their engagement last week after a few months together. Since then, Grande has skirted around addressing their relationship, whereas the Saturday Night Live cast member has spoken about it a bit.
On Tuesday, without mentioning him by name, Grande said she was going to "say bye bye" from the Internet for a while. She wrote on her Instagram story that day, "time to say bye bye to the internet for just a lil bit. it's hard not to bump news n stuff that i'm not tryna to see rn. it's very sad and we're all tryin very hard to keep goin. love u. and thank u for bein here always."
Her absence from social media didn't last long, however her subtle message about Davidson resonated.
Since the split, a source told E! News that the Sweetener singer has been "in close contact with her family and they are keeping an eye on her and supporting her."
The insider added, "They want what's best for her and to do what she feels is best for herself."
Grande and Davidson both made their first public appearances early last week—Grande on Tuesday and Davidson on Wednesday. 
She performed at the taping of NBC's A Very Wicked Halloween, which is a tribute to the Broadway play's 15th anniversary. While there, it became visible that she covered up one of her Pete Davidson-inspired tattoos with a Band-Aid.
The comedian was spotted on Wednesday while spending some quality time with his family in New York. Another source told E! News, "Pete's doing fine. He has a strong support system of family and friends around him that are keeping him laughing."
On Saturday, Davidson co-hosted and performed at the comedy show Judd & Pete for America in Los Angeles, where he joked about his split and needing a new place to live. "Well, as you could tell, I don't want to be here. There's a lot going on," he quipped to the audience. "Does anybody have any open rooms? Looking for a roommate?" He and Grande moved into a $16 million New York apartment together after their engagement.
When Davidson and Grande were together, the two of them got a hefty number of tattoos dedicated to each other, especially Davidson. He covered up one of them right before their breakup was announced, but there are still many more to go. 
"So, obviously you know I, we [Ariana and I] broke up or whatever but when me and her first got engaged we got tattoos," he said later on in the show. "And it was like in a magazine like, 'Was Pete Davidson stupid?' And 93% of it said yes," Davidson told the audience. "So my boy, he was like, 'Don't listen to that s--t man. They're literally f--king haters.' And I'm like, yeah, f--k that. I'm not stupid. And the other day we were in my kitchen and he was like, 'Yo bro. Turns out you were stupid.'"