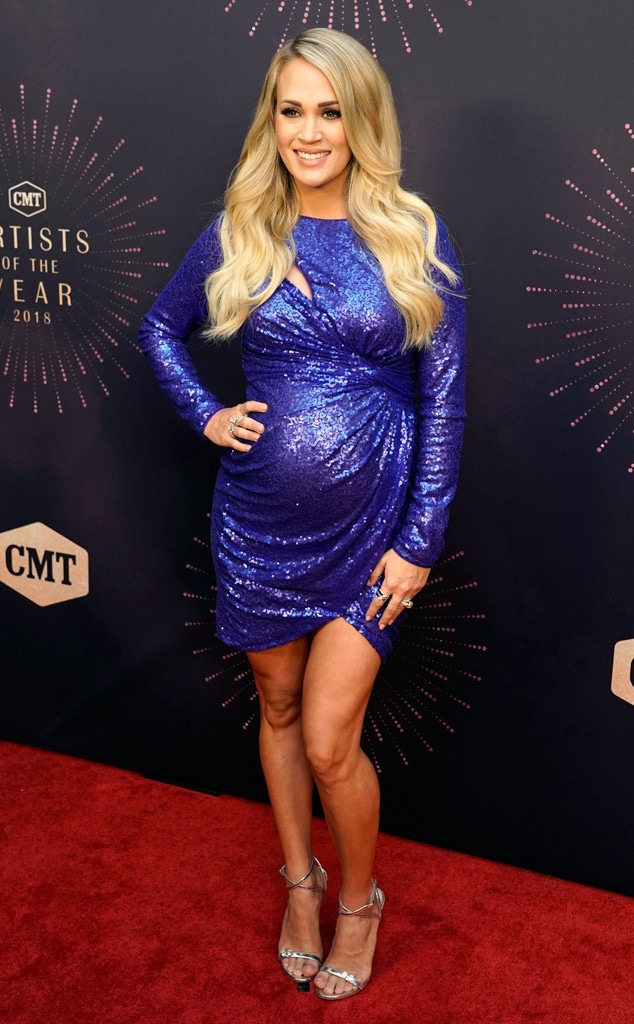 Sanford Myers/Invision/AP
Carrie Underwood can add yet another occupation to her already lengthy list of accomplishments: "soccer mom."
On Saturday, the "Cry Pretty" singer posted on Instagram while at her son Isaiah's sports game. "Officially a soccer mom this morning!" she captioned a selfie of herself looking done-up in a top bun, white vest and blue shirt all while holding a cup of coffee.
"The kids played a good game!" she wrote. "Isaiah scored two goals for his team...and one for the other team."
Oops.
The singer concluded, "Hey, a goal's a goal!"
That's the spirit!
Underwood announced in August that she and her husband, Mike Fisher, were expecting their second child. The pregnancy news is especially joyful for their family after Underwood had an especially tumultuous 2017, which included a huge fall that required reconstructive surgery. "Life is full of ups and downs, and I might have had a few more downs than ups last year," she told Redbook in August.
Aside from the tumble down her front stairs, the "Love Wins" singer revealed to CBS Sunday Morning that she had three miscarriages over the course of two years. "Oh, lawdy! 2017 just wasn't how I imagined it," she said. "I'd kind of planned that 2017 was, you know, going to be the year that I work on new music, and I have a baby. We got pregnant early 2017, and didn't work out...Yeah. It happens. And that was the thing, in the beginning it was like, 'Okay, God, we know this is, just wasn't Your timing. And that is all right. We will bounce back and figure our way through it.' And got pregnant again in the spring, and it didn't work out."
Now, however, Underwood is healthy and pregnant and cradling her baby bump on stage at concerts and on red carpets.
Soccer star Isaiah can't wait to become a big brother, and Underwood is just as eager to meet her future baby.
Although she's won a number of Grammys and other awards, she still sees herself just like any other working mom. She told E! News on the red carpet at the 2018 CMT Artist of the Year Awards, "I feel like I'm a working mom, pregnant, I got my stuff to do, you know, it's just an interesting job I have, but I'm just like every other pregnant lady trying to go to work."
She and Fisher do know the sex of their baby, but they are remaining tight-lipped about it for now. She told E! News, "I feel like everybody knows so much about us. We just kinda want to keep a little secret for a while."