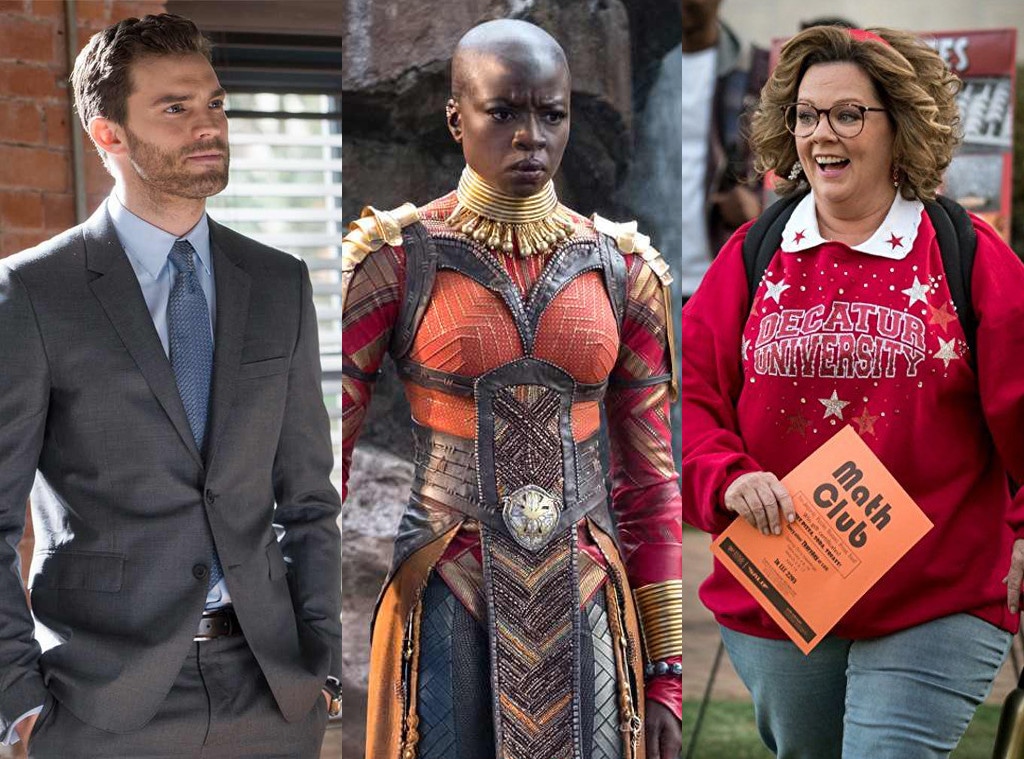 Warner Bros. Entertainment Inc., Doane Gregory/Universal Pictures, Matt Kennedy/Marvel Studios
The 2018 E! People's Choice Awards are happening this week and we are so ready to see who takes home all the trophies!
Although we only have to wait a few more days to watch the live award show—it airs Sunday, Nov. 11 on E!—we can't stop thinking about all of the celebrities E! News already chatted with about being a People's Choice Awards finalist.
Stars like Jamie Dornan, Danai Gurira and Melissa McCarthy for example, were so thrown off guard by their PCAs finalist nods that it has us rooting for them even more at this year's show.
Each one of the actors is a finalist in a movie category—Dornan for Drama Movie Star of 2018, Gurira for Action Movie Star of 2018 and McCarthy for Comedy Movie Star of 2018—and if we're being honest they so deserve to win their respective categories.
Since we don't know who will win just yet, why not look back at the sweet and charming reactions these three movie stars had to their PCAs finalist news. They were all so excited, which makes us love them even more!
Watch:
Jamie Dornan Reacts to E! People's Choice Awards Nom
Jamie Dornan
Dornan's fans have three films to love from him and therefore we're not that surprised that he's up for Drama Movie Star of 2018 for his role of Christian Grey in Fifty Shades Freed.
Even though fans could've seen this coming from a mile away, when E! News caught up with the Irish actor at the premiere for My Dinner With Hervé in late October he was totally caught off guard. 
"No. For what?" Dornan told E! News at the event when asked if he had heard about his PCAs finalist nod. "Oh, wow," he continued. "It's news to me, no."
The 36-year-old actor isn't exactly like his character on-screen, because when we asked why fans should vote for him this year, he became a little bashful and proved that he's much more humble than his movie alter ego.
"They probably shouldn't," he said. "They should vote for Peter Dinklage. Is he nominated?"
Check out Dornan's full reaction to his PCAs finalist nod above, and then maybe re-watch all the Fifty Shades films to celebrate his potential award.
Watch:
Danai Gurira Is "Floored" About Being a PCAs Finalist
Danai Gurira
When it comes to the 2018 People's Choice Awards, Black Panther is a serious contender with five finalist spots, and as one of the film's leading ladies, it's only fair that Gurira be up for Action Movie Star of 2018.
Despite the fact that fans are all-in on Black Panther and its stars, Gurira was totally floored when she learned of her finalist spot at the 2018 Global Citizen Festival in October. 
"Listen, I'm really floored by it. I'm thankful for it. All you try and do is give your all to what you're given. It's a privileged to get to tell stories," Gurira told E! News before heading into the festival.
"I'm thankful for the fact that I got to tell Okoye's story. Being able to stand in that position as a woman who loves her nation, a woman who is in command of her nation's security, actually stewarding its advancement. It was an amazing role to play," she continued. 
Even though the 40-year-old actress was a little surprised by the PCAs recognition, The Walking Dead star quickly turned her attention to her fans and thanked them for their support.
"It's just gratitude that I feel honestly. If she resonated that to me is so amazing," she said. "It's actually, I don't even know what words to put to it, except thanks guys. It's very cool to have your work resonate with folks. It's very cool."
Check out Gurira's full interview above!
Watch:
Melissa McCarthy Says Her PCAs Nomination Is "Everything"
Melissa McCarthy
Whether you fell in love with McCarthy back in the early '00s as Sookie St. James on Gilmore Girls, or have become a fan through her movies, it's clear that the actress is one funny lady. 
It's this humor and desire to make people laugh that McCarthy attributes her PCAs finalist nod for Comedy Movie Star of 2018 to and we couldn't agree with her more. 
"We make these movies to make people happy and make them laugh," McCarthy told E! News at the junket for her movie Can You Ever Forgive Me? in New York last month. "There is no other motivation behind them."
"We think something is funny and we fall in love with these characters, we hope people go and spend an hour and half and are just like I forgot all my troubles and I just laughed," the Ghostbusters star continued. "It's the reason I'm the butt of the joke in so many things. I think it's good for people."
The people do love McCarthy and her comedy roles, so we cannot wait to see if she takes home the trophy this month for Comedy Movie Star!
PS: You can watch her full reaction interview above.