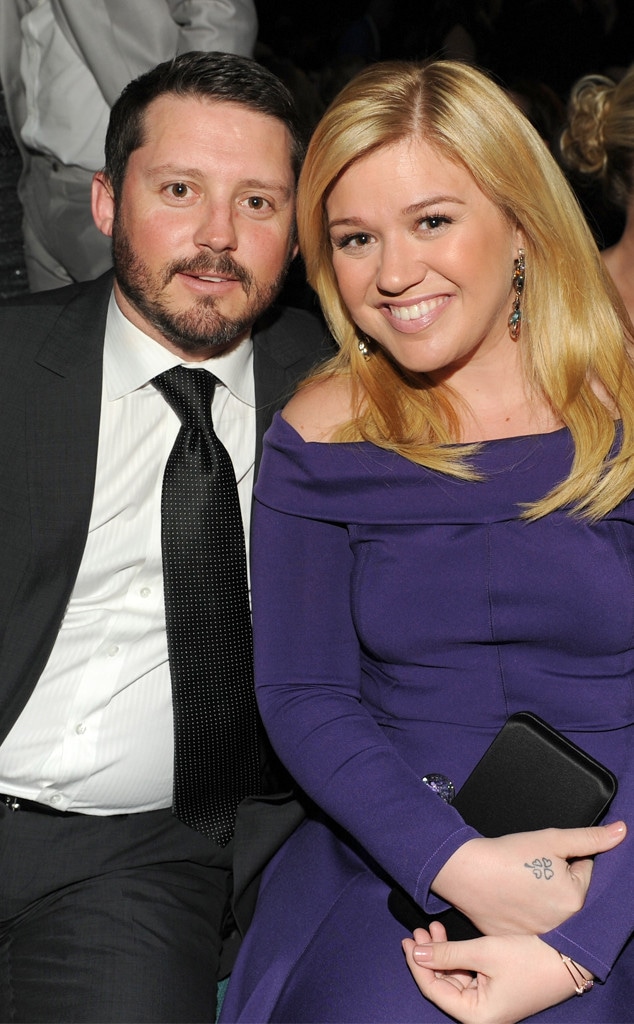 Kevin Winter/ACMA2013/Getty Images for ACM
Kelly Clarkson hasn't always had the easiest time in love.
In fact, for a good chunk of the OG American Idol's recording career, her unlucky-in-love history had been the thing that defined her. With hit singles like "Since U Been Gone," "Behind These Hazel Eyes," "Already Gone," and "Mr. Know It All," it was clear that Clarkson had been through it more than once and she earned her title as pop music's most relatable diva for the way she put it all out there. After all, misery loves company.
But all that changed when Brandon Blackstock came into her life. 
Of course, the path to romance for the pair, celebrating their fifth wedding anniversary on Saturday, Oct. 20, wasn't immediately clear. After all, the talent manager, son of Clarkson's own manager Narvel Blackstock and former stepson of Reba McEntire, was married with two children when their paths first crossed in 2006. But patience won out and when their paths crossed yet again six years later, it was full steam ahead. And in finding Blackstock and raising their blended family—the happy couple have two adorable children of their own, daughter River Rose and son Remington Alexander, while Clarkson plays the role of doting stepmother to Blackstock's son and daughter from his prior marriage—the "Love So Soft" singer has become a beacon of hope for the rest of us hoping to turn our love lives around and come out on top. 
Here's how she did it.
Step One: Find a partner who makes you swoon
Seems pretty obvious, right? But as Clarkson has admitted over the years, despite her documented prior relationships, nothing ever really seemed to make much sense until Blackstock stepped into her life. "We were just in a room together, and then he came up and said he was from the same hometown as me and I was like, 'Oh we're so getting married,' I was so that girl," she told Ryan Seacrest in 2012 about their first encounter at the 2006 ACM Awards when she was rehearsing with one of her future husband's clients, Rascal Flatts.
In fact, as she revealed in 2015 during an interview with CBS Sunday Morning, Blackstock was the first person she'd ever told she loved and actually meant it. "He was the first guy I …said it [to] – and wanted to say it," Clarkson told Terry Smith. "I didn't feel like I had to. Because, like, 'Oh, that's what you have to do when you say it.'"
As she elaborated last year at a private show for SiriusXM listeners to promote her latest album, Meaning of Life, Blackstock unlocked something in her that no other partner ever had. "This isn't a downer to anybody I dated before him, but I'm just going to be real: I never felt like, honesty, sexually attracted to anybody before him," she said, according to People. "And I'm not downing my exes. You know, everybody's different. But there was something about him."
"I honestly thought I was asexual—I'd never been turned on like that in my whole life," she added. "I was like, 'Oh that's that feeling...OK! That's what they were talking about in Waiting to Exhale. I just got it. I just didn't have a clue."
Step Two: Find a partner who restores your faith in a parent's ability to be there for their child
It's no secret that Clarkson had a troubled relationship with her absentee father. Her parents split when she was six and, as she explains it, her dad pretty much disappeared from her life. And it wasn't until she married Blackstock that she began to believe that men could rise to the occasion as fathers, as she documented in her highly-emotional 2015 track "Piece by Piece." 
"He's such a great father. He's in the room right now going 'Yeah, I am,'" she joked with Seacrest in 2016 before getting emotional. "Watching my husband love on his daughter all the time you know, go to her events and just be there and like be present is like hard to watch but beautiful to watch. I know that my kids are going to have that. Y'all are totally going to make me cry on this interview. I'm so glad you can't see me."
"I'm glad our boys and also our girls have a man to look [up to], who shows them, 'this is how treat a woman, this is how you respect a woman,'" she told Redbook the same year. "He takes his daughter on dates and shows her, 'this is what a guy should do.'"
J Grassi/Patrick McMullan/Sipa USA
Step Three: Understand the value of putting your own needs first
When a household can have up to four kids under one roof at any given time, the odds of keeping romance alive can tend to grow quite slim—and Clarkson knows it. That's why she practices an "oxygen mask mentality" in her relationship, as she revealed to the ladies of The View in 2016. "We're gonna be bad parents if we're not sexually pleased and we're not like having a good life—that's going to bleed into other things and you've got to have a great life," she said on the show. "I'm sorry—I've painted an image. You're welcome. Sex is a very key part of a relationship. I mean I have friends—I don't need another friend." 
And part of putting your own needs first comes with knowing when enough is enough, literally. "There is a giant difference between one kid and two, and then there's an even bigger one: We have two older ones as well," Clarkson told E! News in 2016, referring to her husband's two children from a previous marriage. "A lot of times we'll have four kids in one house, so that's a lot of kids—but, it's good. It's like 99 percent of the time is amazing and awesome. I didn't grow up around my sisters or brothers...It's a big family."
So, don't expect that family to grow. "No! Unless someone dies and gives us their kids or something, no," she told us.
Christian Thompson/Disneyland Resort
Step Four: Don't be afraid to learn from your children as much as you teach them
As Clarkson and Blackstock have made parenting look easy, she's admitted that she's been humbled by her little ones quite often. "They're great, though. They say something and you're like, 'Damn.' They'll call you out. And they teach me. I know it sounds really silly, but kids teach you to be a better human because they're watching every moment. Not only me at home, but me sitting here with y'all," she told journalists during The Voice's panel at the Winter TCA Press Tour in January. 
"I think when you're younger and, especially in this kind of industry where everybody's always applauding you or even if they're talking bad or good, they're still talking about you. It's so hard to not drink your punch, and I think a lot of people fall prey to that," she continued. "I think that [my children] taught me to just look around me and notice the things that are really important, even if it's just hanging with them, playing on their little piano or taking the time. Because I think in life, as adults, it's very hard for us to be still. It's very hard for us to enjoy the moment."
In turn, she imparts upon them the importance of understanding the value of the dollar in the face of their considerable wealth. "That's my fear with my kids, especially my younger two, that they won't experience some of the hardships that helped mold my husband and I into these very independent beings that can handle quite a bit," she told Redbook. "But I try to show them how to be appreciative and respectful and take them to things where they can see other people that don't have the benefits that they have right now."
And, of course, she shows them what it means to be a fierce working woman. "If you're a mom, you want to be with your kid everyday. You don't want to miss a moment, you want her to need you and want you and not want somebody else," she told the magazine before adding how important that all four of their kids "see that a woman is capable of kicking ass while also being a kickass mom."
Step Five: Wine
It's simple, but it's true. "Wine is necessary," she told that crowd at the TCA panel when asked how she juggles motherhood. 
Like we said, pop's most relatable diva.
Happy anniversary, you two!