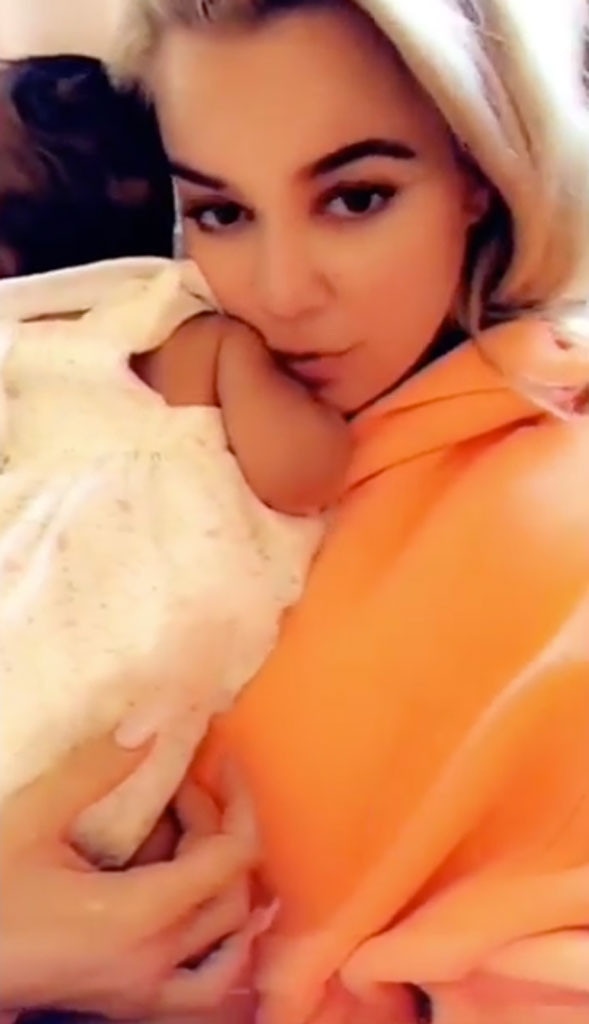 Instagram
Can you believe True Thompson is already six months old?!
That's right, Khloe Kardashian and Tristan Thompson welcomed their first child together six months ago, on April 12, 2018. So how is Khloe enjoying motherhood? Now that True has reached her six-month milestone, E! News is learning just how much Khloe is loving being a mom.
"Khloe is loving motherhood and everything that comes with it," a source tells E! News. "She loves being with True and is so completely enraptured with her. She loves dressing her up in new clothes and playing with her. She loves singing songs, reading to her and giving her baths. She loves seeing her master all of the firsts and milestones."
"She can't wait to see what's in store next and is so excited about being with True every day," the source continues. "When she has to go away for work she just can't wait to get back to her and misses her like crazy. She feels very blessed to be her mama and loves her more than anything." 
As for what True is like as a baby, the insider shares that she's calm and curious about the world around her.
"True is very calm but also curious about everything around her. She's very strong and doing new things every day," the source shares. "She's already sitting up on her own and starting to eat solids. She's trying to walk with help. They think she will be an early walker. She's picking up new things very quickly."
The insider adds that she spends a lot of time with her cousins, Kylie Jenner's baby Stormi Webster and Kim Kardashian's daughter Chicago West, and even though True is younger, she is "trying to keep up."
"The three girls are already best friends and have so much fun together," the source tells E! News. "They try to get them together several times a week for little play dates where they play on their play mats and babble together. It's very cute and what the sisters have always been waiting for."
A second source also shares that Khloe is "very protective" over her baby girl.
"She doesn't want anyone else raising her child and is very protective over her," the insider tells us. "Their favorite thing to do is lay on a blanket outside and relax together while Khloe reads a book or plays toys with her. Khloe has a lot of help from her family, but loves her bonding time with True."
"True is very advanced for her age and is very smart," the source continues. "She loves being around her cousins, and Khloe likes to plan playdates with the three cousins of them every week. It's a new tradition for their family and another excuse to get everyone together. They all call them the 'triplets' bunch and make sure they spend a lot of time doing fun activities together."
On Friday, Khloe took to Instagram to show love and appreciation for her mom, Kris Jenner.
"This is a 'Just Because' post," Khloe began. "Thank you does not begin to describe the amount of respect, appreciation and LOVE that I have for you, but I do need you to know that you are my hero. I hope to live up to the mom you have been to us. (Regardless of what Kourt thinks JK lol) seriously, how did WE get so lucky to have you? WE have the cheat codes to mommy-hood."
"Thank you for being selfless," Khloe continued. "You continuously put us before yourself and you never think twice about it. (Except when it comes to paid Instagram posts but I ain't mad at you for gettin that money honey) Thank you for being one of my very best friends, but most of all, thank you for being my mommy. If I could, I would choose you a million times!!"