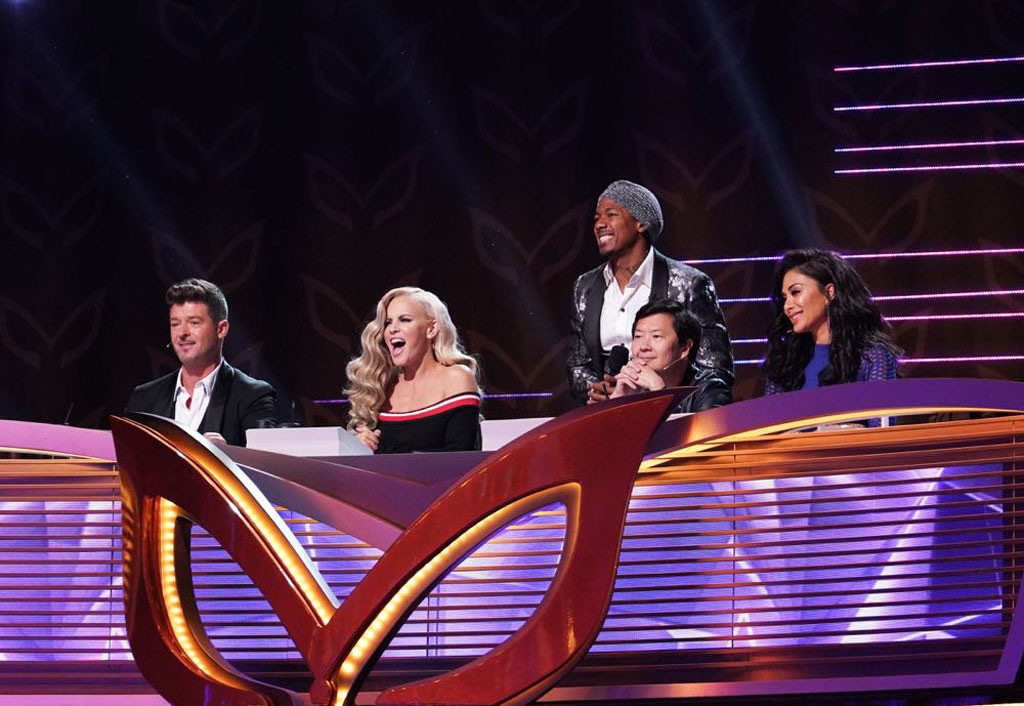 FOX
The Masked Singer isn't your typical singing competition. How do we know, considering we haven't seen a single episode of the new Fox series? Just look at the photos below of the disguised contestants.
In the celebrity competition series hosted by co-executive producer Nick Cannon, a star-studded panel featuring Ken Jeong, Jenny McCarthy, Nicole Scherzinger and Robin Thicke attempt to discover the true identity of the masked singer. E! News has the exclusive first look at the 12 celebrity competitors clad in head-to-toe extravagant costumes. Combined, the masked celebs have 65 Grammy nominations, 16 multi-platinum albums, 16 Emmy nominations, nine Broadway shows, four stars on the Hollywood Walk of Fame and four Super Bowl titles. Oh yeah, not every competitor is known for their singing voice.
One singer is eliminated each week, revealing his or her true identity.
"This is truly one of the most unique, genre-defining formats I've ever seen," Rob Wade, president, of alternative entertainment and specials at Fox Broadcasting Company, said in a statement when the show was announced. "It's a massive international hit, and its boldness and originality make it the perfect fit for Fox."
See the competitors below.
The Masked Singer is based on the international hit that has produced viral moments and half a billion fans from around the world.
"There are very few hit formats left in the world, and when I saw The Masked Singer, which is a true global and viral phenomenon that has captured the world's attention, I knew it had to be brought to life in America," executive producer Craig Plestis said in a statement when the show was announced.
The Masked Singer debuts January 2019 on Fox.