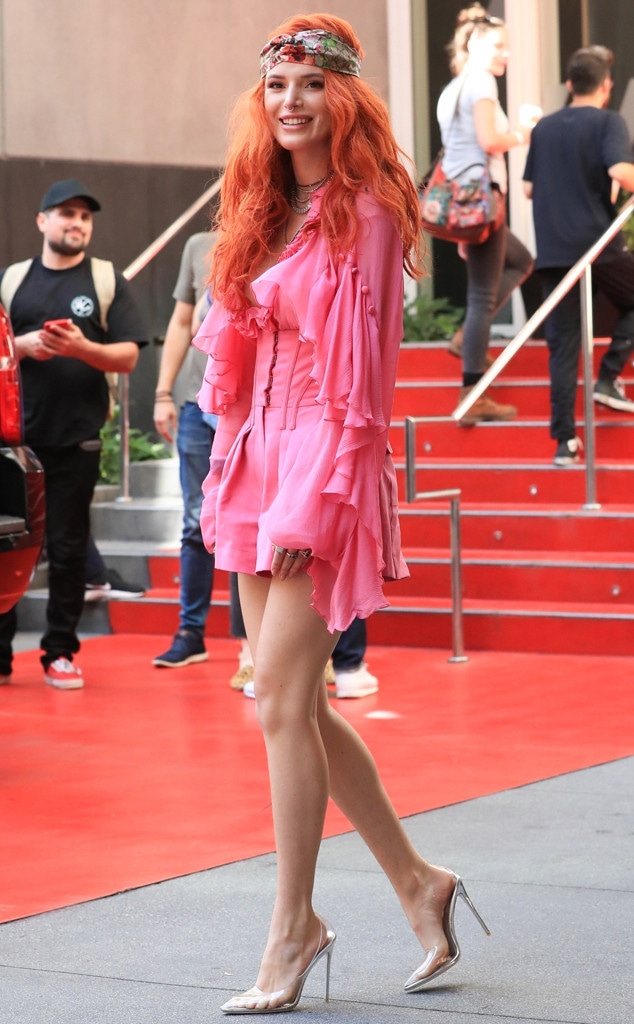 GAMR / BACKGRID
When it comes to Bella Thorne, there's always something new to learn. 
At just 21 years old, the Florida native has amassed more life experiences at this point than many do in their entire lives. With her first movie appearance at age 6, it wasn't long before Thorne was a full-fledged Disney star on Shake It Up. With several films out this year alone and thousands of dollars earned from a single Instagram post, she has managed to parlay years of industry grind into a full-fledged Hollywood career. 
Despite her typically candid demeanor, there are still some things fans don't know about Thorne's winding journey to today. However, thanks to a new wide-ranging interview from The Los Angeles Times, we got to learn even more about what makes up this unique star, what she's faced and what her life looks like today. 
Drum roll please!
1. She highlights her freckles to distract from her acne. 
As the writer described, Thorne picked up a pencil and dotted beauty marks on her face. The star explained that some news outlets claim her acne is from drug use. 
"The Daily Mail will be like, 'Bella must have been out partying last night' because they got a photo of me not wearing makeup with acne," she told the Times. "They're like, 'She looks really tired out. Maybe the drugs are really wearing on her skin'...I get so mad. So are you telling every kid with cystic acne that they must be a heroin addict? I think they think I take serious drugs, and I'm just smoking weed."
2. She used to be against weed. 
While she's forthcoming about smoking today, there was a time when she did not smoke weed at all. "I used to be super, super against weed," she recalled. "When I was 16, my boyfriend smoked weed and I would get so upset. I thought it was the devil's lettuce. I was always the really good two-shoes — the one that was the teacher's pet in that annoying sense." After shooting an emotional film at 16, she smoked for the first time to help her sleep. 
3. She has 19 cats. 
As she explained to the newspaper, Thorne had one cat, Lola, that she didn't want to get spayed because she thought it was "barbaric." Now, she houses four generations of Lola's cats. 
4. She was broke by 18. 
Despite starring on three seasons of Shake It Up, Thorne told the Times that she had $200 to her name by the time she hit 18 years old, but did not elaborate on how that happened. 
5. She does not want to name her abuser.
While she revealed this year that she had been molested and abused through to the age 14, Thorne has never said who did it. She explained to the newspaper that she does not want to report the abuse because she does not want to relive the memories. 
"And I guess that makes me selfish," she told the Times. "I could do it. I should do it. You should tell every girl to go after her attacker. You should tell every girl that she has the right to go out there and speak her truth....but then you don't. Then you can't even [speak out]. I always want to be a good person. And that makes me qualify as not as good of a person."
6. She was allegedly called ugly in work emails. 
In regard to her recently canceled Freeform series, Famous in Love, Thorne claimed that she had been called ugly in network emails. 
"There were some comments made that—I don't know. I'm trying to find a way around it. One issue is when you have a girl, a young girl who is on your show, you can't tell her that she's ugly or she's fat or she's this or she's that because that's going to make her feel bad," she began. 
When the interviewer asked who called her ugly, Thorne replied, "The network...In e-mails, and there was another thing that was in front of everyone on set. After, the cast was texting me, 'Oh, my God, Bella. I am so sorry. That was so awkward. I feel so bad. Do you want me to come over to your room?' 'Oh, my God, I can't believe they did that.' It was all supposed to change on Season 2, and it didn't."
Freeform declined to comment to the Los Angeles Times.