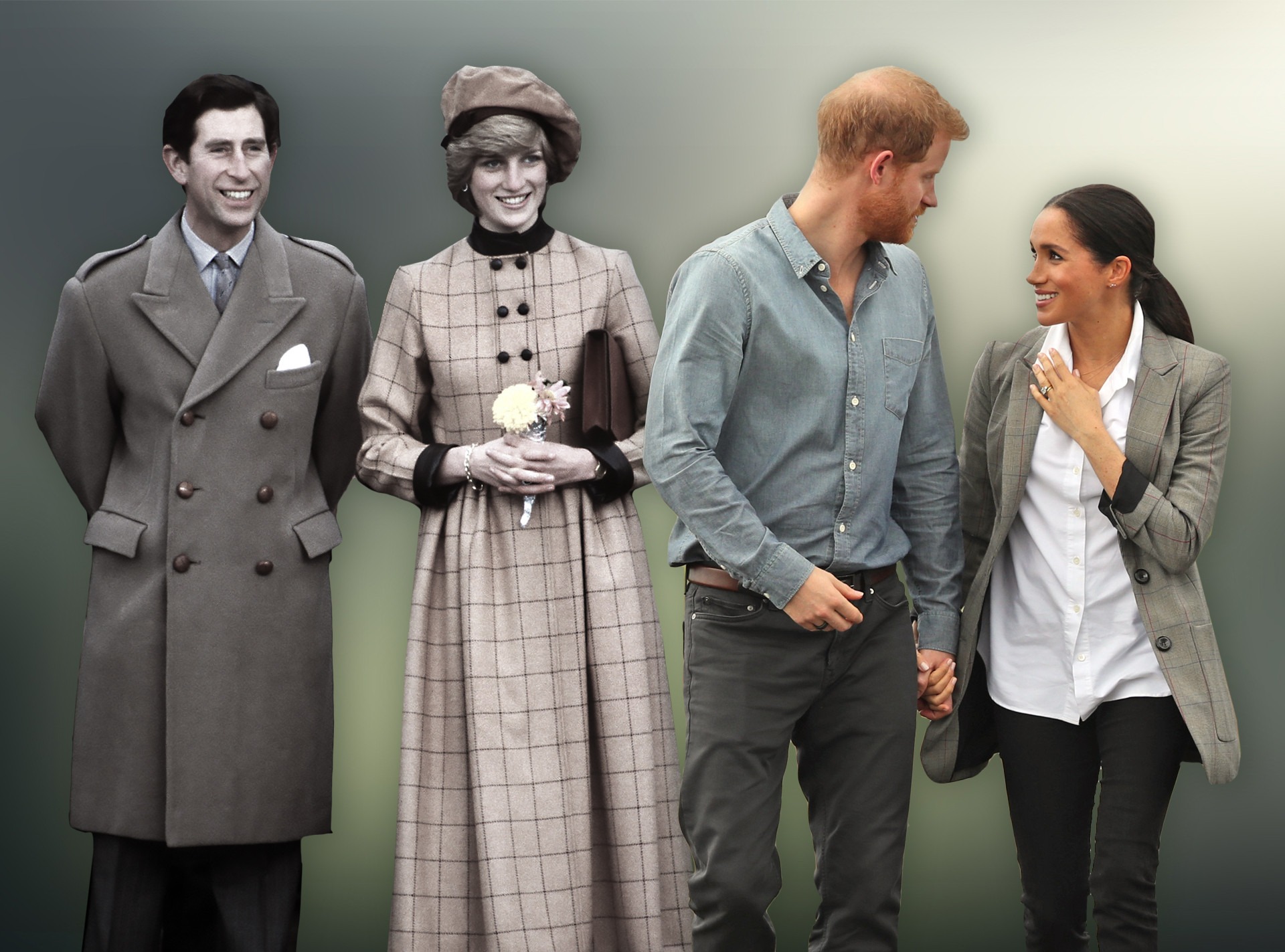 Getty Images/E! Illustration
At first blush, it seems hard to find any similarities between Prince Harry's new marriage to Meghan Markle and the union his parents once shared. 
For starters, well, they really seem to like each other. And though it seems clear they were confident in their bond by roughly date three, when Harry swept the Suits actress off to Botswana, one of the places he treasures most, they spent an extra 16 months together just to be completely sure. 
By contrast when Prince Charles proposed to then-19-year-old nursery school teacher Lady Diana Spencer in 1981, they'd enjoyed just 13 dates. "He wasn't consistent with his courting abilities," Princess Diana had told her speech coach. "He'd ring me every day for a week, then wouldn't speak to me for three weeks. Very odd. I thought, 'Fine. Well, he knows where I am if he wants me.'" However, each time he did call, she struggled to hide her delight: "The thrill when he used to ring up was so immense and intense. It would drive the other three girls in my flat crazy."
And while the attention trained on Meghan during her courtship with Harry was even more intense than she anticipated—"I think you can have as many conversations as you want and try to prepare as much as possible, but we were totally unprepared for what happened after that," Harry shared in their post-engagement chat with the BBC of the period after he revealed she was officially his girlfriend—she could at least rest easy in the knowledge that her charming prince was unlikely to ever become king.
But Diana was all too acutely aware of what she was signing up for when Charles pulled out that oversized sapphire mere months into their romance. According to Andrew Morton's 1992 book Diana: Her True Story she laughed at his initial proposal causing him to reply, "You do realize that one day you'll be Queen." Diana's reaction, said Morton, was to think to herself, "You won't be Queen, but you'll have a tough role." 
She wasn't wrong. Three-plus decades later their turbulent union is well-documented, with their marriage simply unable to survive Charles' continuing affection for the true love of his life, Camilla Parker Bowles. And though there's no indication Harry and Meghan are headed towards the same tragic ending, or any ending at all, really, their beginnings are remarkably similar. 
Anwar Hussein/Getty Images
Certainly both women were under an inordinate amount of pressure in the lead-up to their vows, some 37 years apart. Endless speculation over their dress, watching as their faces were emblazoned on everything from commemorative china to souvenir mugs to tea towels and the knowledge that millions of people around the world would be tuning in to watch—and inevitably judge—the most important and special day of their lives would wear on any bride.  
And yet both were determined not to lose themselves in the process. Just 20 at the time of her July 1981 nuptials, Diana nonetheless refused to walk a step behind Charles and had the bit about the bride agreeing to "obey" her husband stripped from the vows. Though controversial at the time, it was removed entirely when the traditional Anglican vows were rewritten in 2000, and neither Kate Middleton, nor Meghan had it re-inserted for their day in church. 
Meghan took statement-making a step further as she put together her thoroughly modern wedding ceremony. Tapping The Most Rev. Michael Bruce Curry—the first black presiding bishop of the Episcopal Church—to deliver an impassioned sermon using the words of civil rights leader Dr. Martin Luther King, Jr. and having a predominantly black gospel choir perform a moving rendition of "Stand By Me" was seen as her way of celebrating both sides of her American heritage and it sent an important message of inclusivity. 
Though both women were said to be appropriately nervous (Diana even mixed up her new husband's name, vowing to "take thee Philip Charles Arthur George" rather than Charles Philip Arthur) on their wedding days, any anxiety was trumped by waves of pure bliss. "There were several times when I was perilously close to crying from the sheer joy of it all," Charles reportedly told a cousin, per Lady Colin Campbell's 1998 book The Real Diana. "It was heaven, amazing, wonderful, though I was so nervous when I was walking up the aisle that I swore my knees would knock and make noise." 
Unlike Harry and Meghan, who celebrated with a slew of bold-faced names including Serena Williams and a Casamigos-slinging George Clooney, Charles and Diana skipped their Queen Elizabeth II-hosted evening reception to get a jump start on their honeymoon, a working trip of sorts that required them to pose for numerous press photos along the way. Traveling in an open carriage affixed with a "Just Married" sign, they were shepherded to Waterloo Station, where they caught a train to Broadlands and then boarded the royal yacht Britannia for a two-week cruise around the Mediterranean and Aegean Seas before they landed at Balmoral, the royal family's Scottish residence. 
While correspondence that went up for auction last year revealed Diana wrote to her personal secretary Jane Parsons about the vacation being "a perfect opportunity to catch up on sleep," the extended trip wasn't entirely relaxing. At each stop the newlyweds were expected to wave and smile for photographers, a happy facade they didn't necessarily keep up between ports. Though their yacht was teeming with upwards of 200 staffers, they didn't go to great lengths to hide their discord. While Charles hoped to wile away their days reading and painting, Diana preferred to spend her time swimming and sunbathing, resenting her groom's devotion to watercolors and Laurens van der Post books. 
Even worse, Penny Junor detailed in her book The Duchess: The Untold Story, was the time a photograph of Camilla dropped out of Charles' diary. "Another time," Junor continued, "when they were in formal dress for dinner, she noticed the Prince was wearing a pair of gold cufflinks engraved with interwoven Cs." 
As in Charles and...well, not Diana. 
By the time the newlyweds landed in Scotland, their romance wasn't the stuff of fairytales. In The Real Diana, Campbell details messy fights where Diana would scream at the top of their lungs and hurl Charles' books across the room. 
Still, in her infamous 1995 post-separation interview with the BBC's Martin Bashir, Diana insisted their early days were relatively happy, if more than a bit stressful. "Well, we were a newly-married couple, so obviously we had those pressures, too, and we had the media, who were completely fascinated by everything we did," she explained. "And it was difficult to share that load, because I was the one who was always pitched out front, whether it was my clothes, what I said, what my hair was doing, everything—which was a pretty dull subject, actually, and it's been exhausted over the years—when actually what we wanted to be, what we wanted supported was our work, and as a team." 
Due to their protracted honeymoon, Charles and Diana didn't have their first joint engagement as a married duo until that October, but when they did venture to Wales for a three-day tour, Diana stunned. 
Her natural way with people shining through from the very beginning, Diana is said to have gained points for refusing to use an umbrella in the wet, windy weather so that she wouldn't be any more dry than the crowds of people waiting to meet her. As former British Prime Minister Tony Blair recalled in the 2017 special Diana, 7 Days, reflecting on the week following her death, "She was the first member of the royal family who people really felt behaved and acted like a normal human being."
An impressed Charles "was proud of me," Diana would later recount to Campbell of the trip. "And I was thrilled to see that proud look in his eyes." 
Much like his parents, Harry and Meghan got right down to the business of being working royals. Back on the job just three days after their wedding, the new duchess slipped on a fascinator (and panty hose!) to attend a Buckingham Palace garden party in honor of Charles' upcoming 70th birthday. 
They were also on hand for June's Trooping the Colour procession, which included Meghan's Buckingham Palace balcony debut, the Royal Ascot and the former actress' first solo outing with the queen to open Cheshire, England's Mersey Gateway Bridge. 
But before all of that, they were able to slip away for a honeymoon that didn't involve a single member of the press. Nor have they shared any details of their restorative African excursion except to clear up a rumor that they decamped to one country in particular. "No, we didn't go to Namibia," Harry told a guest at June's Young Leaders Awards, according to HELLO! magazine. "I'm not going to say where."
Max Mumby/Indigo/Getty Images, Tim Graham/Getty Images
Like the mother-in-law she would never meet, Meghan has earned rave reviews for her effortlessly charming style at walkabouts. Grant Harrold, former royal butler to Charles, Camilla, William and Harry noted her decision to offer an embrace to a young girl at one early 2018 event was a move the People's Princess would have made. 
"You look at the energy of Princess Diana and she was very much somebody that would hug people. She was famous for it, wasn't she?" he told E! News. "None of the rest of the royal family hugged. It just wasn't the done thing. Now the younger royals, Princes William and Harry, you see them hugging... So it's their way of doing it. They are very much copying what their mother did, which is fantastic." 
Meghan's warmth has been on display throughout the first week of her and Harry's 16-day trip through Australia, New Zealand, Fiji and the Kingdom of Tonga. Their choice for their first joint tour is especially notable as it was the same spot for Diana's initial overseas trip. In 1983, she and Charles spent 41 days racking up 23,601 miles of travel, including visits to Sydney Opera House, Ayers Rock and Alice Springs.
JSH TOUR/REX/Shutterstock
By then the newlyweds had a special guest in tow. In November, just four months after 750 million watched England's presumptive future king take a bride, royal watchers reveled in the good news that an heir, one that would be born with the unique pressure of one day ascending to the throne, was on the way. 
Harry and Meghan's future Lord or Lady won't feel that particularly crushing weight. Born seventh in line for the throne, he or she won't even be designated a prince or princess unless Great-grandma steps in to deem it so. But that didn't prevent fans from feeling the same unbridled joy last week when Kensington Palace officials announced that Prince Henry Charles Albert David and his new bride, Rachel Meghan Markle, were due to become parents next spring, the announcement coming just five months after they tied the knot, keeping the pair on the same accelerated track as his parents. 
Throughout their days on tour, the couple have accepted a stream of gifts from the expected (a kangaroo stuffed animal which Meghan proclaimed "our first baby gift!") to the perplexing (a bushel of homegrown carrots?) along with endless name suggestions. 
And while Diana (bookies' current top choice) would certainly be a fitting tribute, the way Harry lives his life, constantly in honor of his late mom, is tribute enough. 
From a young age, the boys joined the princess at homeless shelters and hospitals. "I take them round homelessness projects," she told the Bashir during their 1995 sit-down, "I've taken William and Harry to people dying of AIDS—albeit I told them it was cancer—I've taken the children to all sorts of areas where I'm not sure anyone of that age in this family has been before."
They've since made it their mission to champion her most closely held causes, with Harry recently teaming with Elton John to from a coalition aimed at expanding the treatment of HIV, and embrace a few more of their own as Harry has with wounded military veterans and William does with his commitment to stopping wildlife poaching. No doubt their work would bring a smile to Diana's face as she once proclaimed her deepest wish was for her boys "to have an understanding of people's emotions, people's insecurities, people's distress and people's hopes and dreams." 
KHAPGG / MEGA TheMegaAgency.com
And that Harry has found a bride that not only embraces this as her life's work, but chose it for herself long before that fateful first blind date, well, that's even sweeter. "My mother raised me to be a global citizen, with eyes open to sometimes harsh realities," Meghan wrote on her now-defunct lifestyle blog The Tig in a passage that sounds like it could have been describing Diana herself. "I've never wanted to be a lady who lunches—I've always wanted to be a woman who works. And this type of work is what feeds my soul, and fuels my purpose." 
So as Harry said in his engagement interview, he found a woman his mom would have wholeheartedly approved of. "Oh they'd be thick as thieves, without question, I think she would be over the moon, jumping up and down, you know so excited for me," he said, "but then, as I said, would have probably been best friends—best friends with Meghan." 
Most importantly, though, she would have loved that Harry was best, best friends with his bride.
Remembering in her 1995 interview how she broke the news of her split with Charles to her eldest, she said, "I went to the school and put it to William, particularly, that if you find someone you love in life you must hang on to it and look after it, and if you were lucky enough to find someone who loved you then one must protect it." 
It's advice Harry has particularly held dear, as he's worked to shield Meghan from the less desirable parts of his world while taking care to show her the ropes and how she can make good on her plan to help create true change. Their romance is an entirely modern, monogamous twist on the one his parents once shared, but their mission to connect with and affect young hearts and minds, well, that's pure Diana.