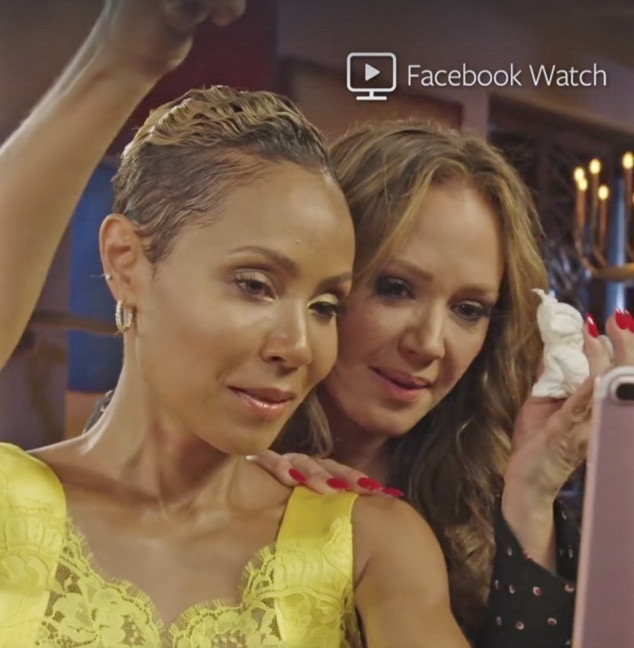 Facebook TV
More often than not, stories about Hollywood feuds—especially among ladies—are whipped up beyond recognition, the story more of a projection or an outright concoction than an accurate reflection of what the deal really is, if there's a deal at all.
This is not one of those cases. 
Leah Remini and Jada Pinkett Smith really did have a war of words, enough so that they recently made an effort to get together to talk through it in hopes of better understanding where the other was coming from. And, because usually a frank conversation goes a long way, the veteran actresses did seem to quash their beef.
"It was really beautiful and she reached out to me," Pinkett Smith told People about the upcoming episode of her Facebook Watch series, Red Table Talk, featuring her sit-down with Remini. "She was much bigger than me in that way. It was nice to reconnect and release ourselves from all that nonsense that doesn't matter."
And what was that nonsense again?
It really all started, whether Pinkett Smith knew it or not, in 2013, when Remini quit Scientology after being a member of the church for most of her life.
She has since become an outspoken critic of the church and has devoted her professional efforts, first through her 2015 memoir Troublemaker: Surviving Hollywood and Scientology and now in her Emmy-winning A&E series Leah Remini: Scientology and the Aftermath, to exposing what she alleges are the church's abusive, manipulative practices and the damage it wreaks on individuals and their families. 
Over the years, the Church of Scientology has in turn characterized Remini as a bitter opportunist, someone whose own behavior caused the schism with the church and who's now cashing in on lies and gossip.
"I believe that people should be able to question things. I believe that people should value family, and value friendships, and hold those things sacrosanct. That for me, that's what I'm about," Remini told People back in 2013. "It wouldn't matter what it was, simply no one is going to tell me how I need to think, no one is going to tell me who I can, and cannot, talk to.
"I'm not about to shut up."
Part of what she and other ex-Scientologists who've been on her show have talked about is the way in which former members end up shunned by those still practicing, leading to rifts between parents and children, spouses, best friends and, according to Remini, celebrity pals.
And while Remini has openly guessed that she's persona non grata now to everyone from Tom Cruise and John Travolta to Elisabeth Moss and Kirstie Alley, she hasn't been shy about naming names.
In Troublemaker, Remini recalls she and her husband, Angelo Pagán, spending time at Cruise's Beverly Hills mansion, particularly on one occasion when he invited "some Scientologists and a few other celebrities like Will Smith's wife, Jada Pinkett Smith, to the house and announced he wanted to play hide-and-seek." Remini declined, citing her 5-inch Jimmy Choo stilettos.
London Entertainment/Splash
Jada and Will were also among the guests, with Leah and her husband, Jennifer Lopez and Marc Anthony, David and Victoria Beckham, Brooke Shields and husband Chris Henchy (speaking of letting bygones be bygones), Jenny McCarthy and Jim Carrey, and many more at Tom and Katie Holmes' 2006 wedding in Italy. Again, in the book, Remini just characterized the Smiths as more "famous friends."
The only other mention of the couple in Troublemaker is that they were among the A-listers who chartered their own private jets after the nuptials. 
Nothing particularly scathing.
Yet considering Cruise's deep ties to Scientology and the professed importance of it in his life, he doesn't have many public relationships that aren't put to the are-they-Scientologists-too test. 
Surprise, not everyone is. Victoria Beckham, for instance, has declared that she and her husband are not and "really don't know very much about it," but she was asked about it because of their friendship with Cruise and Holmes.
Ex-Scientologist and former church board of directors member Mike Rinder, who was featured prominently in the Alex Gibney-directed documentary Going Clear and went on to become Remini's co-host on Scientology and the Aftermath, told The Daily Beast in early 2015 that Will Smith—who had said in 2007 that he was "introduced" to Scientology through Cruise—was not actually a Scientologist.
Basically, he and his family just seem to enjoy saying cryptic stuff and pontificating in public. Smith told The Christian Post in 2015 that his grandmother was a regular churchgoer and had been his "spiritual teacher" and "connection to God."
But though she didn't single Pinkett Smith out in her book while talking about the hide-and-seek party or Cruise's wedding, Remini told The Daily Beast in September 2017, "I know Jada's in. I know Jada's in. She's been in Scientology a long time. I never saw Will there, but I saw Jada at the Celebrity Centre [in Hollywood]. They opened up a Scientology school, and have since closed it. But Jada, I had seen her at the Scientology Celebrity Centre all the time." 
Evan Agostini/Invision/AP
Will and Jada opened the New Village Leadership Academy, a private elementary school, in Calabasas, Calif., in 2008 and word quickly spread that Study Technology—the academy's adopted method of instruction—came straight from Scientology founder L. Ron Hubbard. In an email to ABC News at the time, Pinkett Smith called Study Technology a "secular methodology intended to help students better understand what is being studied and apply it to real life."
Scientology "was the basis for the whole school. That was the overarching reason for it. Will Smith would even say, 'It has to be 100 percent in'," Jacqueline Olivier, who was the school's principal for one year, told Tony Ortega's The Underground Bunker in 2013. Ortega was also featured in Gibney's Going Clear and his site is devoted to Scientology coverage.
"I definitely want to make it very clear to everybody that the educational institution that we have, the school that Will and I have, is not a Scientology school," Jade told NPR in March 2009. "It is not a desire of ours to educate children with Scientology, that is not what Will and I want to do. And our school is not, and I repeat, not a Scientology school."
She reiterated in the June 2009 issue of Ebony, "All I can say is it is not a Scientology school. Now, If you don't trust me, and you are questioning my integrity, that's a whole different matter. That is straight evil to think that I would bring families into that educational institution and then try to get them to convert into some religion."
Regardless, the school closed in 2013.
Talking to WENN in 2006, Will Smith said, "I've talked to Tom about it. [There are] lots of incredible, wonderful concepts [but] Jada and I don't necessarily believe in organized religion. I was raised in a Baptist household, and my grandmother would get up out of her casket [if I became a Scientologist]."
And you can imagine Jada not particularly appreciating it when someone else tries to tell her story.
On Watch What Happens Live in July 2017, Pinkett Smith told Andy Cohen that the hide-and-seek story, as told in Troublemaker, wasn't true.
"I had hoped that she had left [Scientology], but this was the tell-tale sign that she was still in," Remini told The Daily Beast afterward. "She was on Bravo's Watch What Happens Live a few weeks ago promoting her film [Girls Trip], and Andy said to her, 'Have you read Leah Remini's book?' and he was like, 'What was that whole thing about playing tag?' and she said, 'Oh, she lied.' He goes, 'Isn't that weird, to play tag?' and she goes, 'No, the kids were there.' That was untrue. Bulls--t. There were no kids there. I was like, okay, alright, you're gonna do that? More power to ya."
Getty Images/E! Illustration
A few days after that story was published, Pinkett Smith took to Twitter to rebut Remini's assertion.
"I recently lit Shabbat candles with Rabbi Bentley at Temple Sinai... but I am not Jewish," she began a lengthy thread. "I have prayed in mosques all over the world... but I am not a Muslim. I have read the Bhagavad Gita... but I am not a Hindu. I have chanted and meditated in some of the most magnificent temples on earth… but I am not a Buddhist. I have studied Dianetics, and appreciate the merits of Study Tech… but I am not a Scientologist. I practice human kindness, and I believe that we each have the right to determine what we are and what we are not. NO ONE ELSE can hold that power."
Judging by the comments left on her posts, some people took that at face value, while others obviously didn't believe that she wasn't a Scientologist.
After the latest back-and-forth, including Jada's tweets, Tony Ortega contacted Jacqueline Olivier again and she said she had "not one doubt" that Jada was a Scientologist. Will "either really loved Jada and had opened a Scientology school for her, or he was into it too." (Along with Mike Rinder, Ortega had told The Daily Beast in 2015 that Will was not a Scientologist.)
This year, Jada Pinkett Smith has been delving into all sorts of personal subjects on Red Table Talk, from the stresses of marriage to how she's coping with hair loss.
Next up on the list of reckonings: clearing the air with Leah Remini.
"What was really emotional about it was realizing that there was two broken little girls in us that were abandoned by their fathers and turned into fighters who clashed," Pinkett Smith told People about their conversation, which will be available Oct. 22 on Facebook Watch.
The actress said, "You have to treat people with kindness because you don't know what they're going through. When she told me her story, I had so much more compassion and it reiterated the necessity to just be gentle and kind because we're all f--king devastated."
The two-hour special Leah Remini: Scientology and the Aftermath: The Jehovah's Witnesses premieres on A&E on Nov. 13, and Scientology and the Aftermath returns for its third season starting Nov. 27.