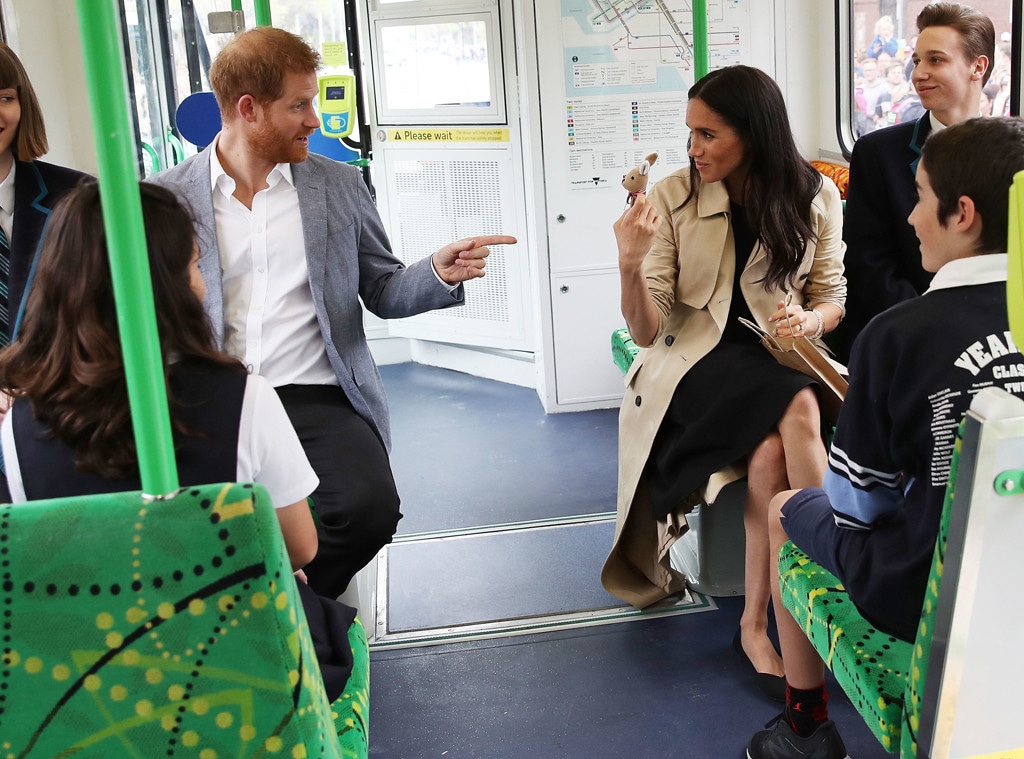 Chris Jackson/PA Wire
It's been just a few days since Meghan Markle and Prince Harry announced her pregnancy; however, it looks like the royal couple is already thinking about baby names. 
While taking a tram ride during the third day of their Australian royal tour, the Duke and Duchess of Sussex were asked if they had picked a moniker for their future child.
"We've been given a long list of names from everyone," the children on the train said Meghan replied. "We're going to sit down and have a look at them." 
Of course, Meghan, who is about 12 weeks pregnant, still has plenty of time to come up with the perfect name.
"She said that she hadn't thought of one as it was still quite early," noted 12-year-old Ella Burns. 
One royal admirer seemed to have a suggestion. While greeting well-wishers in Melbourne, Harry and Meghan stopped to chat with a 5-year-old child named Harriet and her mother Jessica.
"As soon as I introduced my daughter to Harry, he said, 'That's a great name,'" the proud parent said. "Maybe they will choose it for their own child, which would be fun."
Chris Jackson/Getty Images
Meghan and Harry certainly had a full day. The royals enjoyed a walkabout throughout the Royal Botanic Gardens and greeted a crowd of royal admirers. They also attended a reception hosted by the Governor of Victoria and watched a sporting demonstration with the ambassadors of the This Girl Can Campaign—even Meghan took part in the fun and tossed the ball around a bit.
In addition, the two visited contemporary dining restaurant Charcoal Lane, where they took part in a cooking session and sampled some of the local cuisine, including kangaroo and wild boar. Afterwards, they enjoyed some time with the local schoolchildren at Albert Park Primary and then hopped on the tram for a beach clean.
Meghan wore not one—but two—outfits throughout the day. First, she stunned in a blue "folded sail" dress by Dion Lee, which she paired with a Martin Grant trench coat and heels. The royal later changed into a black Club Monaco dress and ditched the heels for a more comfortable pair of Black Rothy's flats.