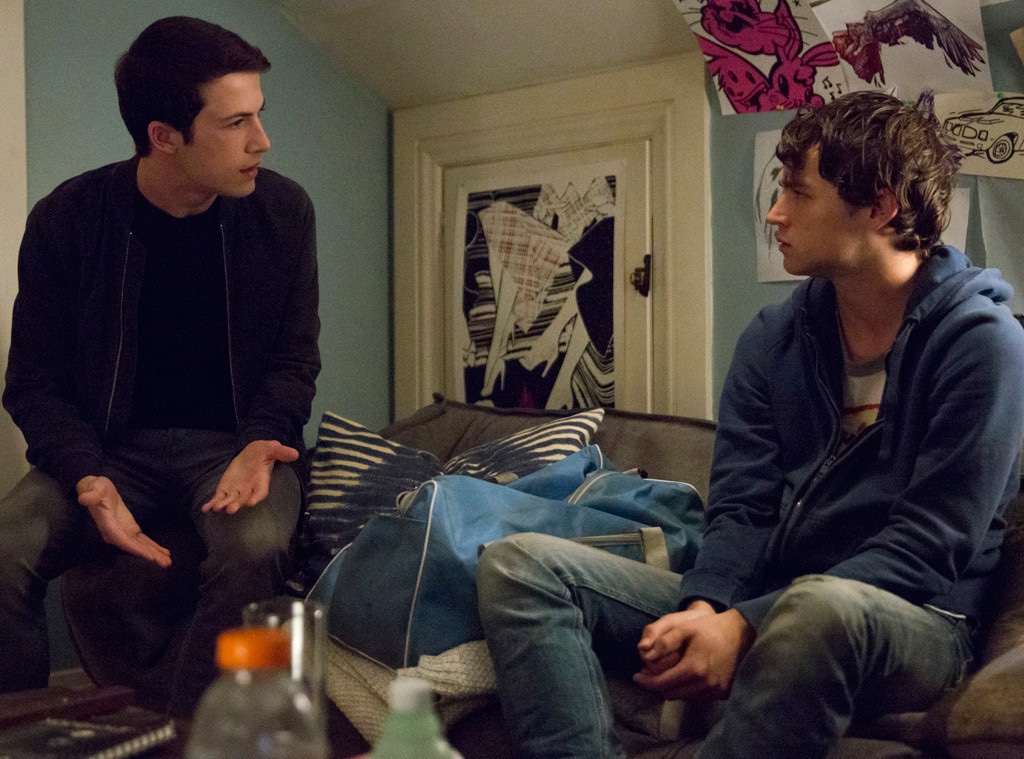 Netflix
Want the inside scoop on the People's Choice Awards Show of 2018 finalists? Look no further than the casts' Instagrams!
The stars of This Is Us, Grey's Anatomy, The Big Bang Theory, 13 Reasons Why and Shadowhunters: The Mortal Instruments are all about sharing amazing behind-the-scenes snapshots from the sets of their shows and it's like getting a backstage pass to your favorite characters' lives and homes.
When it comes to the Show of 2018 finalists, we can't get enough of watching everything that goes into making these hit series. From Mandy Moore's incredible transformation into the older Rebecca Pearson on This Is Us to stunt training on the set of Shadowhunters, these actors are always showing off their dedication to their craft.
But, that doesn't mean it's all work and no play while filming. In fact, the cast of Grey's Anatomy celebrated taping their season 14 finale with an ice cream truck while the stars of 13 Reasons Why love posting pictures of their good times together on set as much as possible.
The Big Bang Theory cast is also getting sentimental on Instagram these days as they film the final season of the CBS sitcom, which means lots of fun throwback pictures for fans to enjoy! TBBT cast's behind-the-scenes photos are not only priceless, but it makes us even more sad about the fact that they are almost done shooting.
Whether you voted for TBBT or Grey's Anatomy to win the Show of 2018 or you're a major fan of This Is Us, 13 Reasons Why or Shadowhunters, all of the shows have great casts who can't help but share what it's like on their different sets and we're very happy they do.
Don't miss all the best Instagram moments from the sets of the People's Choice Awards Show of 2018 finalists below!
Mandy Moore
There is no denying how close the cast of The Is Us has become while filming their hit show. Moore loves to gives fans behind-the-scenes scoop on the series by posting things like a time-lapse video of her transformation into the older Rebecca Pearson. She also shares pictures of herself with a fake mustache alongside her co-star Milo Ventimiglia. One time, she took fans to the set as the cast filmed of one of the show's most intense episodes when Jack Pearson (Ventimiglia) died in a house fire caused by the family's Crock-Pot. The season two episode was heartbreaking and it looks like it was equally tough to film.
Sterling K. Brown
On a lighter note, Sterling K. Brown also has a history of sharing with the This Is Us fans via social media. When he posted his #InMyFeelingsChallenge with his on-screen wife, Susan Kelechi Watson, we instantly fell more in love with them as a couple. Seriously, can we all agree that the pair is super adorable and need to do more Instagram challenges side by side?
Jesse Williams
The season 14 finale marked the end of chapter for Grey's Anatomy. The long-running ABC show said goodbye to two fan favorites, Sarah Drew AKA April Kepner and Jessica Capshaw AKA Arizona Robbins. Jesse Williams posted a sweet montage of memories with his frequent scene partner, Drew. 
Kevin McKidd
Kevin McKidd also shared a photo of Capshaw and Drew during their last days of filming, which made our hearts hurt even more. Luckily, there was also a lot to celebrate over the past year for the series. Throughout season 14, the cast and crew held a bake off and indulged ice cream together, because they love having fun with each other which McKidd documented on Instagram. We definitely wish we could dig into some treats with the cast of Grey's Anatomy
Jim Parsons
The Big Bang Theory is coming to a close after 12 laugh-out-loud seasons and we are not ready. We love checking out the casts' Instagram accounts to see everything from rehearsals to filming and to keep track of the nerd herd whenever possible. From adorable snapshots to photos with guest stars like Kathy Bates, we will miss seeing all of the on-set antics from the cast of The Big Bang Theory once it officially ends.
Mayim Bialik
We also are not ready to say goodbye to Mayim Bialik's cute selfies from the set of the show. They make us love her and her character Amy Farrah Fowler even more. Seriously, what will the world be without our favorites, Sheldon Cooper (Jim Parsons), Leonard Hofstadter (Johnny Galecki), and of course, Penny (Kaley Cuoco) on our Instagram feed all the time?
Devin Druid
The stars of 13 Reasons Why are all about sharing posts from the set of their hit Netflix series and we can't help wanting to be in on all the fun! The cast always seem to be hanging together whether they are on or off set, which again makes us jealous. It is however pretty awesome to see how close-knit they are.
Kate Walsh
When it comes down to it, Kate Walsh, who plays Hannah Baker's mother on the drama series, may be the queen of the selfie on the set. She has posted selfies with both Katherine Langford and Dylan Minnette in honor of their birthdays, proving that they are all really close, and that Walsh loves a good selfie!
SHADOWHUNTERS: THE MORTAL INSTRUMENTS:
Matthew Daddario
The cast of Shadowhunters show off their rehearsal process and so much more on Instagram. In the past, Matthew Daddario shared a stunt rehearsal pic between his castmates, Alberto Rosende and Dom Sherwood and let's just say, it looks like things can get a little intense on set from time to time.
Katherine McNamara
When it comes to the show's leading lady, Katherine McNamara also takes her fans inside her life on set on the regular. One of the coolest things she's done is take fans into the makeup trailer as she posed with Sherwood and the show's makeup artist. Since the show is ending in 2019, we are taking in any, and all, snaps from the Freeform cast whenever possible.
Find out which Show of 2018 finalist takes home the trophy when the 2018 People's Choice Awards airs live on E! on Sunday, Nov. 11.