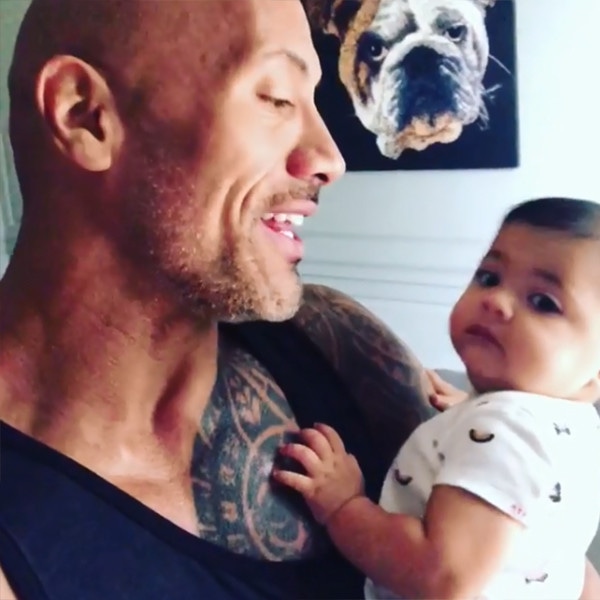 Instagram
You're welcome?
Dwayne Johnson posted on his Instagram page on Wednesday a video of him singing "Happy Birthday" to his youngest daughter Tiana Gia, who just turned 6 months old. The child did not seem interested in her dad's singing, seeking something else entirely.
"'I just want breast milk!'" The Rock translated for his fans, as the child started crying. "Yeah. Don't we all."
"Happy 6 month Birthday to our lil' disrupter, Tiana Gia. We're a family of non-traditionalists so we celebrate everything ❤️ @laurenhashianofficial #TeamBreastMilk," Johnson wrote.
Tiana is the 46-year-old star's second child with longtime partner, Lauren Hashian, 34. They are also parents to 2 and 1/2-year-old daughter Jasmine, while Johnson also has a 17-year-old daughter, Simone, from a past marriage.
Johnson, who previously showcased his singing skills in films such as Disney's Moana, is proud of what he jokes is his "honey-coated gravel voice."
Watch:
Dwayne Johnson Talks Family Life and "Skyscraper"
Earlier this month, he posted a photo of Tiana sleeping in his arms.
He wrote, "Me: Come here baby, daddy's gonna sing to you. Tiana Gia: Falls fast asleep by the time daddy sings the 2nd verse. Me: Good Lord my honey-coated gravel voice is effective. I'm feelin' very good about myself right now. Tiana Gia: Proceeds to poo BIG. Me: Questioning how I should interpret this entire emasculating situation. #DaddysArmsAndLullabies #EffectiveInEveryWay."