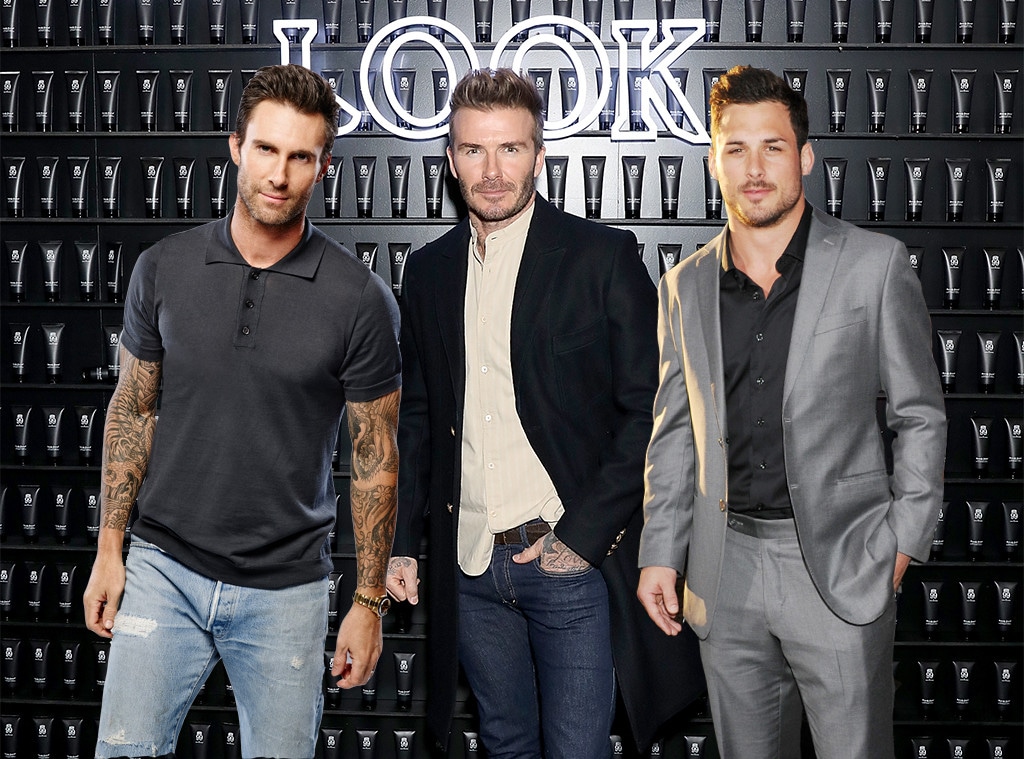 Getty Images/ E! Illustration
Some of the biggest names in beauty right now are celebrities. Kylie Jenner, Kim Kardashian, Rihanna, Jessica Alba, Jessica Simpson and Drew Barrymore all have their own makeup lines, and everyone from Ariana Grande to Gigi Hadid to Chrissy Teigen has collaborated on a cosmetics collection bearing her name. 
When it comes to skincare, Gwyneth Paltrow and Miranda Kerr have their own lines, and there's no shortage of stars shilling moisturizing and anti-aging products. The same goes for haircare, which is why you've seen Selena Gomez, Blake Lively, Katie Holmes and even Beyoncé advertising shampoo and color care products. 
The list of celebrity women who endorse—and even create—products that are designed to make the rest of us look and feel better is a long one. And though we don't generally see too many famous men becoming spokesmen for hair and skincare products (credit cards and insurance companies being more their racket), cultural norms continue to shift and, slowly but surely, the great world of grooming is opening up to guys. 
Some O.G. credit is due to Sean "Diddy" Combs, who was the first celebrity frontman for Proactiv skincare in the mid-2000s. Technically, Mark Ruffalo and Jerry O'Connell had already been in Clearasil commercials, but they were actors in advertisements—not skincare spokesmen with star power. It was Diddy who famously said Proactiv "moisturizes my situation" and "preserves my sexy"—thus bringing bona fide celebrity status to an infomercial.
And male stars making skincare sexy didn't stop with Diddy. In 2010, Justin Bieber  followed suit as the new fresh face of Proactiv, and by 2013, Adam Levine had teamed up with the skincare giant. It was right around this time that old-fashioned shave kits made their way back to the masses, and the it's-for-girls stigma that once clung to self-care seemed to be fading fast.
Suddenly, guys weren't just admiring David Beckham's facial hair du jour—they were talking about it and seeking products that could help them get the look. 
The demand for more male-specific grooming products and skincare solutions has been steadily on the rise ever since.
Jason Merritt/Getty Images
Dr. Brent Ridge and Josh Kilmer-Purcell, otherwise known as the stars of The Fabulous Beekman Boys and winners of The Amazing Race's 21st season, have seen it firsthand with the launch of their lifestyle brand, Beekman 1802. They began selling skincare products in 2015, and as Josh tells E! News exclusively, "The men's line has really exploded."
And it's not just badger brushes and post-shave serums that have gone mainstream.
Moisturizers, hair products and even masks marketed for male consumers are seeing surges in popularity and production. Brands such as Kiehl's, Sephora and Ulta Beauty all have skin and haircare products geared specifically toward guys, and earlier this year, Beckham partnered with L'Oréal to launch his own men's grooming line, House of 99. 
"1999 was such an important year for me, for many different reasons—on and off the pitch," the retired soccer stud and model told British GQ about the meaning behind his new venture. "In '98, that red card, it was such a difficult and tough year, [and so] '99 was my way of coming out of the difficult time. I became a man with having my son and ended up winning the treble at United—it was special."
No need to separate the pitch from the product.
Other famous athletes with grooming-related endorsement deals include figure skater Adam Rippon and NFL hunk Danny Amendola, both of whom recently co-starred in a Nivea Men ad campaign touting the brand's shaving and moisturizing products.
Baseball star Bryce Harper and his bushy beard teamed up earlier this year with Blind Barber, a New York City barbershop/lounge with a line of hair, face and body products for men. 
And while so far it's been mostly athletes who've used their famous faces (and bodies) to help sell men's grooming products, Adam Hurly, a grooming writer for GQ and former editor at Birchbox Man, predicts we're going to start seeing more recognizable men in the mix.
Because, as Hurly tells E! News exclusively, partnering with the right star "is such an opportunity for brands to align themselves with men that their consumers admire."
Stefanie Keenan/Getty Images for Vanity Fair
And there are some famous, well-groomed faces (and heads of hair) that would seem like obvious choices to sell products that more and more guys are looking to buy.
Beckham, for example, is indeed one of the stars Hurly describes as "commendably adventurous and dynamic with [his] grooming." He also cites Donald Glover, Zayn Malik, Brad Pitt and Kanye West as "guys [that] have a massive portfolio of hair colors, facial hair styles, and hair styles." 
A man doesn't have to be able to grow a beard to be considered a male grooming trendsetter, though. Just look at Bieber: He's "experimental with his grooming moves," says Hurly, "and he can't grow a ton of facial hair."
Bald men can be grooming innovators as well. Take Dwayne Johnson—he might not have much hair on his head, but Hurly says he's "a great example" of a guy who isn't afraid of "trying different facial hair lengths, contrasts and styles."
Then there are the celebrities like Jared Leto, Joe Jonas, Wiz Khalifa, Zayn, the Biebs and West who have cycled through bold hair color choices over the years. And even more, such as Levine, Zac Efron, Orlando Bloom and Ansel Elgort, have tried out lighter, bleached-blond locks. 
What's newer, though, Hurly points out, is how we're "seeing more men experimenting with eyeliner...and even mascara, nail color [and] eye shadow." 
That's right: Men—and yes, famous men—are wearing more makeup now than ever before. And we're not just talking about a little color-correcting concealer and shine-stopping powder before a photoshoot. Stars like Russell Brand and Pete Wentz are pioneers when it comes to the ever-growing guyliner trend, and we've seen Jaden Smith sporting nail polish on the red carpet and Harry Styles rocking a manicure onstage.
Meanwhile, Hurly says, it's head-to-toe style icons like Troye Sivan, Queer Eye's Jonathan Van Ness, Adam Lambert and E.J. Johnson whose lead "will pave the way for the later adapters."
And not surprisingly, cosmetics companies are eager to meet the growing demand for men's makeup. A company called Menaji has been in the business of "corrective cosmetics and skincare for men" since 2010, and brands like Clinique, Tom Ford and most recently Chanel all have concealers, moisturizers and anti-aging products designed specifically for men. 
Some of the big mass-market brands have partnered up with male influencers in the beauty world as well. It started with CoverGirl, who hired model and beauty vlogger James Charles as its first-ever CoverBoy in 2016. Since then, Maybelline, Ulta Beauty and L'Oréal have all incorporated male spokesmodels into their campaigns. 
Jake-Jamie Ward, aka "The Beauty Boy," is a male beauty blogger and the first-ever male spokesmodel for L'Oréal U.K. He's on a "mission to prove that makeup is genderless," he tells E! News exclusively, and he's encouraged to see more men in makeup advertisements.
"For a long time, it wasn't the social norm," he says, "but that is changing. I think many cosmetic houses have begun to see the error in their ways...Why would you exclude a whole sex from feeling part of the fun, confidence and creativity that makeup can bring?"
Ward is one of a handful of men in makeup who's risen to Internet fame through his video tutorials. His goal is to "help men and women to create the very best possible version of themselves"—a trend we're seeing throughout the entire self-care industry.  
"There's a whole world of products traditionally targeted at women that can also be enjoyed by men," says GQ's Hurley. He expects we'll keep seeing "a continued increase in awareness" in grooming and self-care products guys use, as well as men beginning to "invest more money in their regimen."
And when it comes to guys wearing more obvious glam, Hurly says we might be "a decade or two from this being a regular occurrence on the carpet." But with the rise of male beauty bloggers and stars live Sivan and Van Ness leading the way, Hurly says that "the seeds have been planted."