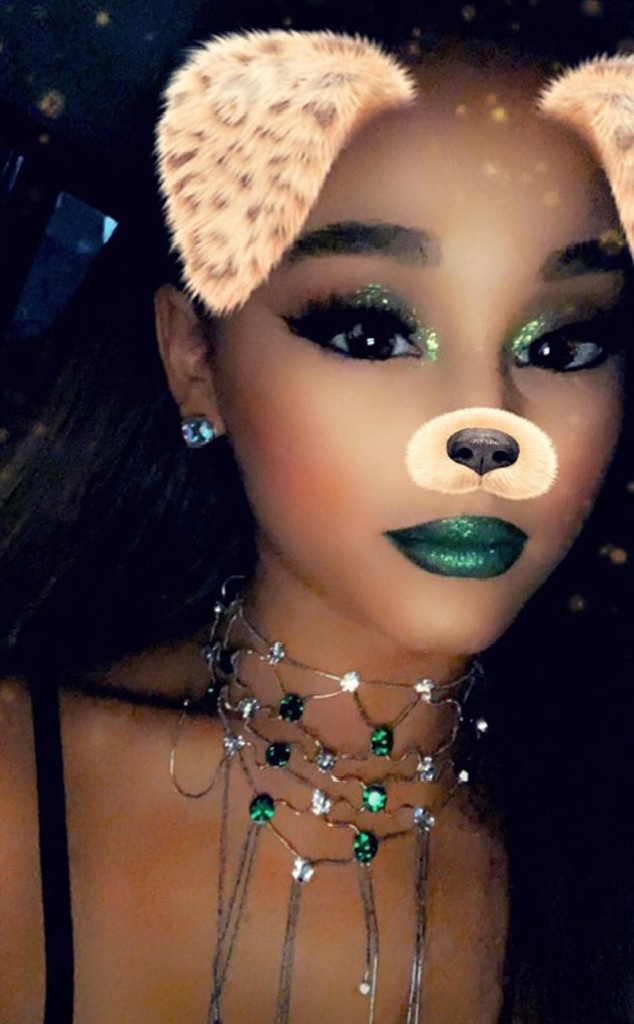 There ain't no rest for the "Wicked."
Ariana Grande stepped out and made her first public appearance since her split with fiancé Pete Davidson. Grande posted photos on her Instagram story from her taping today of NBC's A Very Wicked Halloween, which is a tribute to the musical's 15th anniversary on Broadway.
In one picture, Grande wears a deep green lipstick, a green and white necklance and diamond earrings. In another part of her Instagram story, she described the experience and how she was nearly tempted not to come to the recording. She wrote, "Can't believe I almost let my anxiety ruin this for me today!! Not today satan! Not tomorrow or the next day either not no more u can suck my big green d--k. finna sing my heart out and be a big walking vessel of love bye."
Her makeup artist Mario Dedivanovic posted a video on Instagram of Grande singing soulfully in her bright makeup and strapless green dress. A fan named Lyric Smith met Grande backstage at the taping and said the singer was "kind."
Tuesday night, Grande posted a photo with fellow A Very Wicked Halloween performer, Idina Menzel. The "God Is a Woman" singer fan-girled over meeting the Frozen star and captioned the sweet picture of them, "if y'all told me ab any of this fifteen years ago ........................... bye"
Kristin Chenoweth also plays a big role in the Wicked special.
This performance marks a big step for Grande. On Sunday, news broke that the "No Tears Left to Cry" singer and Davidson ended their engagement and whirlwind romance after about four months. It would also be her first performance since September, when her ex-boyfriend Mac Miller  died from a suspected overdose at the age of 26.
On Saturday, Grande pulled out of performing at a gala where her manager, Scooter Braun, was honoring his wife Yael Cohen Braun. 
The Sweetener artist has been taking time away from the spotlight since Miller's passing. She and Davidson attended the 2018 MTV VMAs, but skipped out on the 2018 Emmys in order to "take some much needed time to heal and mend."
She and Miller dated for two years, but broke up in May 2018. Days after his death, she broke her silence and posted an emotional tribute to the rapper. She shared an Instagram video of him telling her a story and described her feelings for him in the caption. She wrote, "i adored you from the day i met you when i was nineteen and i always will. i can't believe you aren't here anymore. i really can't wrap my head around it. we talked about this. so many times. i'm so mad, i'm so sad i don't know what to do."
She continued, "you were my dearest friend. for so long. above anything else. i'm so sorry i couldn't fix or take your pain away. i really wanted to. the kindest, sweetest soul with demons he never deserved. i hope you're okay now. rest."
Her grief over Miller's sudden death played a major role in her break up with Davidson. A source told E! News that she is "truly hurting from the death of Mac and feels very overwhelmed with her life right now." 
The insider also shared, "Ariana hasn't given herself enough time for the grieving and healing process, and feels like her emotions are out of control."
Another source told E! News that Grande has been feeling "overwhelmed" and needed to " take a step back and just breathe for a minute."
This isn't the first time she's kept her distance from the stage. On May 22, 2017, a bomb went off outside her concert in Manchester, England, causing 22 deaths. She immediately returned to her home in Florida where Scooter Braun told her, "We need to get a concert and get back out there." A few weeks later, she and other famous musicians including Katy Perry, Coldplay, Niall Horan, Miley Cyrus and Justin Bieber gathered in Manchester for a benefit concert.
After the attack, Grande retreated and worked on her music, which turned out to be her new album Sweetener. She dealt with some PTSD symptoms and told Time that the experience is still painful to think about. "The processing part is going to take forever," she said.