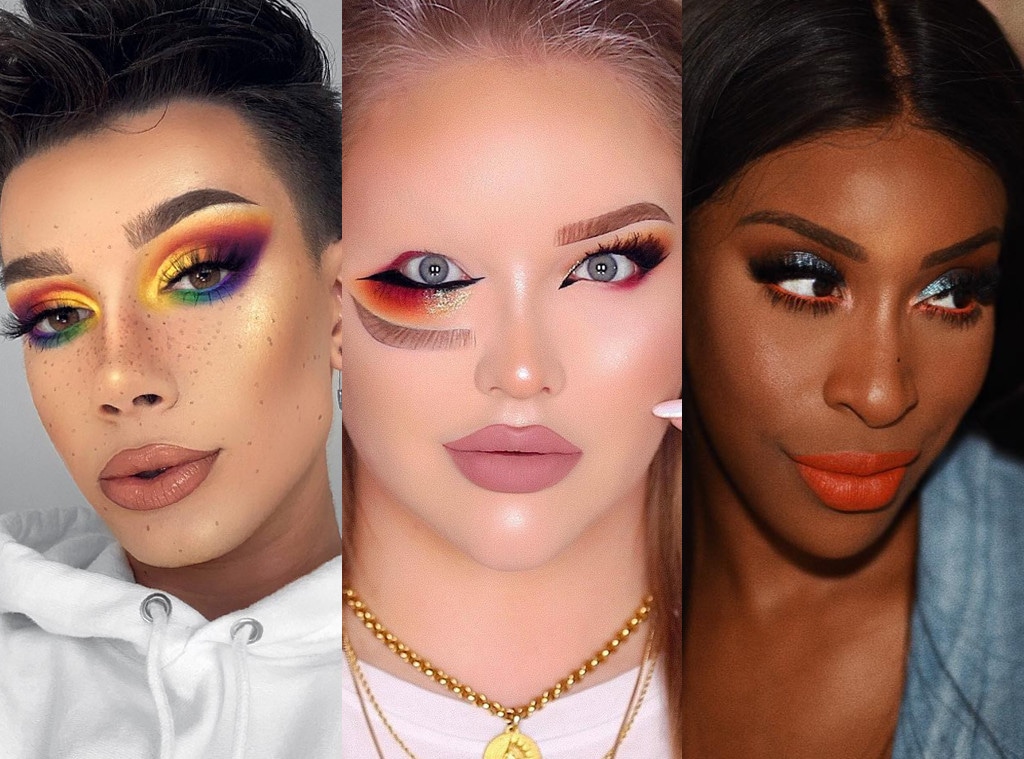 Instagram
Excuse us while we pick our jaws up off the floor, because these beauty gurus have left us in total awe.
This year, the E! People's Choice Awards are recognizing so many social media stars, but with so much talent out there, the network had to include a special spot for these makeup masters!
Whether they're walking us through everyday makeup techniques, glittery glam applications, or out of this world Halloween looks, these vloggers have been helping viewers across the globe with all sorts of cosmetic creations.
On Nov. 11, finalists NIKKIETUTORIALS, Bretman Rock, Brooklyn and Bailey, Jackie Aina, and James Charles will find out which one of them will be crowned the Beauty Influencer of 2018 at this year's PCAs and the anticipation is killing us.
Honestly, each and every one of them is talented enough to claim the crown, so we don't know who will take the prize when all is said and done.
The fierce finalists are all amazing artists, so it's no wonder they're being recognized this year.
Sadly, voting is closed for the PCAs, so you'll just have to set your DVRs to see which vlogger will be the Beauty Influencer of 2018.
But while you await the nail-biting announcement—don't worry, we won't tell the beauty gurus you bite your nails—be sure to take a look at some of their most incredible transformations below!
It's the perfect way to pass the time, we promise. 
Plus, if you really want a way to celebrate these finalists, you could always follow along with their tutorials and then try the killer looks out for yourself!
NIKKIETUTORIALS: Ghoulish Glam
Someone call an exorcist! For this Halloween look, NIKKIETUTORIALS—whose real name is Nikkie de Jager—really showed off her artistic prowess by creating a hauntingly realistic makeup design that shows a demon face hiding under a mask of her human face. It's so good that we can't tear ourselves away from the screen.
NIKKIETUTORIALS: Trippy Tutorial
Not only is this transformation totally unique, but it truly takes an incredible amount of talent and expertise to do two identical eye looks while one is upside down. Honestly, it's hard enough to create a symmetrical look normally, let alone a mirror image of one!
Bretman Rock: Killer Contour
If we're talking about Bretman Rock AKA Bretman Sacayanan, it's only fair that we feature his first-ever makeup tutorial. In this video, he walks fans through the process of full face contouring, step by step. By the end of the tutorial, his face is snatched!
Bretman Rock: Toddler Time
We just have to say that Bretman Rock really shines in this challenge, especially considering the results could have been disastrous! Even with a toddler picking out products for him, the social media star's final look is giving us life.
Brooklyn and Bailey: Sugar Skull Sweetness
In this tutorial, twins Brooklyn and Bailey McKnight get artsy with sugar skull-inspired makeup. Theirs isn't as dramatic as some other sugar skull looks on the internet, but the pink pop really draws us in and makes us believe that we too can become a sugar skull this Halloween season.
Brooklyn and Bailey: Homecoming Help
Since the twins' YouTube channel was designed to cater to teens' interests, it makes total sense that they would do a fabulous homecoming tutorial. Even if you aren't currently in high school, girls everywhere can be thankful that Brooklyn and Bailey are here to walk them through this glam look. 
Jackie Aina: Black and White Beauty
Jakie Aina is known for pointing out the injustices that people of color face within the beauty community and in this tutorial she does just that...while expertly trolling people who "don't see color." Since her makeup application is shown in black-and-white, viewers can't tell how her look will turn out until the end when she reveals she's wearing yellow concealer, red brows and contour, and a purple pout. The beauty vlogger proved that her finished look is just as ridiculous as people that claim they "don't see color."
Jackie Aina: Struggle to Snatched
We're continually happy that Jackie Aina is sharing her talent with the world, because she's a stunner! In this tutorial specifically, she goes from fresh face to a seriously flawless full-face of makeup and we're in awe of it all.
James Charles: Halloween Hottie
CoverGirl made James Charles (whose full name is James Charles Dickinson) their first male spokesperson for a reason...he knows his way around a makeup brush! One of his most memorable beauty tutorials over the years was when he took on the iconic character of Pennywise the Clown from IT. As one of the most terrifying monsters Stephen King ever created, we knew this look would be terrifying, but what we didn't expect is that we'd be left speechless by the beauty of the Halloween look.
James Charles: Pride Perfection
We are all about this pride look! In this video, the makeup master not only expertly crafted the perfect cut crease, but he also beautifully blended all the colors of the rainbow in a stunning celebration of the LGBTQ+ community. It is a gorgeous look and we want to rock it whenever possible.
We can't wait to see which beauty influencer takes home the trophy at this year's PCAs! Will you be tuning in too?