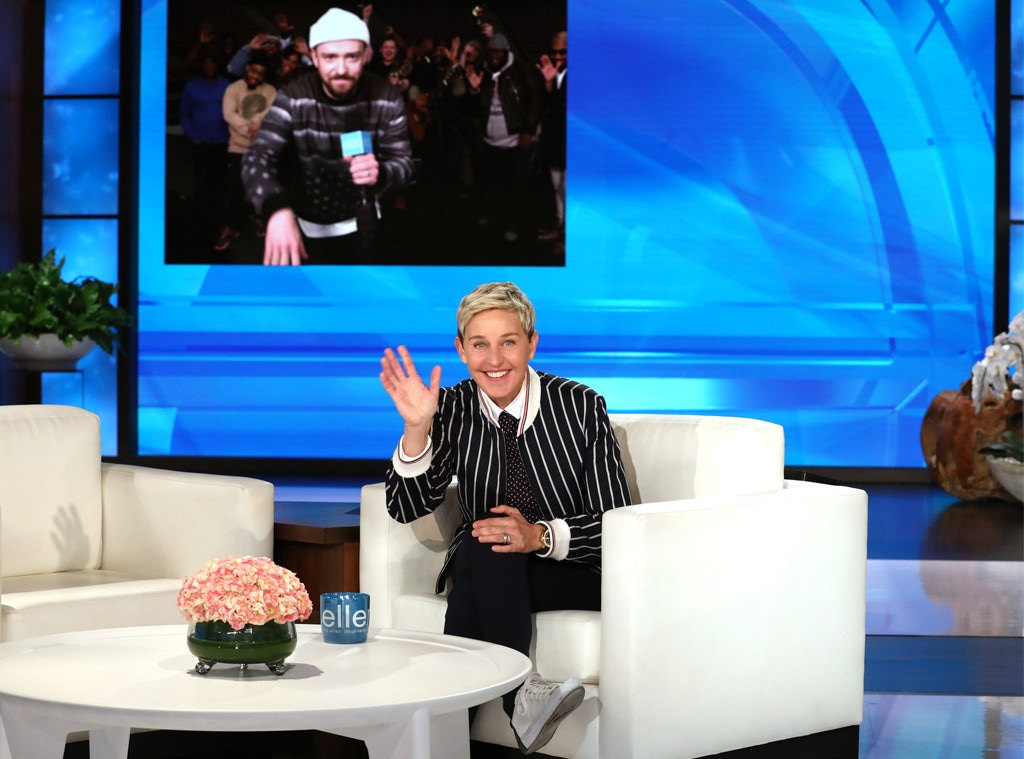 Michael Rozman/Warner Bros.
Be kind to one another...by sharing Ellen DeGeneres' greatest posts with each other!
In a surprise to no one, the popular talk show host is a finalist for the E! People's Choice Awards this year, thanks to her hilarious and wonderful internet presence.
The 60-year-old comedian is up for Social Celebrity of 2018 against Selena Gomez, Chrissy Teigen, Taylor Swift, and BTS.
If her millions and millions of followers and subscribers aren't reason enough to make DeGeneres a finalist, her content certainly is.
After all, we can't forget that the star's picture-perfect Oscars selfie didn't just break records...it broke Twitter itself and that's no easy feat.
Plus, we love scrolling through social media and seeing her fabulous photos with famous friends, because it makes us feel like we're besties with the A-listers too!
Anyway, the TV personality always seems to know how to brighten our days, filling our feeds with the sweetest snaps of beautiful babies and adorable animals and we are so grateful for them.
Seriously, it's impossible to not smile when DeGeneres posts a pic of a precious puppy or a laughing infant!
It's always such a treat when those posts pop up on Twitter or Instagram and it's one of the many reasons we follow her online.
The comedian also cracks so many jokes that have us in stitches as we scroll, which is a serious selling point.
Plus, DeGeneres is all about promoting positivity across her platforms, inspiring all her followers to make the world a nicer, brighter place to live.
Sadly, voting is closed for the 2018 PCAs, so you'll just have to make sure you're watching the show on Nov. 11 to find out if the daytime host takes home that trophy.
In the meantime, see why you should be following DeGeneres on social media—that is, if you aren't already—below.
1. Her famous friends give us the ultimate FOMO.
Pick an A-lister, any A-lister. Odds are whoever you choose is close with DeGeneres, and she isn't shy about flaunting those famous friendships. We'd give anything to be invited to a DeGeneres dinner party!
2. You never have to worry about missing the show.
Couldn't catch an episode of The Ellen DeGeneres Show? Never fear! The talk show host makes sure to upload the best clips from each episode to her YouTube and EllenTube pages, which is a great reason to follow her on the daily.
3. She uses her platform to have important conversations.
Even though the 60-year-old star is a comedian, she doesn't shy away from tough topics. She uses her celebrity status to promote equality and stand up for what's right. After all, she signs off every show telling the audience to be kind to one another.
4. She fills our feeds with cute babies and adorable animals.
Honestly, who doesn't love cute things? Nobody, nobody has issues with cute things, duh. Luckily for us, DeGeneres constantly shares sweet snaps and cute clips of babies, animals, and all things loveable and we can't get enough of them.
5. Her relationship melts our hearts.
Speaking of sweet snaps, the Emmy-winner has us saying "awww" every time she posts a precious picture with wife Portia de Rossi. Their love is just so heartwarming!
6. She's funny as hell.
This isn't surprising at all, seeing as DeGeneres' comedy career is what spring-boarded her into stardom. The good news is that she takes that iconic humor and brings it to her tweets and Instagram posts and it's too funny.
7. Her birthday messages to other celebs are pure perfection.
So we've already tackled the TV personality's famous friendships and her comedy prowess, but her birthday shout outs to fellow A-listers is the perfect blend of those two things. They are funny and thoughtful and now we're just patiently waiting for our invite to Hugh Jackman's birthday bash...or any celeb birthday celebration that DeGeneres would also be attending!
We won't find out for a few weeks if DeGeneres will be crowned the Social Celebrity of 2018, but win or lose we know her killer content isn't going anywhere...thank goodness.