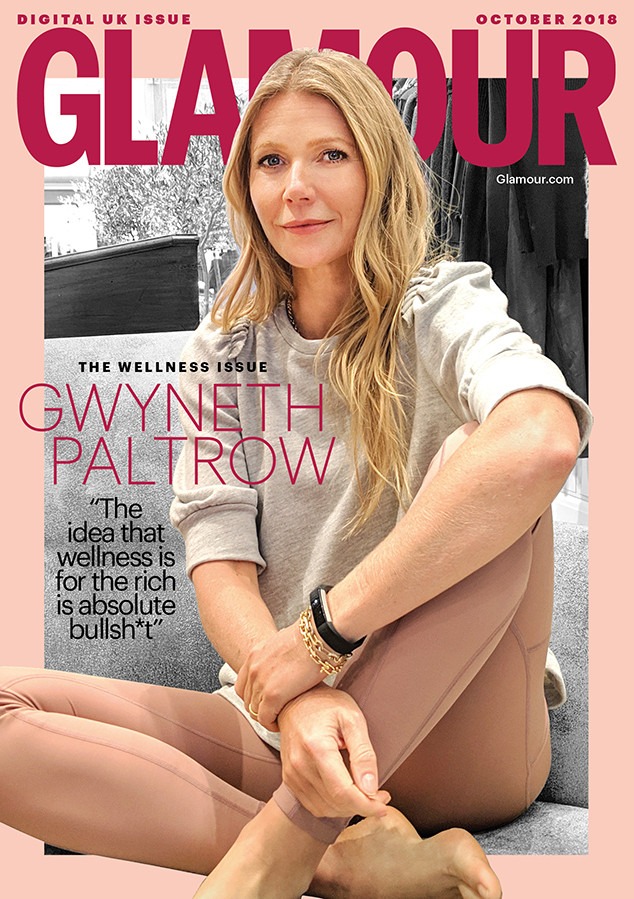 <i>Glamour U.K.</i>
It's been about two weeks since Gwyneth Paltrow tied the knot with Brad Falchuk in an intimate ceremony at a Hamptons home. Now, the actress is opening up about her newlywed bliss in a new cover story for Glamour U.K.'s October 2018 digital issue.
"It's fantastic," Gwyneth told the media outlet about her new married life. "I feel so lucky, and I am so grateful. It's different to be in your mid-40s; do it again and bring all your experience, your pain, your happiness, suffering—everything. It's actually very heartening. I feel very optimistic!"
Paltrow and Falchuk said "I do" in front of their family and friends, as well as in front of a few celebrity guests, including her Iron Man co-star Robert Downey Jr. and his wife Susan Downey, Cameron Diaz and her music hubby Benji Madden and Steven Spielberg. Jerry Seinfeld and his wife Jessica Seinfeld were also there and even hosted a rehearsal dinner for the couple the night before. 
The wedding took place nine months after the couple confirmed their engagement; although rumors of a proposal had already started spreading months before.
It certainly has been a big year for the Shakespeare in Love star. In addition to getting married, Paltrow continued to grow her modern lifestyle brand Goop and even opened her first London store.
"I just can't believe it," Paltrow told the publication. "I sent out a little newsletter from my kitchen in Belsize Park in 2008 and now this whole business has been created. It's so nice to come home to London and to open a shop where this all started. I love London so much, my children were born here, they are half British – so I feel tied to this city and this country."
Paltrow shares two children—Apple, 14, and Moses, 12—with her ex Chris Martin—whom she consciously uncoupled from in 2014. In fact, Paltrow wouldn't mind bringing her daughter onto the Goop team one day.
"That would be great!" Paltrow said in regards to the idea of bringing the teen on as an intern. "She has her finger on the pulse. She really is my focus group; I am always asking her opinion about this or that. She represents that Gen-Z generation. I don't know half the things she talks about, but I try to keep up with her!"
The brand sells an array of products from skincare and makeup products to clothing items and vibrators. But does the celebrity ever break her wellness habits and indulge in a bit of junk food?
"I always strive towards what is coming next and how can we optimize our health, but I am always very honest and transparent about the fact I love a martini and a plate of French fries!" she said. "This idea that you have to be an aesthetic monk on a hill, have just brown rice, drink green tea and meditate all day doesn't sound fun or sexy or interesting. So, you have to know you are living in the modern world and balance is key." 
To read her full interview, check out Glamour U.K.'s October 2018 digital issue.