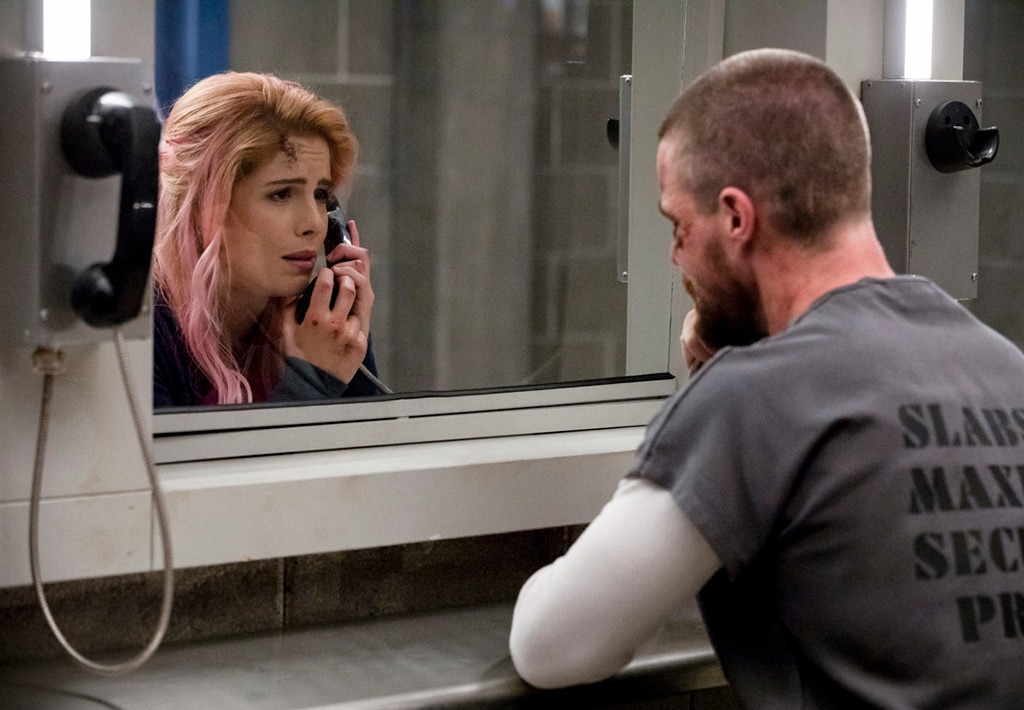 The CW
Prison! So fun!
That was the general sarcastic sentiment of most of tonight's premiere, which saw Oliver Queen (Stephen Amell) facing down the Green Arrow's enemies in maximum security prison. He got beat up a lot and did his best to keep his head down in an effort to get his sentence shortened. That plan lasted only until his next shower, when he was attacked while totally naked, resulting in the naked shower fight scene we weren't really expecting to see on the CW anytime soon. 
Meanwhile, while Dinah, Diggle, and Renee were all concerning themselves with a mysterious new vigilante, Felicity (Emily Bett Rickards) and her pink hair were calling themselves Erin and working in a coffee shop, living in a small apartment with William. But Diaz (Kirk Acevedo) found them and attacked right around the same time that naked shower fight scene was going down. Oliver, naked and bleeding on the floor, then learned his wife was dead. She was not, but Diaz did try pretty hard. 
Felicity then paid a visit to the prison where she and Oliver cried together on the opposite sides of a window. Felicity then went off to send William somewhere safe, and Oliver fully gave up on his plan to not fight people in prison. 
BUT ALSO!!!
The episode ended with the official return of Colton Haynes as Roy, but he was not the same Roy we last saw leave with Thea (Willa Holland). It was a Roy who was much older, back on Lian Yu with William, now around 30. William actually spent the entire episode looking for Roy, though we didn't know he was William and we didn't know he was looking for Roy until the end, when he held up the reconnection stone (given to him earlier by Felicity) and said "I believe you know my father, Oliver Queen." 
While those island flashbacks were always (sometimes, mostly) fun, we gotta say, this is a whole lot more interesting. 
Arrow airs Mondays at 8 p.m. on the CW.