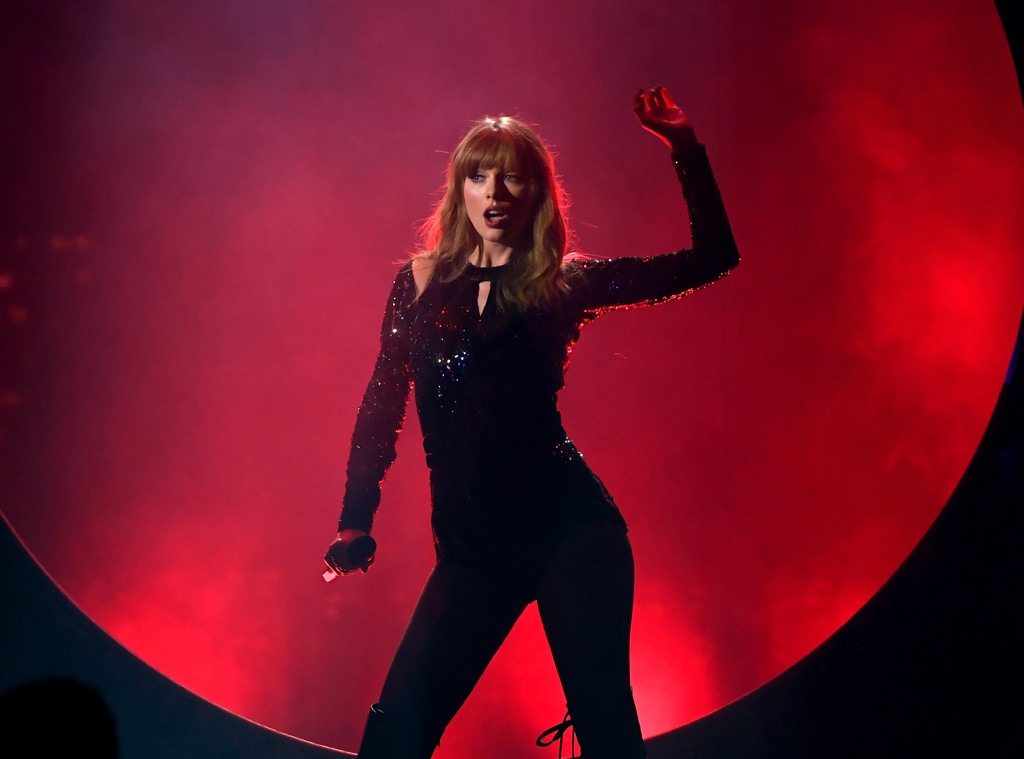 Kevin Winter/Getty Images For dcp
From #SquadGoals to adorable photos of her cats, Taylor Swift brings us inside her world all the time through her Instagram account, which is probably why the star has earned a coveted finalist spot in the Social Celebrity of 2018 category at the upcoming E! People's Choice Awards.
If you are one of the more than 112 million people who follow the "Gorgeous" singer on Instagram, you already know that she posts all about having fun on the road during her Reputation Tour.
Whether it's her tour snaps or her random travels, pictures with friends and of course, her cats, Olivia Benson and Meredith Grey, we can't get enough of Swift and her social media presence.
Recently, Swift even took to Instagram to get political for the first time ever. She sparked headlines with a single post earlier this month endorsing a democratic candidate in the upcoming midterm election, and again proved that her account is one to watch.
When it comes down to it, it's not only what Swift posts that gets attention, it's what she deletes as well that drives her fans a little crazy. For example, who could forget the time she deleted all the posts from her account ahead of the release of Reputation in 2017?
Luckily, the "Call It What You Want" singer is back and better than ever on Instagram and we're just as hooked as we were before she went dark.
In addition to being a finalist for Social Celebrity of 2018, Swift also racked up nominations for Concert Tour of 2018 and Female Artist of 2018 at this year's People's Choice Awards so, yes she is a fan favorite.
Take a look below to see Swift's biggest social media moments from 2018 and get ready for the award show next month to see which awards Swift takes home.
Squad Goals
The "I Did Something Bad" performer is all about her squad. Over the years, we have seen her photographed with the likes of Selena Gomez, Karlie Kloss, Lena Dunham and Hailee Steinfeld. Recently, she posted photos with Adele and J.K. Rowling as well as her childhood friend Claire Winter. As her squad continues to grow we can't wait to see who else joins in on all the fun.
Cat Love
Swift's love for her cats, Olivia and Meredith, knows no bounds! They make frequent appearances on her Instagram...even as she travels the globe for the Reputation tour. The "Shake It Off" singer even had her pets' likenesses printed on T-shirts and made into earrings. If that's not love, what is?
Around the World and Back Again
When you are going on a world tour, why not bring a few of your friends along for the ride? Swift did exactly that when she asked Charlie XCX and Camila Cabello to be her opening acts for the Reputation stadium tour. The ladies marked the beginning and end of the tour by posing together, which is so sweet.
Going Back to Her Roots
You may remember back to the days when Swift was a country singer. The star recently returned to her roots by performing at Nashville's Bluebird Cafe where she first sang at only 14 years old. Also, the "Love Story" performer went back to her childhood home and shared her love for her old stomping grounds online.
Getting Political
The "Mine" singer took a stance when she endorsed Democratic candidate Phil Bredesen for the Tennessean Senate race, which was the first time that the singer had made her political beliefs known. The post focused on finding candidates that align with your values. With this single Instagram post, Swift proved her own power with 65,000 Americans between ages of 18 to 29 registering to vote following her revelation.
To see if Swift becomes a big winner at the People's Choice Awards, don't miss the show when it airs live on E! on Sunday, Nov. 11.