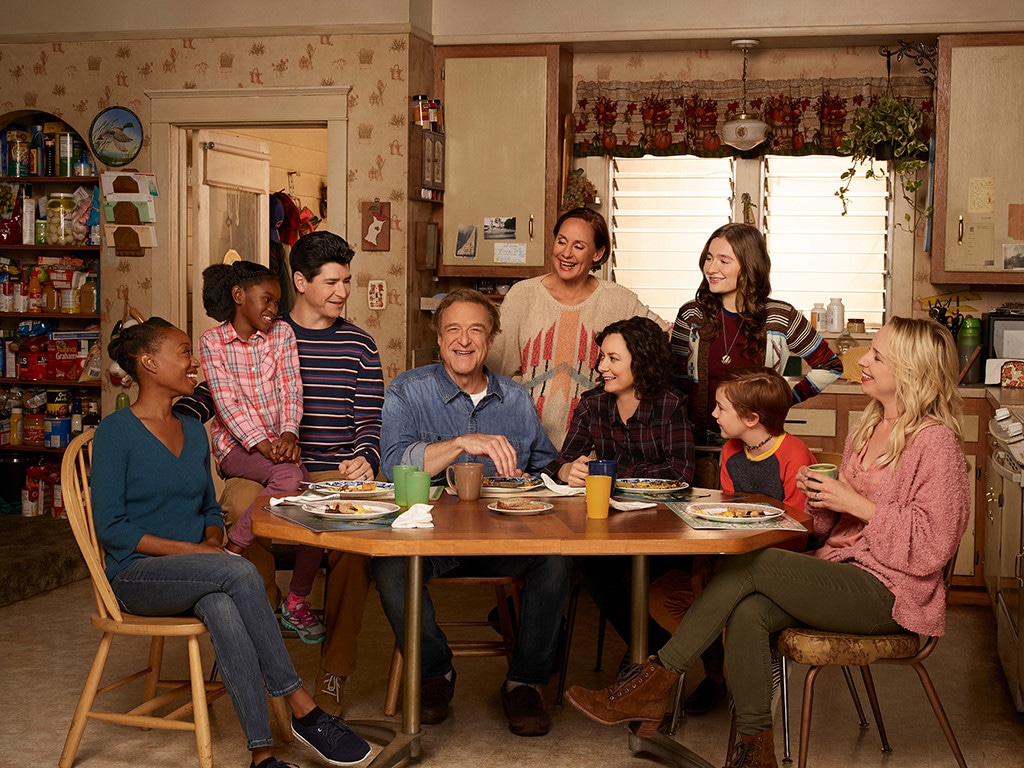 ABC
Roseanne is dead. Long live The Conners?
That's what ABC's hoping for after Roseanne Barr's Twitter antics effectively undid the network's biggest success story of the last TV season, leaving executives, producers, and the rest of the show's stars—basically, anyone who wasn't Roseanne Barr—to scramble to find a solution that could keep hundreds of people employed and a ratings hit on the air without keeping the toxic titular star on TV.
The compromise? The aforementioned The Conners, a re-tooling of the show, revived after 11 years off the air, that's essentially Roseanne without Roseanne. Debuting tonight, the re-titled series follows Dan, Jackie, Darlene and Roseanne's clan as they are "forced to face the daily struggles of life in Lanford in a way they never have before" following "a sudden turn of events." What turn of events, you ask? You'll have to tune in to find out. (Although, Barr thinks she knows and doesn't care about spoiling it.)
To say that what ABC is attempting to pull off here—the extraction of its most prominent, most vocal star (and her character) from one of its biggest success stories in years in a way that feels honest and realistic and doesn't just doom the thing right out of the gate—is risky is an understatement in its purest form. This is like doing a tightrope act without a safety net over a pool of hungry sharks. One false move and you're chum.
"We want people to watch the show and see what happens and how we [wrote Roseanne off]," executive producer Bruce Rasmussen told Variety about the top-secret resolution to the show's glaring absence. "You don't want to be flip about how you do this. A lot of people cared about that character and it's separate from whatever feelings they had about the person and her political views and the things she said. We wanted to honor that character. People can have their opinions after that."
Oh, and they will.
We've seen two of The Conner's new episodes, including tonight's premiere, and, without giving anything away, we can safely say that everything that you loved about Roseanne is pretty much in tact and nothing is weighed down by the intense baggage that came with Barr being on the face of the show. John Goodman and Laurie Metcalf are still the peerless pros they've always been. And without Barr sucking all the air out of the room, they, along with Sara Gilbert, Lecy Goranson and, to a lesser extent, Michael Fishman, get to really shine with some meaty material that lives perfectly in that space where sarcastic comedy meets working class tragedy, a space that Roseanne all but perfected in its heyday. 
"Very few shows have gone on after the lead character has left, so part of it was how do we make a show that works without that central character? It was a little surprising to me that it was as easy as it was to move forward without that character, but the other characters came to the fore more," Rasmussen told the publication about the show's latest iteration. "We're going to get more involved in the characters' personal lives this year. It really is where are they at in their lives now and what does that mean and what are they going to be dealing with?"
However, the notion of what will make The Conners a success feels hard to pin down. Certainly, the material we've been able to preview works artistically, but this is show business and, at the end of the day, ABC wants this endeavor, however noble it may have been on their part, to be profitable. It would be incredibly naive to expect the show, even with the curiosity factor worked in, to return to anywhere near the 18.44 million viewers who tuned in to the revival's first episode back in March. But what about the 10.58 million who were still watching at the end of the season? It's hard to say whether Barr's diehard fans will want anything to do with the series any longer. Ditto for those who were so repulsed by Barr's behavior that they already tuned out last season and have no intention of returning.
"There was a lot of risk involved,"  Metcalf, who scored an Emmy nomination this year for her stellar work in the revival, told People. "But we all decided as a group to take the risk, knowing that we could be judged by deciding to come back."
That begs the question: What will be the reward for all this risk? Certainly, keeping hundreds of people employed is lovely and, despite the fact that it was her own impetuous behavior that threw everything into jeopardy to begin with, one can't discount Barr's agreeing to forgo any and all financial and creative ties moving forward as a means of keeping some semblance of the series on the air. But one also can't rule out the fact that if/when The Conners returns to soft numbers, it will be like catnip for the tempestuous and embittered former star and the trolls she counts as fans. 
So that judgement? It's coming. Hopefully it will have all been worth it when it does.