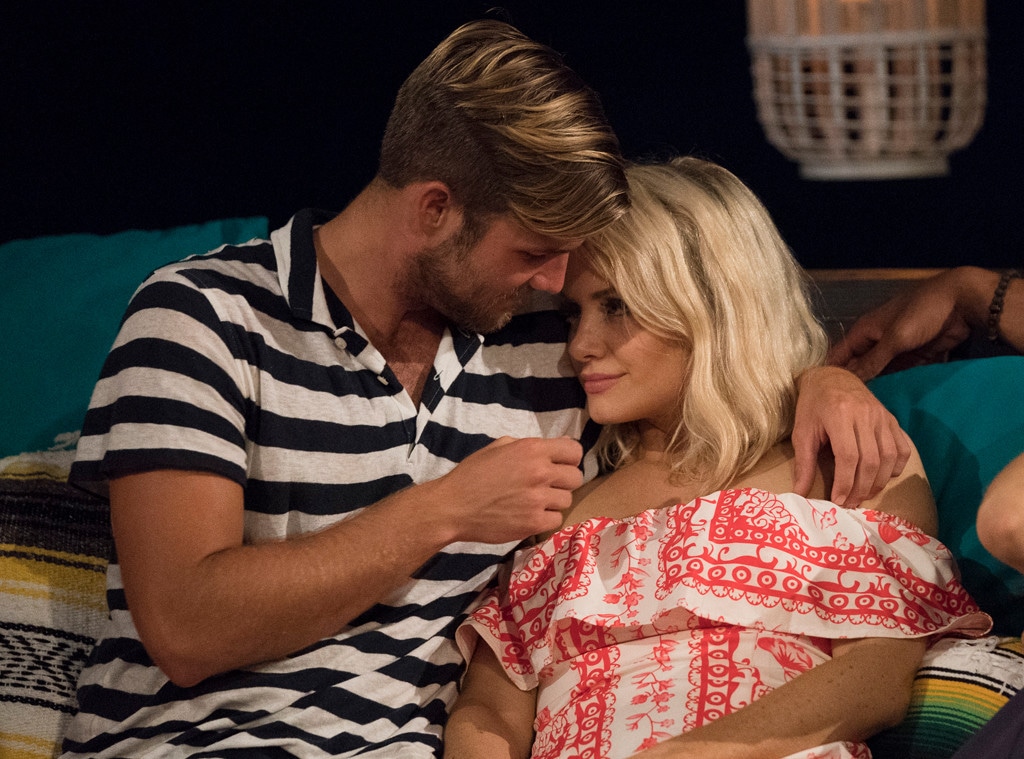 Paul Hebert/ABC
Jenna Cooper is trying to clear her name. 
A month ago, the former Bachelor in Paradise contestant was caught in controversy when alleged text messages sent by her to another man were published by Reality Steve—the same day that fans watched the reality star accept a proposal from fellow castmate Jordan Kimball on the season five finale. The text messages, allegedly from her, included lines like "Me and Jordan aren't together for real" and "He means nothing to me and never has."
While Cooper denied cheating and said the texts were fabricated, Kimball publicly confirmed that he had decided to "remove myself from the relationship." 
Cooper subsequently hired attorneys to investigate and, on Monday, her rep released the results of a digital forensic analysis on her electronic devices. "A comprehensive forensic examination of Jenna's devices by an independent third-party expert has definitively confirmed none of the text messages in question came from Jenna's phone," her rep Steve Honig said in a statement. "Given the conclusive findings of the forensic report, Jenna's team is considering all options available to Jenna relating to the fraudulent texts."
According to the forensic report released to E! News, data and text messages, including recovered deleted text messages, from Cooper's iPhone, iPad and iCloud backup between June 2017 and September were analyzed and did not reveal any of the text messages alleged to be created by her in Reality Steve's report. 
"A search of the imaged devices did not locate any of the text messages in the form published on realitysteve.com on September 11, 2018," the report declared, noting that unique words and phrases like "melting" and "you still love me" from the alleged text messages were used in keyword searches of the text messages from Cooper's devices. 
"None of the text messages, in the form published on realitysteve.com, were found on Ms. Cooper's iPhone, iPad, or iCloud Backup during the analysis," the report further stated. According to the security company, there were some text messages containing those keywords or phrases that were sent by Cooper to the number believed to be Kimball's or vice versa between June and August. 
Protus3 also questioned how Reality Steve had verified the texts that had been published and said in the report that "proper authentication" would require access to the device on which the messages were allegedly received for forensic analysis and could not be verified based off of screenshots alone. Reality Steve previously wrote in his post, "These texts have been verified they are from Jenna, these are confirmed from her phone number, so in case you have any doubts, just know this has been vetted out."
"I don't care what they produced today," Reality Steve said in a statement to E! News on Monday. "Proves nothing to me. Way too many questions surrounding it to even get into. I stand by my reporting."
Honig also made additional allegations against Kimball regarding the exes' relationship. "After the cameras stopped rolling, Jordan's demeanor toward Jenna changed dramatically. He let it be known there was only room for one celebrity in the relationship, he was more successful and famous than her, she would never make as much money as him or amount to anything in life," Honig said. "She was belittled and made to feel insignificant and worthless. He continues to disparage her to this day. As painful as this has been for Jenna, she is glad he showed his true colors before they were married and began building a life together."
E! News has reached out to Kimball for comment regarding the new claims.