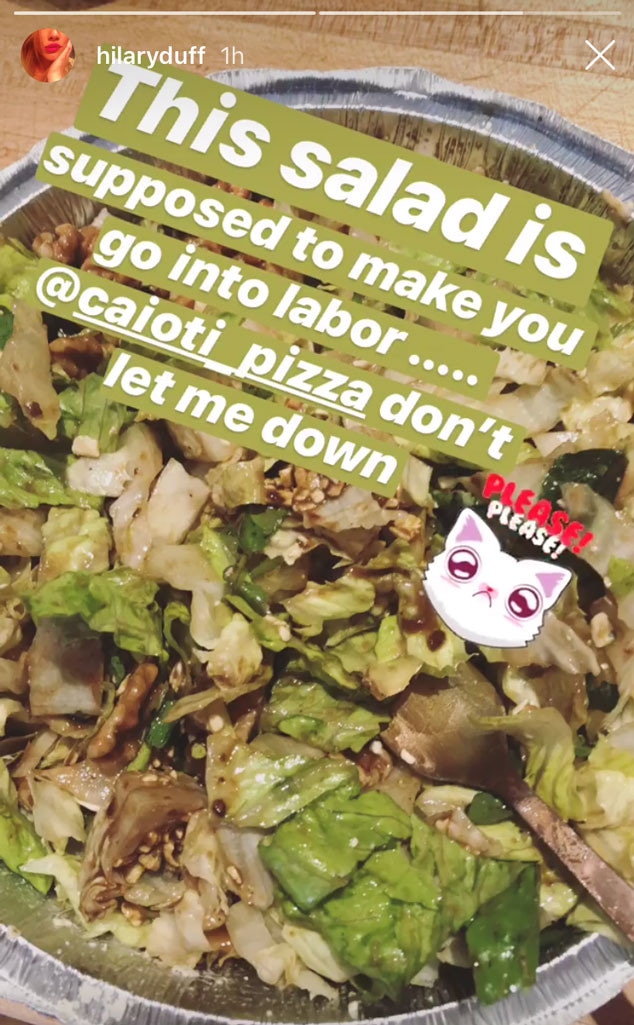 Instagram
Hilary Duff is ready to meet her baby girl!
The 31-year-old Younger star, who is expecting a daughter very soon with boyfriend Matthew Koma, took to social media over the weekend to let her followers know that she's trying to induce her labor. Duff posted a photo of a salad to her Instagram Story on Sunday with the caption, "This salad is supposed to make you go into labor...@caioti_pizza don't let me down."
In response to Duff's post, a Caioti Pizza employee tells E! News, "We do have a salad that supposedly makes people go into labor. They say it's in the dressing, which is just a balsamic and there are special herbs that make women have contractions and go into labor. None of the servers know what exactly is in the 'special herbs' mix, only the kitchen knows."
"It's true that women have eaten this salad - called The Salad - and gone into labor, it's what Caioti Pizza is known for," the employee continues. "There is a whole baby board on the wall and there are at least 15-20 pregnant women a day who come in to order the salad. The ingredients in The Salad are romaine, water cress, Gorgonzola and walnuts with balsamic dressing and the special herbs. It costs $13.95 for a full and $10.95 for a half."
Duff and Koma announced that they're expecting their first child together back in June. "Guess what guys! @matthewkoma and I made a little princess of our own and we couldn't be more excited!!!!!!" Duff told her fans.
Koma also told his Instagram followers, "We made a baby girl! She will be as beautiful and sweet as her mother... @hilaryduff another incredible chapter begins."
In August, Duff asked her baby girl to "hurry it on up" as she shared a photo of her bare belly on Instagram. Earlier in the summer, Duff opened up about her "hard as hell" second pregnancy with her social media followers.
"The boobs are big the belly is big the body is big. Man.. pregnancy is hard," she captioned an Instagram post. "Giving love to all mamas who make it look effortless... this journey is hard as hell and also incredibly special."
"Lovely to have a little life inside and to day dream of all the new adventures to come buuuut almost impossible to get my own shoes on..sick of getting up 9 times a night to pee and looking at this weird body in the mirror that is not my own at the moment," Duff continued. "Women are so bad ass, this was just a note to remind myself and remind others how's strong and beautiful you are! WE GOT THIS."
To celebrate her 31st birthday last month, Duff took a trip to Disneyland with Koma and her 6-year-old son Luca Comrie, who she shares with her ex, Mike Comrie.