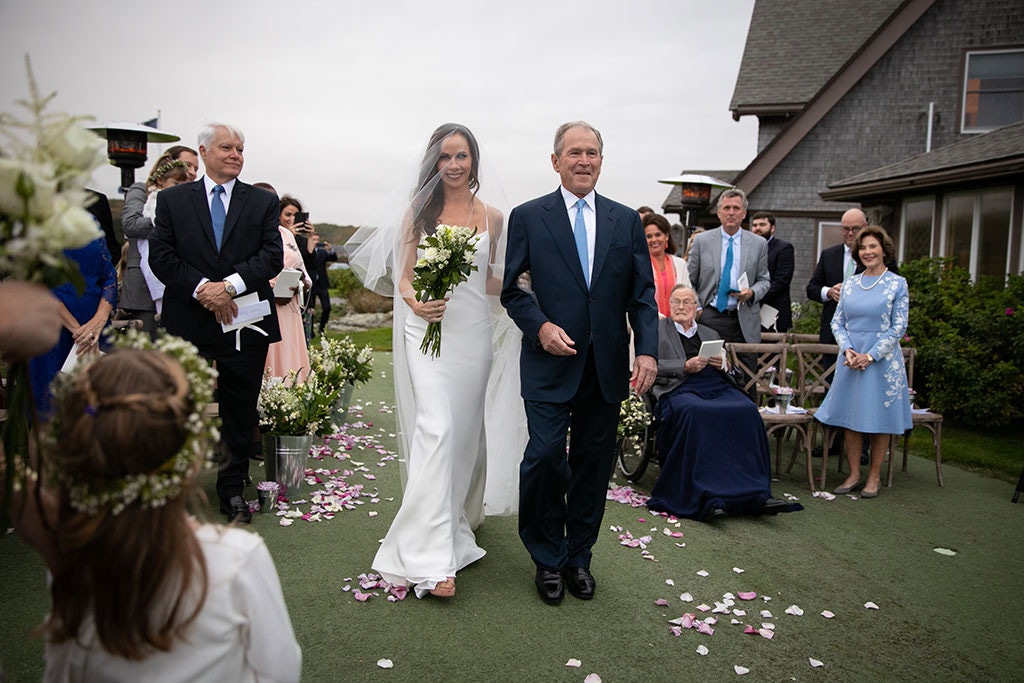 Paul Morse
Former President George W. Bush pulled the ultimate dad move: photobombing a picture of his two daughters.
On Saturday, Jenna Bush Hager posted a very candid photo of herself hugging her sister Barbara Bush. Barbara has a huge smile on her face while Jenna's nose is scrunched against her sister's head. Everything was going well until, presumably at the last moment, President Bush jumped in at the last moment trying make a cameo. There's another person throwing up a peace sign in the background. 
Jenna made fun of the situation on Instagram. "Thought this was just a simple picture of a sisterly hug. #popsiclephotobomb," she captioned the picture.
There's been lots of sisterly love and hugs over the past week, especially after Barbara's surprise wedding to screenwriter Craig Louis Coyne last weekend.
Barbara and Louis tied the knot at the Bush property in Kennebunkport, Maine in front of a small group of family and friends. Barbara wore a gorgeous silk Vera Wang gown that day.
Her father walked her down the aisle and her grandfather, former President George H.W. Bush had a front row seat. Jenna posted a picture of her and Barbara looking over the ocean and gushed about her sister. She wrote, "Happy tears, heart exploding as I watched this beautiful girl get married in the place that means love and family. I'm so proud to be this beauty's sister."
Jenna has continued to post special moments from the big day all over her social media pages. 
The wedding's location in Maine has a special place in the Bush family's heart and love stories. Craig proposed to Barbara there, according to People. It also happened to be the same spot where her grandfather asked her grandmother, Barbara Bush, the same question.
The elder Barbara died in April at the age of 92, but the bride Barbara honored her grandmother that day with her "something borrowed," that happened to be a bracelet her grandfather gave to her grandmother.