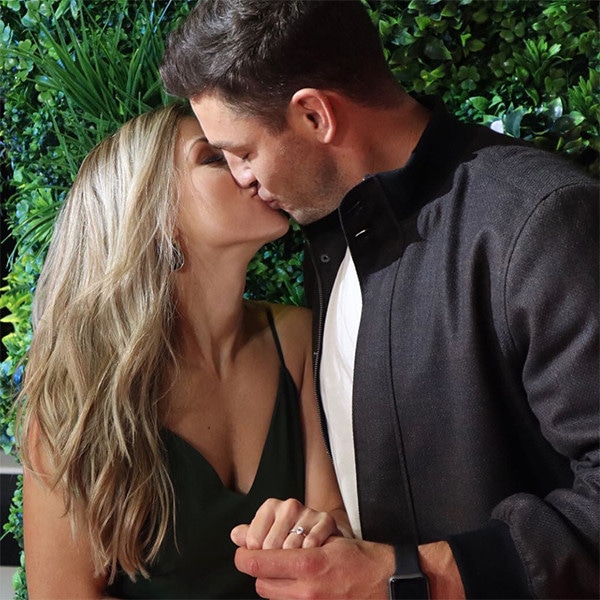 Instagram
Hey, your "skeleton" may end up being the person you marry.
Real World: Skeletons and The Challenge star Tony Raines is engaged to high school sweetheart and off-again, on-again girlfriend Alyssa Giacone, the mother of one of his two daughters.
Raines announced the news on Saturday on Instagram, alongside a photo of him and Giacone kissing, with her showcasing a pear-shaped diamond engagement ring.
"We're engaged!" he wrote.
"Fiancé has a nice [ring emoji] to it!" Giacone wrote on her own page. "We're ENGAGED yall!!!! @t_raines #weregettingmarried #hefinallypoppedthequestion #newyorkcity #isaidYES."
Raines and Giacone were together for eight years before he appeared on Real World: Skeletons in 2014, where he was famously blindsided by her and another ex when they joined him on the show.
The two later reconciled and in November 2016, they welcomed a daughter, Isla Rose. Raines also shares a 2-year-old daughter, Harper London, with ex Madison Channing Walls, his roommate on Real World: Skeletons.
He went on to appear on several seasons of The Challenge, including The Challenge XXX: Dirty 30. On one episode of the latter season, which aired in September 2017, Raines made out with fellow contestant Camila Nakagawa. He later called Giacone and denied anything had happened. A source told E! News at the time that she was "broken hearted about the mistake he made" and that Raines "loves her and wants to do anything he can to make it right."
The following November, Giacone accompanied Raines to the Challenge reunion show.
In 2018, Raines competed on The Challenge: Champs vs. Stars.
"I've been thinking about this [proposal] since Dirty 30," Tony told MTV News. "I had a conversation with CT while filming Dirty 30 about him marrying Lili and me marrying Alyssa. When we won Champs vs. Stars together, he gave me the trip as an engagement or honeymoon gift. Alyssa and I were invited to his wedding and had a blast there."
Chris "CT" Tamburello and Lilianet "Lili" Solares wed last month in Florida.
"You've all seen me grow so much over the seasons," Raines told MTV News. "Now, proposing here to Alyssa and getting engaged feels like the perfect ending to the Trilogy."