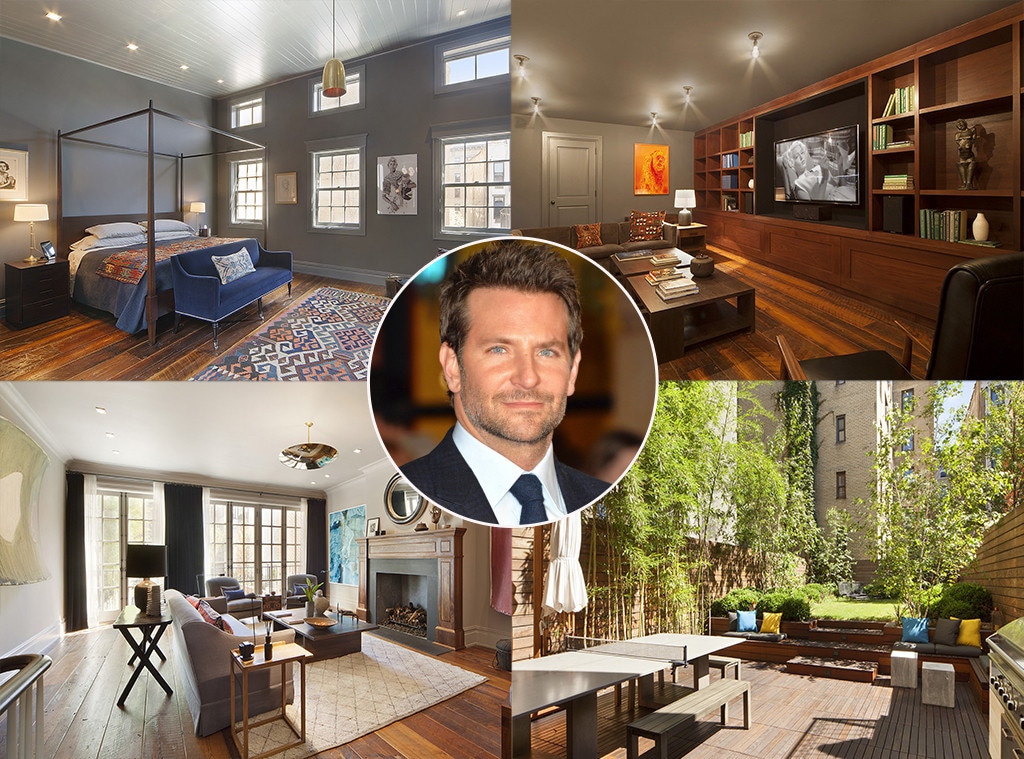 ScottParks International Realty; UPPA via ZUMA Press
Nice place, Bradley Cooper! 
The A Star Is Born actor recently scooped up a stunning townhouse in the West Village for a whopping $13 million and of course there's plenty of space for everyone including Irina Shayk and their 1-year-old daughter, Lea.
The simple yet sophisticated West Village townhouse in New York City is a stunner with approximately 4,000 square feet and a classic red-brick exterior.
When you're an A-List actor and have roles in movies such as The Hangover, American Hustle and the critically acclaimed A Star is Born alongside Lady Gaga, you deserve a new house like this and even better, you can afford it!
The luxuries and entertainment of the surrounding restaurants in the upscale Manhattan neighborhood aren't bad either.
ScottParks International Realty
The 43-year-old's new home boasts six bedrooms and four and a half bathrooms with all of the luxurious amenities and smart-house fixtures you could want.
The living room is warm with wide-planked refurbished barn floors and three sets of French windows that give you a glance at a rare New York backyard big enough for entertaining a small crowd. The simple fireplace with some molding detail is the showstopper of the room and he'll be sure to have easy access to enjoy a glass of wine in this space after he pours it from his climate-controlled cellar.
ScottParks International Realty
The kitchen gives off an inviting feeling with a soapstone island, white cabinets and high-end stainless steel kitchen appliances such as a Sub-Zero refrigerator. The large wood-beams at the top add character to the room and make it the perfect place to find your inner chef and make some family memories. Perhaps, he'll play music while he uses the kitchen, using one of the iPads on each floor to play music from Sonos speakers in the kitchen. 
The backyard is a rare gem in Manhattan. Supplied with white birch trees, shrubs, a luxurious grill and ping-pong table, the outdoor area doesn't disappoint. The dad-of-one can make it a party destination with celebrity friends like Leonardo DiCaprio, Jonah Hill and Gerard Butler.
ScottParks International Realty
The media room is handsome and cozy. We can imagine Bradley will be sure to pop himself on to the couch with his family and watch his favorite films and television shows on the 65-inch television and maybe place some of his awards including his two Hollywood Film Awards on the mahogany built-in shelves.
ScottParks International Realty
The master bedroom is spacious, tall and clean. There's cooler tones in this room with grey walls, crown molding detail and a fireplace that stands in the center of the room that Bradley will probably make a lot of use out of on chilly New York evenings.
The bathroom compliments the bedroom and follows the theme of the grey walls with a grey slate shower and cast-iron tub with a skylight. 
Congrats on the new digs, Bradley! We're more than impressed.