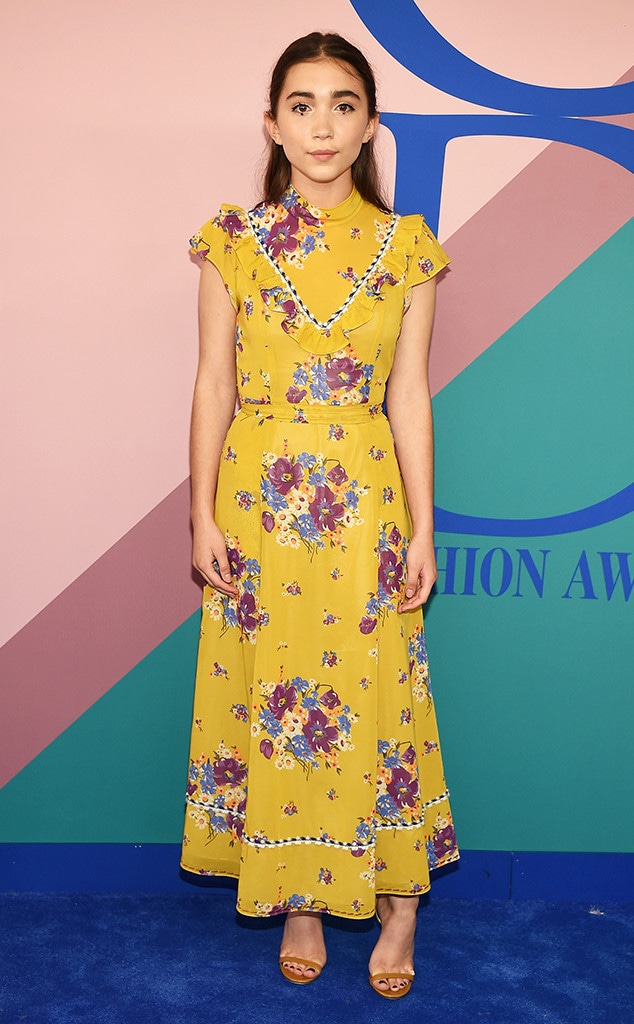 Dimitrios Kambouris/Getty Images
Rowan Blanchard isn't your average teenager.
Already an acclaimed author, social activist and teen advocate, the Girl Meets World star has become a leader of her generation.
And although she grew up on television screens in family rooms around the world, her passion for social issues goes beyond that of most of her peers.
The actress' future looks brighter than ever as she celebrates her birthday today. And while she may only be turning 17 years old, this young woman is proving to be wise beyond her years.
Here are eight ways that the actress has wowed fans with her intelligence, maturity and wise words.
Make a Statement: When Rowan was asked to speak at the Women's March in Los Angeles—when she was only 15-years-old—she wanted to be a representative for her generation.
"Speaking at the march was a way for me to remind people of all ages that if you lose teenagers, you lose the next voting generation. We saw that a lot of people didn't vote in this election because they didn't think their one vote would make a difference. People genuinely believe that. That's my biggest concern," she told Glamour magazine. "Young people are taught to believe what adults tell us, and when you act like your vote doesn't matter, that's the message we get. I was lucky to grow up in a household where I was allowed to question adults and engage in conversations about what I believe and learn from them. But for the vast majority of teens, that doesn't exist—especially if you are growing up in a household that is racist or homophobic. So my biggest plea is to adults: Include us in your conversations. Give us more platforms, and don't talk down to us when you do include us. Our voices matter."
Rock the Vote: A student of the Internet, Rowan took advantage of the information that was available online to educate and encourage those around her.
"During and after the election I think people forgot that there were a lot of us who had worked hard to get our parents, families, or friends to vote, even though we couldn't vote ourselves. There was this weird feeling of being left behind in a lot of conversations. I wanted to make it clear that teenagers deserve a seat at the table. I wanted to talk about my generation because I feel like often when we are talked about, it's not from our mouths but from adults who are writing about us. Let's say you're a teen who is an undocumented immigrant. Is someone going to ask you why you are involved in politics? And then you get deported? The idea that teens shouldn't be interested in politics just doesn't make sense to me. Even though we can't vote yet, we young people are all so, so affected by this presidency. And we're incredibly aware of it," Blanchard told Glamour magazine.
BeYOUtiful Inside and Out: To Blanchard, self-care doesn't mean drinking green juice and attending daily Pilates classes.
"[The idea of self-care] is not accessible to everyone in the same way, so it feels strange to act like it is," she told PopSugar. "That said, skin care has always felt so personal to me, because it's one factor of my body that I am able to control. There is something about that, as a young woman right now, that feels good to have control over something."
Real-Life Page Turner: At just 13-years-old, Blanchard decided that she wanted to document the experience of "teenage survival" by writing a book.
"I don't view it specifically about being about being a teenager girl," she said while in New York, promoting the book. "It's just about growing up, whenever that is."
Rowan's Pride: In a tweet, Blanchard wrote that, "Being queer to [her] just means not putting a label on sexuality—just existing." The young actress took ownership of her sexuality by not giving it a name.
"In my life—only ever liked boys," she shared. "However I personally don't wanna label myself as straight, gay or whateva so I am not gonna give myself labels to stick with."
Family Over Everything: Rowan takes the big sister role very seriously and wants to live a normal life at home.
"I'm just very much a teen. When I go home at night, my job is not important in my house. My sister wants to be a trauma surgeon and my brother likes to draw anime. We are not a Hollywood family," she explained to W Magazine. "I just act. It is one thing that I do. My sister does other things, and it is not any better than that. It requires me to gone a lot of time, but that's it. It's just not that special."
Alex J. Berliner/ABImages
Dig a Little Deeper: While she is often asked about her style, Rowan wants to use her platform to discuss the art that she is involved in.
"On a red carpet, the only thing I'm often asked is, 'Who are you wearing?'" she told Elle.com during Paris Fashion Week. "And my co-stars, my friends who are older, even much older, really accomplished actresses who I admire—it's the same story. For a guy, the first question is, 'What drew you to this project?' And it's like, come on! I want to wear cool clothes. I love fashion. We all do. But we shouldn't be taken less seriously because we're in dresses."
Fighting for Feminism: Looking up to female icons like Audrey Hepburn, the young actress emphasizes the importance of playing "strong female leads" in Hollywood.
"Audrey's presence on screen has always brought an emotional visceral-ness to me, to be able to witness these dimensional woman characters who weren't superheroes or even necessarily empowered … Lately, I get concerned that a sort of recent feminism dictates that what constitutes Strong Women or Strong Female Leads are women who are to a certain extent, are playing men: an empoweredness, an inability to be shaken, maybe even less sensitive and more forceful with their will," she told Teen Vogue. "While it is cool to see that I guess, I wonder what movies and other types of strong women are being left behind or forgotten as they as they are masqueraded under some sort of non-feminist relevance."