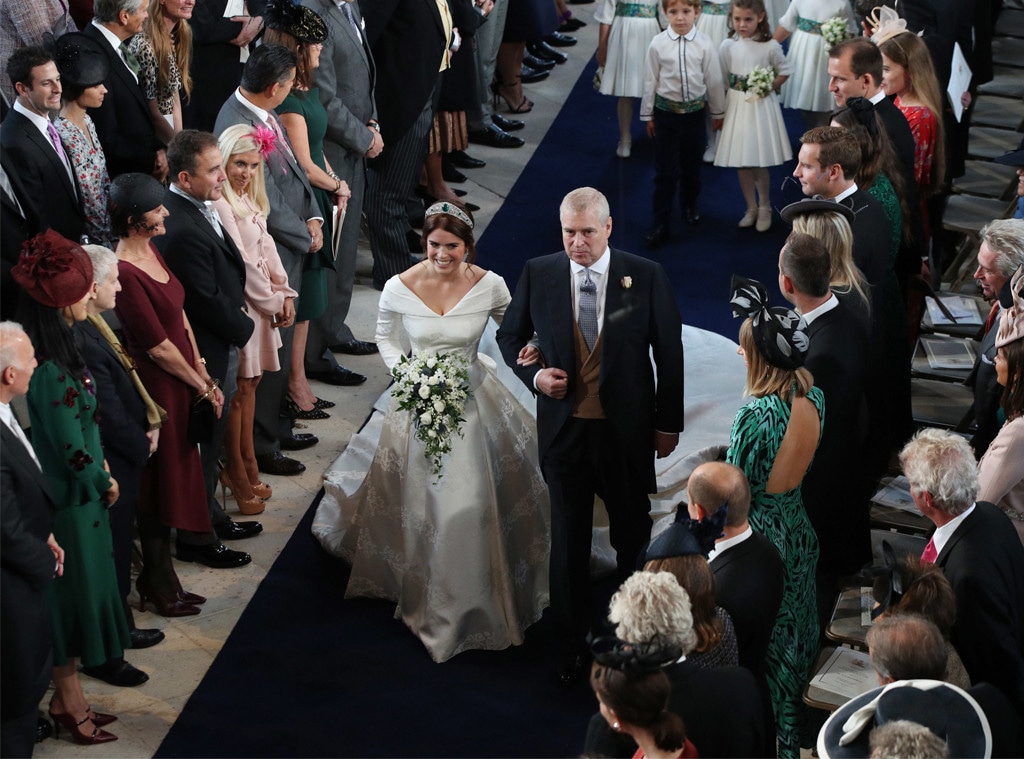 Yui Mok/PA Wire
Prince Andrew is one proud father of the bride.
After exchanging vows at St George's Chapel at Windsor Castle on Friday, newlyweds Princess Eugenie and Jack Brooksbank and their guests, including her dad, the Duke of York, and her mother and his ex-wife, Sarah, Duchess of York, headed to an afternoon reception Queen Elizabeth II hosted at the castle.
At the event, Andrew, her son, gave an unprepared moving speech and broke royal protocol by embracing his new son-in-law.
"I'm going to do something I've never done before," he said, before turning around to hug Jack, according to The Telegraph.
The gesture brought guests to tears.
"The one thing that made me cry was the duke, when he said he was going to do something he's never done before; he went over to his new son-in-law and hugged him," a guest at the reception told HELLO!. "He also touched upon how the dynamics of their relationship work. He isn't a very tactile person."
"There was emotion from both sides of the family, Andrew and Sarah and Jack's family," the guest added. 
Andrew talked to the guests about his pride in "Team Euge and Jack," according to The Telegraph.
As attendees sipped glasses of Pol Roger Champagne to toast the couple, he recalled how he had once shouted at the family dog, also named Jack, to get off a chair, prompting Brooksbank to leap to his feet.
Hack's former headmaster, Anthony Wallersteiner, told HELLO! that Andrew also spoke about raising two daughters and "having to clear up endless Barbie dolls." Eugenie's sister, Princess Beatrice, had served as her maid-of-honor.
In his own speech at the event, Jack talked about how Eugenie "lights up my life," The Telegraph reported.
Guests at the afternoon reception were served canapés and slices of a fall-themed 5-tier red velvet and chocolate wedding cake. Eugenie and Jack performed the ceremonial first cut.
Its designer, Sophie Cabot, started baking the massive creation two days before the wedding. It is made of 400 eggs, at least 53 packs of unsalted butter, 33 pounds of organic self-rising flour and 44 pounds of sugar and is covered with butter cream, white icing and flowers, maple leaves, ivy and acorns made of sugar. The cake also features golden monograms of the bride and groom's initials, E and J.
Attendees were also served risotto and hors d'oeuvres such as smoked venison rolls, according to The Telegraph, and mini bites of beef in Yorkshire pudding and little Scotch eggs, according to People.
After the afternoon reception, Eugenie and Jack headed out in an Aston Martin designed for the James Bond movie Spectre.
The bride and groom and their guests are set to later attend an evening wedding reception at Windsor Great Park's Royal Lodge, Andrew's official royal residence.
Watch:
Princess Eugenie's Royal Wedding: By the Numbers
The group is also set to continue the wedding celebrations at a carnival-themed Saturday reception.