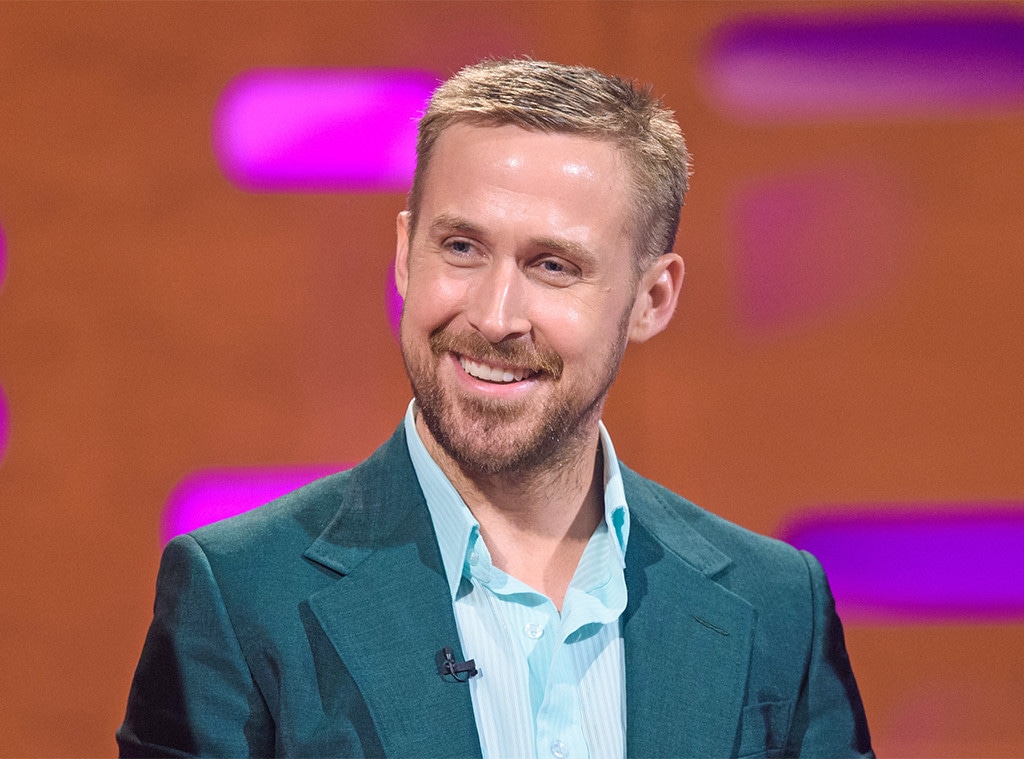 Matt Crossick/PA Images
Ryan Gosling is a very serious actor.
We know this because he stars in very serious movies—movies like First Man, a straight-faced, sober look at the life of Neil Armstrong in the years leading up to the 1969 Apollo 11 mission to the moon, out today; movies about big themes that generate award season chatter. We also know this because he keeps his personal life notoriously private, the details of his relationship with Eva Mendes, with whom he's had two children, kept largely a mystery to the rest of us.
There's no denying that he's a proper noun Serious Actor™ in the grand tradition of every other celebrated male in Hollywood, but—and of course there's a but—the dude's pretty freaking funny.
Despite the relative lack of comedy on his resume—truly, there are only three (Crazy, Stupid, Love., The Nice Guys, and La La Land)—Gosling's got a razor-sharp wit and a playful sense of humor that loves to come out to play whenever he's promoting his latest film. Here are all the times he proved just how charming and funny he can really be.
Let's start with his first appearance on The Ellen DeGeneres Show back in 2007, which he told Ellen was his "first show ever." She took it to be a huge honor, that he chose her show first. His response? "No one will have me." He went on to remind Ellen that she had been his first for a couple of things. "There was the awards," he said, "and then there was that other thing that we don't talk about which we should talk about, by the way. I called you. I called you a few times." For the next nine minutes, whether he's talking his mom's hairstyle at the Academy Awards (an ill-advised beehive) or teaching Ellen how to salsa dance despite having "no idea how to," the charm offensive does not let up.
Then there was the time in 2010 when he was a good sport, listening to a TMZ photog rattle on about The Notebook, "booty," and the romantic obligations that come afterwards. "I think if you've got the booty, you've gotta do that," Ryan advised. "Technically, you should've done that and then got the booty." The kicker? As he's getting into the car and putting an end to the encounter, he deadpanned, "I'm glad we talked about this."
Next up is the 2012 joint press appearance with fellow Serious Actor™ Bradley Cooper, to promote their film The Place Beyond the Pines, when the duo, who only shared one scene together in the project, fielded the slightly strange question of whether it was more of a challenge to not be together. "It's always hard," Bradley responded, laughing and teeing Ryan up to drop the perfect quip: "We've been doing it our whole lives."
The following year, Ryan sat down with Fox News to promote his new period pic Gangster Squad and couldn't get past the farting sounds the squeaky chairs he and his interviewer were sitting in. It's ridiculous and the poor guy interviewing him never really gets what he's looking for, but we dare you not to laugh while you watch it.
Remember the "Hey Girl" memes that proliferated the internet when Gosling-mania first took off? Well, here's Ryan bringing them to life for MTV through tears of laughter while promoting Crazy, Stupid, Love. in 2011. "I can't say that! That is—no," he said after coming across a particularly naughty one. "Oh my, these are untoward."
In 2013, Ryan had us LOL'ing during an appearance on Conan, when he brought Linda, a lucky audience member, into the interview, coaching her on how to answer questions from the late-night legend. When asked about her hometown, he had her reply with, "I like your suit. Do they make them for men?"
In this appearance on The Tonight Show, after Jay Leno congratulated him on a busy 2011, which saw the release of three films, Ryan got hilariously self-deprecating. "A bit overkill," he deadpanned. "It's a little too much. I'm sick of myself. I can't imagine how everyone else feels."
As the crowd began to cheer to prove him wrong, he dug in further, "No, no, don't. I saw the applause sign. I know. I'm hip."
When his The Nice Guys co-star Russell Crowe was presenting an award at the Australian Academy of Cinema and Television Arts Awards via satellite from Los Angeles in 2015, Ryan crashed the moment and totally stole the show. "Oh, you lost? You were robbed," he told his fellow Serious Actor™ as he attempted to explain what was really going on. "You win just by being nominated. You'll get 'em next time."
After busting out his Aussie accent, he informed Russell, "It's OK, I'm an honorary Australian." How? "I lived in New Zealand for, like, two years, so..."
When Ryan was busy promoting La La Land in 2016, he stopped by Jimmy Kimmel Live to talk about his dancing skills before teaching the late-night host how to waltz. "Oddly enough, I thought my background in '90s hip-hop would help," he joked. "It doesn't translate to soft shoe." As Jimmy mused over his future as a dance floor hero at any and all weddings, Ryan admitted that he didn't remember much. "I forget everything. As soon as we did it, I emptied out my brain," he explained. "It's gone."
The La La Land press tour was really the gift that kept on giving. Case in point? This appearance on The Graham Norton Show when he was forced to watch an old dance video alongside co-star Emma Stone, Ben Affleck, and Sienna Miller. "It's a cutthroat business," Ryan joked about the youth dance scene. "I had to get out."
As for being his costume worn as the only boy on the dance troupe, he joked, "I wish I could say someone said, 'Here, yoy have to wear this.' But that was my idea. I thought, 'I have a vision for this number: purple and silver Hammer pants.'" And as for the dancing? Believe us when we say it must be seen to be believed.
And then there's this brief, but hilarious moment when Ryan crashed one of Emma's interviews at a screening of the film. Don't blink or you'll miss it and you'll be sorry.
Ryan's cracked us up as host of SNL over the years, adorably breaking character as he stifles down his laughter more often than not, but nothing has us laughing harder than his monologue during his 2017 hosting gig when he poked fun at La La Land as only he could. "I haven't felt this excited since I saved jazz," he said. "You guys know I saved jazz, right? I mean, I did this movie La La Land and then everyone was saying that I saved jazz. I guess it was dying and I saved it."
During a 2017 visit to The Ellen DeGeneres Show, the comedienne quizzed the private guy on his personal life, with Ulta Beauty agreeing to donate $1000 to breast cancer research for every question he answered. And it's his answer to the question asking the strangest thing he's afraid of that had us cracking up. "Loose hair," he said. "You know, just one. Like, you have beautiful hair. But if just one of those were to just wander over here, it would give me pause." 
In a return visit to The Graham Norton Show in 2017, this time to promote Blade Runner 2049 alongside Harrison Ford, Ryan told a bizarre story about his parents making him sell cellophane as a kid. "They encouraged me to go to school to see if I could sell it to my teachers, put a few in my backpack and try to hawk them at recess, convince a few kids that they might be good stocking stuffers for their parents," he said as the audience roared with laughter. 
Did he sell it? "There's still some left if you're interested," he told Graham. "The dream was someone would just say, 'I'll take all of it!' Never happened."
Speaking of the Blade Runner 2049 press tour, there really wasn't a moment that Ryan and Harrison spent together that isn't worth your time. Someone needs to cast these two in a true-blue comedy, like, yesterday.
And that brings us to his promo tour for First Man and his most recent visit to Jimmy Kimmel Live when he told Jimmy about visiting the Kennedy Space Center. "There's looking at stuff, there's talking to people," he said with a laugh. "We had an amazing opportunity to talk to an astronaut on the Space Station...He said, 'It's just incredible when you're out there. You see the Earth just floating and the vastness of space and you realize we're just so alone in the universe and we're lucky to have each other.' And then he stopped himself. He was like, 'Anyway, enough about that. Here's the bathroom.'"
Did he want to see the bathroom? "No," he laughed. "I just tuned that part out. I heard something about a No. 2 tube and I was like, 'No.'"
Ryan Gosling: Serious Actor™. Funny Person.
First Man is in theaters now.
(E! and Universal Pictures are both part of the NBCUniversal family.)