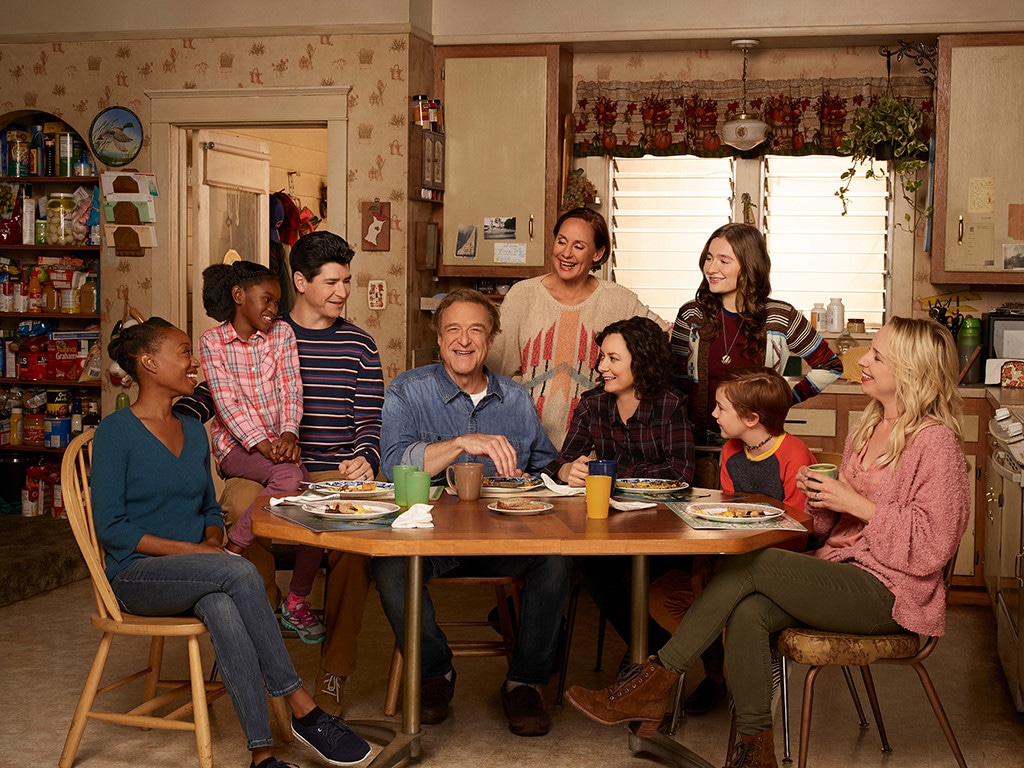 ABC
The Conners has a big task ahead of it. Not only does the new ABC comedy need to attract the audience of Roseanne, but it also needs to get rid of the character Roseanne Barr made famous, Roseanne Conner. According to Barr, the character will die from an opioid overdose, but ABC is remaining mum on what happens to the iconic character.
"We want people to watch the show and see what happens and how we [wrote Roseanne off]," executive producer Bruce Rasmussen told Variety. "You don't want to be flip about how you do this. A lot of people cared about that character and it's separate from whatever feelings they had about the person and her political views and the things she said. We wanted to honor that character. People can have their opinions after that."
Roseanne was brought back by ABC in the 2017-2018 TV season 20 years after it ended its original run. The revival was a ratings success and ABC quickly ordered a second season. Then Barr tweeted. A racist tweet about former Barack Obama adviser Valerie Jarrett was the final strike for Barr and ABC pulled the plug, calling the tweet abhorrent. Whispers quickly spread about a spinoff of Roseanne about the beloved TV family and that became a reality in June when original series stars John Goodman, Laurie Metcalf, Sara Gilbert, Lecy Goranson and Michael Fishman signed on. Barr also signed a new deal, letting go of any financial and creative ties.
"I regret the circumstances that have caused me to be removed from Roseanne," Barr said in a statement when the series was announced. "I agreed to the settlement in order that 200 jobs of beloved cast and crew could be saved, and I wish the best for everyone involved."
Now we have the Roseanne-less The Conners. The show will continue to toe the line between light and dark, Rasmussen and executive producer Dave Caplan told Variety, and stick with the slice of life aspect Roseanne was famous for. However, "we're not doing any more of the [Donald] Trump stuff," Rasmussen said. "It's more about working-class people and how they live their lives. If that comes off as political in spots then that's how people will perceive it."
Roseanne Conner's absence will be felt, it's not a one and done episode story.
"We knew it would be, and that it might be difficult from a writing standpoint to do it honestly and not break the bond of honesty that we feel we have with our audiences," Caplan said about dealing with the exit. "We felt that if it came off as artificial in any way it was just going to be a disaster. So we wanted to try and do it in the most emotionally honest way possible."
"What's interesting about the absence of the Roseanne character is that these other characters have to step up and fill a void. It puts them through changes that are interesting for people that know these characters," Caplan said. "And even if they've never watched the show before it's still going to be fascinating to see how people adapt when something happens in their lives. Everyone has tragedies in their lives, or has someone they love leave them. And you have to adapt and you have to grow, and that's what these characters are going to be going through in an interesting way."
The Conners premieres Tuesday, Oct. 16 at 8 p.m. on ABC.