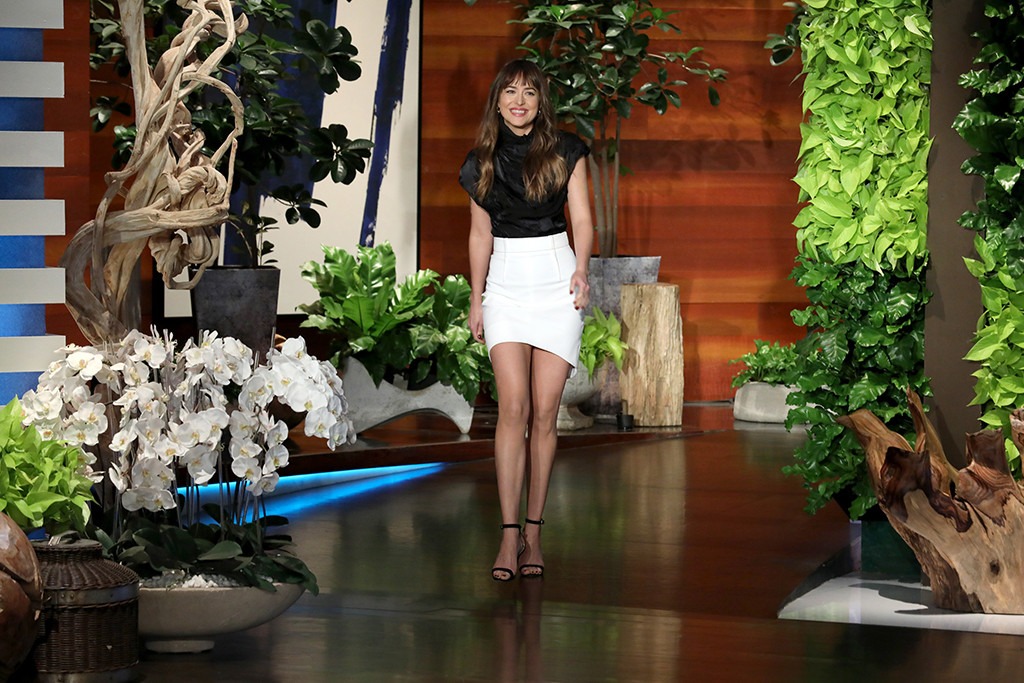 Michael Rozman/Warner Bros.
Contrary to reports, Dakota Johnson is not expecting a baby with Chris Martin.
Sources close to her denied the rumor to E! News earlier this week—but on Ellen DeGeneres' eponymous daytime talk show Thursday, the host decided to have a little fun with the silly report. Talking to Johnson, she said, "That is a mighty tight outfit for someone who's pregnant."
After no one cheered, Johnson said, "See? They don't even know what you're talking about."
"Well, this is Thursday, but Monday it came out that you were pregnant," DeGeneres joked with Johnson, who stars in Bad Times at the El Royale. "So, I'm just saying...How's that going?"
"Well, the only thing I'm pregnant with is a lot of really good ideas. But not any babies," Johnson said, explaining that speculation stemmed from her birthday party. "There were balloons that happened to be pink and blue...and so then I was pregnant?" she shrugged. "I didn't know that the balloons were going to be released; they were just in an arch. But I guess that accidentally happened—one of the ends got let go. But a lot of people congratulated me."
"Now maybe you want to get pregnant," DeGeneres said, "because you get so much attention."
"A lot of attention!" Johnson agreed. "More than having it just be my birthday." The baby rumor created an additional problem, the actress added. "I had to be like, 'It was just my birthday.' Then all the people I didn't invite to my birthday knew that I had a birthday party."
"I invited you to mine and you came to mine," DeGeneres said. "I'm just saying."
"I think I kinda crashed your birthday party," Johnson replied. "I was just arm candy."
"I knew he'd be with him," DeGeneres said, without mentioning Martin. "I didn't have your number at the time, which is why I invited him; I knew he'd bring you. Now I have your number and I'll call you directly—and now you have my number, so you could have called to invite me!"
"I didn't invite anybody," a red-faced Johnson insisted. "I didn't plan it!"