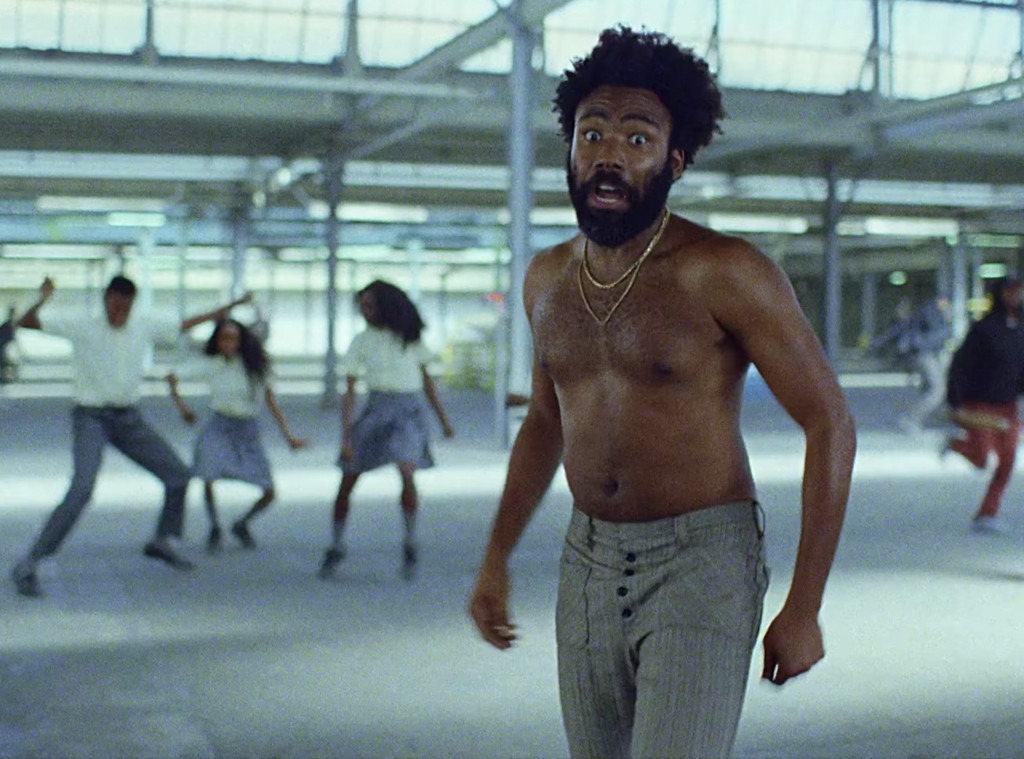 VEVO
This is an artist.
Childish Gambino—AKA Donald Glover—sparked quite the conversation when he released the music video for "This Is America" back in May and proved once again that he is one to keep an eye on.
The acclaimed artist used the video to comment on racism in America, suggesting that the country's citizens care more about protecting guns than people.
In addition to tackling one of the most important political topics in the U.S., the video itself is incredibly well-done, visually stunning, and definitely a must-watch.
So, it comes as no surprise that it is a finalist for Music Video of 2018 in this year's E! People's Choice Awards.
While the artist is up against big names with big fandoms like Selena Gomez, Ariana Grande, Camila Cabello, and BTS, his video contains a beautiful balance between mesmerizing visuals and crucial social discourse.
If you agree, be sure to set your alarms for Nov. 11 to find out if Childish Gambino walks away with that trophy!
In the meantime, why not show some love for the musician's other music videos? After all, so many of his releases are amazingly artistic.
Childish Gambino is no stranger to expanding his creativity in his videos, doing everything from performing crazy choreography in a take-out restaurant, to filming from one carnival ride.
The PCAs finalist has been making such memorable videos throughout his music career that we love to re-visit them as often as possible.
And, lucky for you, we've compiled his greatest creations right here, so you don't have to look any farther than scrolling below.
"This Is America"
This video is definitely one of Childish Gambino's most powerful. It includes shootings and moments of extreme violence in order to show viewers that gun violence and police brutality, especially towards people of color, is tragically the norm in our society, all while the singer performs viral dance moves around a warehouse.
"Sober"
The 35-year-old artist also uses kooky choreography in this video, which takes place in a take-out restaurant. The artist—visibly intoxicated—stumbles over to a woman sitting by herself, waiting for her order to be ready. He ultimately gets her to smile and dance along for a split second, before she picks up her food and leaves.
"Feels Like Summer"
In the singer's most recent video, the whole world is animated, including himself and other prominent artists. It shows the singer walking down the street of a residential neighborhood, passing characters depicting Nicki Minaj, Drake, Migos, Chance the Rapper, Will Smith, and more as they just go about their lives and do normal, everyday things. The video also cuts to other stars like Beyoncé, Kanye West, Rihanna, the late Whitney Houston, and the late Michael Jackson depicted glowing in front of a black background.
"3005"
In the "3005" video, Childish Gambino sits on a ferris wheel next to a giant teddy bear, as the two go around the ride over and over. Here and there, the camera will pan away from the two to give a glimpse of the view from the attraction, but when it returns to the riders, we see that the bear deteriorates a little bit more each time. Finally, towards the end of the video, we see from the view that the world is literally burning. When the camera returns again, the bear is almost entirely destroyed, and the singer is gone.
"The Worst Guys"
This video shows Childish Gambino and fellow artist Chance the Rapper having a beach day full of sand, surf, and sitting on top of cars. Aside from one shot that seems to show the rapper with a bleeding bite on his leg, everyone appears to be having fun in the sun. Later on, the singers and a group of friends gather around a bonfire waving light-up wands.
"Fire Fly"
The "Fire Fly" music video could practically be a short film on its own. The clip is storyline-driven, following a man who makes and sells drugs so he can get a passport and travel to the red planet Fire Fly. After a meeting with a drug dealer turns violent, the man is able to fight off his attackers and make it out with his passport and take off for Fire Fly in his rocket.
"Sweatpants"
Things start to get trippy for Childish Gambino in this video. At first, the rapper is walking through a diner, and sits down with his friends. After a waitress fills his water, he gets up to go play a song in the jukebox. He then walks around a table of kids bopping their heads to the music in order to go out the back door to check his phone. When the singer turns around to come back inside, he somehow finds himself walking through the front door again—not the back—and starts the sequence of events over again, only to realize that every time the cycle resets, more and more people around him suddenly have his face instead of their own.
"Bonfire"
Childish Gambino opted for a horror movie vibe in his video for "Bonfire." In the visual, the rapper wakes up in the middle of the woods wearing a dirty camp uniform and a noose around his neck. Disoriented, the artist looks up and sees that the rope attached to his noose seemed to be cut. He loosened the rope from his neck and began walking, lost, through the trees. He is instantly relieved when he sees a group of campers around a fire, but then notices a man walking towards them with a noose and a knife. Gambino runs ahead and tries to warn them, but they can't seems to see or hear him. The star realizes the man was just pranking the other campers, and they walk away.
Voting may be closed for the PCAs, but you can still cast your vote for your favorite music video below.
Childish Gambino's Greatest Music Videos