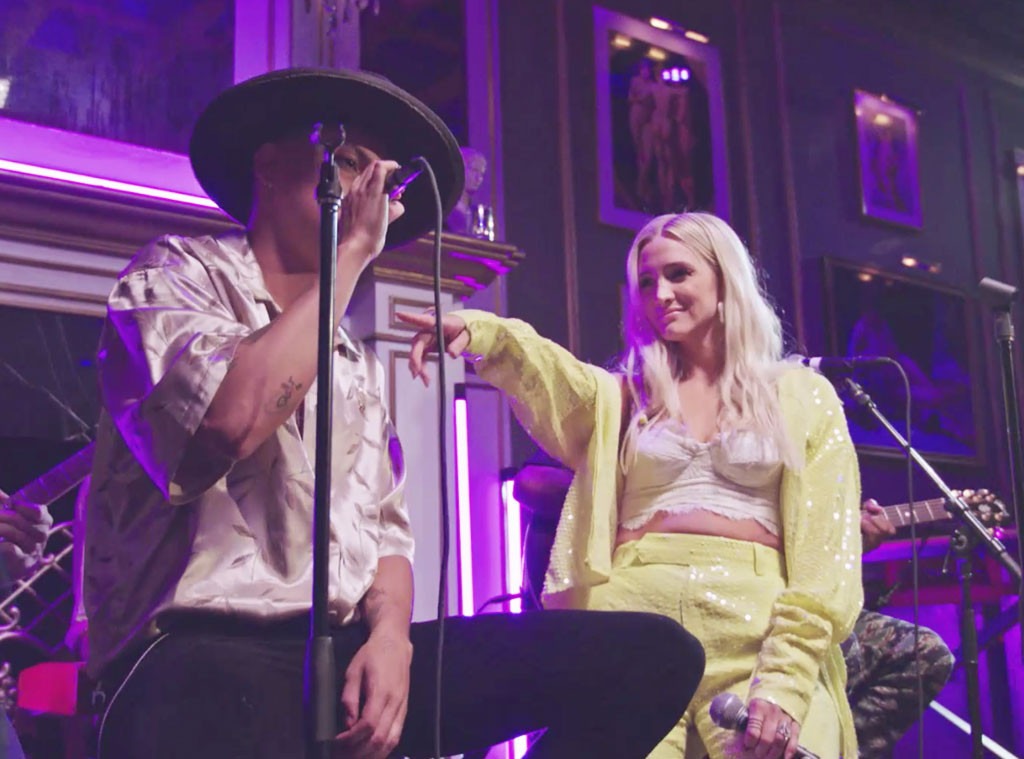 E!
That's what sisters are for! 
Jessica Simpson came to support little sister Ashlee Simpson-Ross during her first live performance in years alongside husband Evan Ross on Sunday's season finale of ASHLEE+EVAN.
"I'm so happy you came. It means the world to me," Ashlee tells her big sister. "It's all happening," Jessica responded. "I can't wait for your show next," Ashlee hinted.
Not so fast Ash, Jess isn't ready just yet, but she would be up for a duet with her sister!
Whether they're making music together or on their own, the sisters have always supported each other.
"My sister and I have a really cool relationship. We've always definitely supported each other through everything that we've done," Ashlee revealed to the camera. "She's never missed one of my first shows."
"She definitely gives me a confidence, but kinda feels like it might have been easier in front of a bunch of strangers," a nervous Ashlee added.
Watch:
Ashlee Simpson-Ross Is Ready to Perform Live With Evan
The decision to perform their new music live in front of friends and family was a hard one to make, but it was one Ashlee felt was a step in the right direction for the couple musically.
"Listen, we have this listening party this week," Ashlee reminded Evan. "And I think we should perform a few songs at it. You like that idea?" "100 percent," Evan agreed.
With family and friends in attendance, the vibes had to be just right for the couple's first live showcase of their new tracks.
"I think it'd be so cool. Stripped down, like acoustic. It should just be like, our love," Ashlee suggested.
"I think that's great. I think we should do that," Evan maintained "I definitely think that we should do a song because I think just doing a regular release party on music and just playing the music is not as dynamic."
While Ashlee tried to focus on the feel-good nature of their work, both the mom of two and her husband couldn't help but feel the pressure build in the days leading up to the show.
Watch:
Ashlee Simpson-Ross Thinks Live Performance Is a "Gamble"
"There's definitely a lot of responsibility I feel towards making sure that everything goes well when it comes to the work me and Ashlee are doing," Evan admitted to the camera. "Especially since she hasn't been back doing this for 10 years. There's a lot at stake there and there's a lot of wanting things to go right."
Amidst the chaos of rehearsal and soundcheck, Ashlee turned to her dad Joe Simpson for a little reassurance.
"How you doin' baby?" Joe asked his daughter. "I'm good. How are you?" Ashlee responded. "I just feel like I want it to sound OK and my in-ears are like these random, squishy...I don't have in-ears."
The issues with her in-ears had Ashlee worried that she may be rolling the dice with this performance.
"Given the amount of issues that we were going through during rehearsal and even soundcheck, doing this show is a gamble," Ashlee confessed to the camera.
Despite a shaky soundcheck, crazy nerves and the eyes of their friends and family on them, Ashlee and Evan gave a heartfelt performance that left Evan in awe of his wife.
"I'm unbelievably proud of Ashlee," Evan gushed to the camera. "To watch her dive in and do what she's so great at, it was amazing."
After capping off the performance by joining the crowd for a sing-along of their hit, "I Do," Ashlee thanked their family and friends calling them, "the best friends on the whole planet."
See Ashlee and Evan's live performance and more on the season finale of ASHLEE+EVAN.