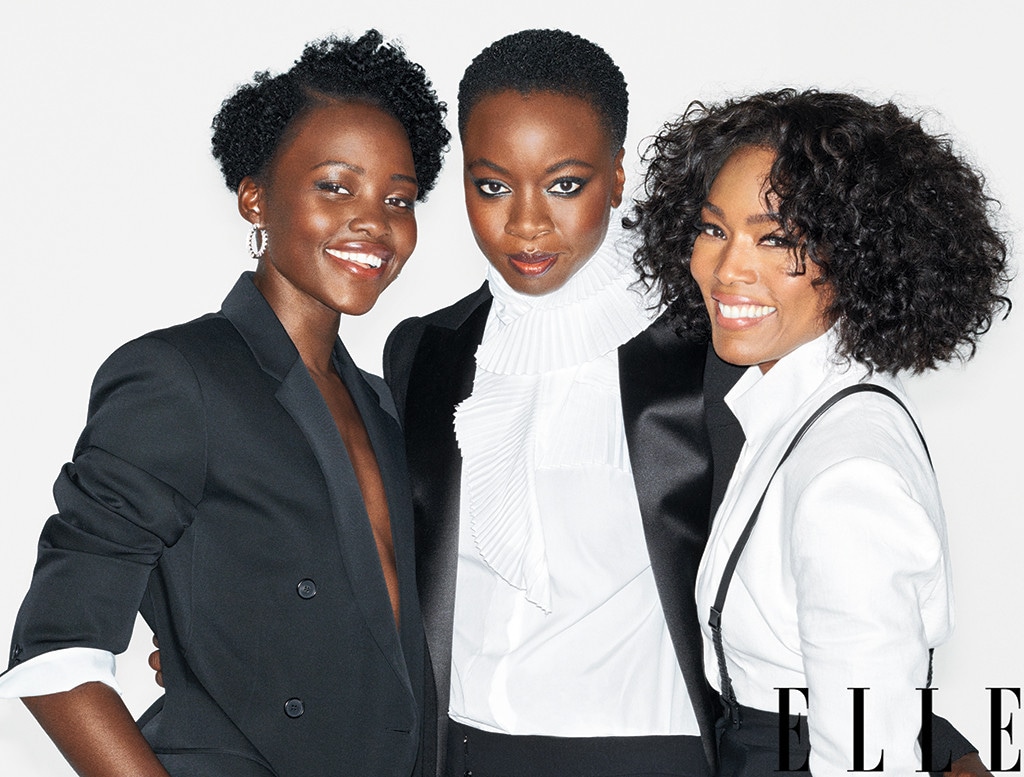 Katja Rahlwes/ELLE
It's fitting that actresses Angela Bassett, Danai Gurira and Lupita Nyong'o are being honored in ELLE's annual Women in Hollywood issue (on stands Oct. 23). After all, no other movie this year has rivaled the cultural and financial influence of Black Panther, directed by Ryan Coogler.
The blockbuster is set in a "Marvel universe that is unapologetically black," Nyong'o notes. While it's as much about King T'Challa (Chadwick Boseman) and his ascent to the throne—and how his cousin Erik Killmonger (Michael B. Jordan) tries to take over the nation of Wakanda in the process—it also illustrates how integral and how powerful women are in their society. "In our story," Nyong'o says, "the emphasis is on many different women holding their own space."
Overall, Gurira appreciated how Wakanda, as a society, "was celebratory of everyone equally."
"You see that in my character," Gurira adds. "She's able to excel."
Nyong'o, who plays the tactical spy Nakia, appreciated Coogler's feminist vision. "Nakia was a departure from the character you see in the comic books. She is an independent woman and a bit of a rebel, but also a loyalist to her country. I am also someone who depends on my family and friends and feels a connection to my people, and maybe has a sense of responsibility to make them proud," Nyong'o tells ELLE. "So, I really related to that balancing act within oneself."
To date, Black Panther is the highest grossing movie of the year. But as the three actresses would agree, it's about more than the bottom line with this particular project. Says Bassett, "We all felt the anticipation but had no idea how it would mushroom, or that it would be so global and smash whatever preconceived notions we've heard for decades—that stories like this about these people won't travel as well or won't generate financially on such a huge scale."