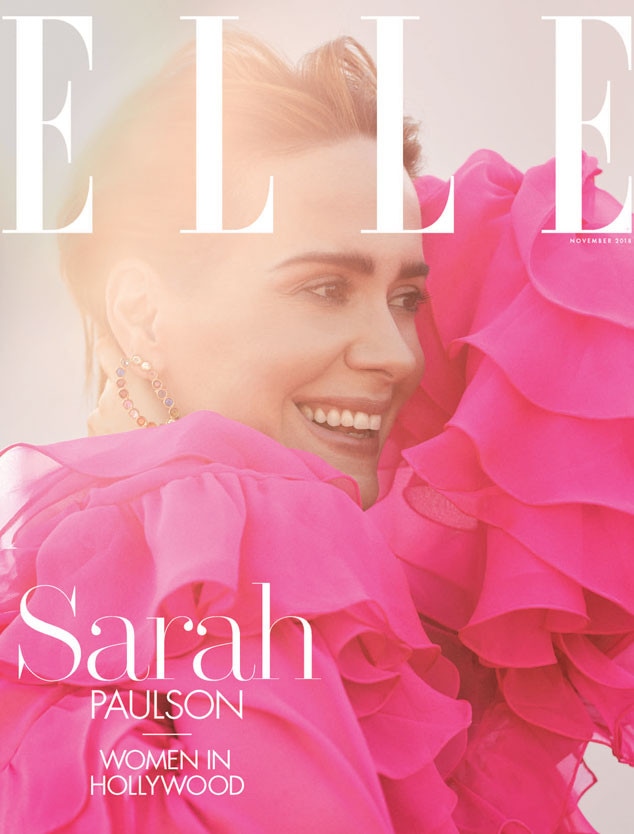 Zoey Grossman
Sarah Paulson is just trying to be as real as possible.
The Golden Globe winner is speaking candidly about her personal and professional life for Elle's November Women in Hollywood issue. Paulson is among the female stars being honored by the magazine, along with Lady Gaga, Black Panther stars Angela Bassett, Lupita Nyong'o, and Danai Gurira, as well as Shonda Rhimes, Mia Farrow, Keira Knightley, Yara Shahidi and Charlize Theron.
For her cover story, Paulson opens up about her career and her relationships, sharing, "I don't have children; I'm not married. But I have a lot of intimate relationships—my nieces and nephews, and a wonderful circle of friends. I don't see them enough. This idea that you can have it all is another thing to be challenged."
"Somebody once said to me, 'You can have anything you want, but you can't have everything.' You can't be awake and asleep, or here and also at home. You have to make choices," she continues. "But I've gotta strike while the iron's hot. Right now, people are calling. They may stop really soon. So I want to make hay while the sun shines. That's a lot of things I just did there...iron, hay. But you know, the window is open. I'm just trying to muscle it open as long as I can and get it as wide as possible."
Paulson, 43, has been in a relationship with Holland Taylor, 75, for years now. And she's aware that some may define their romance as "unconventional."
"I didn't choose to fall in love with the person I fell in love with," Holland tells Elle. "But I think why it's interesting to people is that on paper, it's unconventional. For a person who might find themselves in a situation that they fear will be misperceived or judged, maybe they could see me living my life in a way that is authentic to me—just trying to be as real as possible. If that inspires anybody else, that can't be a bad thing."
Eric Charbonneau/REX/Shutterstock
Over the summer, Paulson starred in the hit movie Ocean's 8 alongside Sandra Bullock, Anne Hathaway, Rihanna, Mindy Kaling and Cate Blanchett. Talking about working with the star-studded female cast, Paulson shares, "Back when I was a young person [watching television], forming opinions about what women were like together, there was a lot of cattiness. A lot about clothing and fights over shoes. I had a screwed-up thought process about [female friendship]. I had to confront it on the set of Ocean's 8."
"It was the first time a lot of us had been in a movie with seven other women," she continues. "I thought, 'Why are you going into this with the expectation that this isn't going to go well?' People were worried: 'Who's gonna take too long to come out of the makeup trailer?' They never waited a single day for any of us. We were always ready. But I did have to ask myself, 'Where did I come up with this idea that women can't work together and support each other?' I now have a new map in my body, molecularly, from the experience."
The November issue of Elle hits newsstands Oct. 23.