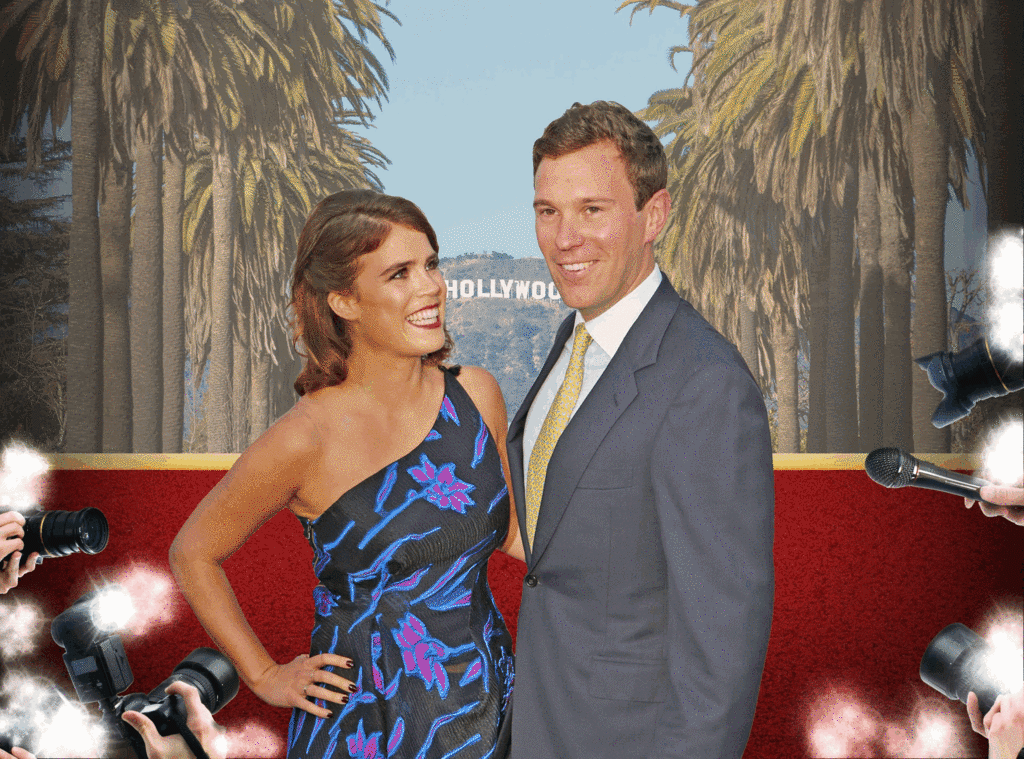 E! Illustration
Hollywood loves a good romance—particularly a royal one. 
For decades, members of the royal family have been a subject of pop culture fascination for fans across the pond. From Princess Diana's headline and movie-sparking life and death to one of Hollywood's very own, Meghan Markle, becoming an official duchess just months ago, Tinseltown has long felt connected to the happenings of England's monarchy. 
Now, with Princess Eugenie's wedding to Jack Brooksbank a mere day away, that American fervor for a royal fairytale has once again been ignited. As royal enthusiasts await the first images of the 28-year-old bride's gown or the swoon-worthy kiss that is bound to take place after they tie the knot, there is also curiosity about whether any non-royal famous faces will end up attending akin to Prince Harry and Markle's May nuptials. 
While we'll know the answer to that question in mere hours, there are a few celebrity elements we can expect for Eugenie and Jack's big day. 
Drumroll please!
A Star-Studded Tequila Company: The groom is a U.K. brand ambassador for Casamigos tequila. Does the company sound familiar? If so, that's because it was co-founded by Oscar winner George Clooney back in 2013 and recently sold last year. "I've not been kept out of all the planning. I get to decide some things. I'm in charge of drinks and we'll be serving Casamigos," Brooksbank previously told The Daily Mail.
As for whether the actor will ultimately show up with Amal Clooney by his side, Brooksbank added, "I can't say if George Clooney is coming." Crossing our fingers!
Kevork Djansezian/Getty Images
A Grammy-Nominated Wedding Serenade: It was previously announced that, in addition to two hymns and a performance by the Royal Philharmonic Orchestra, international vocalist Andrea Bocelli will perform two pieces during the service. The Italian singer is a four-time Grammy nominee famous for hits like "The Prayer" and "Time to Say Goodbye." This is not the first time the star has performed for a royal audience—he serenaded Queen Elizabeth II at her 90th birthday celebrations in 2016. 
Brendon Thorne/Getty Images
A Bridal Party With Tinseltown Ties: This week, Eugenie's long speculated bridal party was confirmed and let's just say there are a few celebrity tie-ins. Grammy nominee and Brit Award-winning pop singer Robbie William's 6-year-old daughter Theodora Williams is one of Eugenie's bridesmaids as is Trust actress Sophie Winkleman's 5-year-old daughter, Maud Windsor, who is also the princess' goddaughter. 
Rounding out the famous links is 6-year-old page boy Louis de Givenchy, the son of famed couturier Hubert de Givenchy's nephew, Olivier de Givenchy. 
Zach Hilty/BFA/Shutterstock
Ellie & Eugenie: If there's any familiar famous face we can expect at the royal wedding, it's that of Ellie Goulding, the "Love Me Like You Do" songstress who has been spotted out and about with the princess over the years. Eugenie's gal pal will also have the perfect date in new fiancé Casper Jopling. 
ROBERT PERRY/EPA-EFE/REX/Shutterstock
An Actress-Turned-Cousin: Of course, the most obvious Hollywood connection is that of Eugenie's new cousin-in-law, the Duchess of Sussex. It's no secret at this point that before Markle fell in love with Eugenie's cousin, she was a TV star in America and certainly no stranger to the glitz and glamour. Of course, Meghan and Harry are expected as guests at the wedding, as are brother Prince William and sister-in-law, Kate Middleton, whose kids Prince George and Princess Charlotte are included in the bridal party.