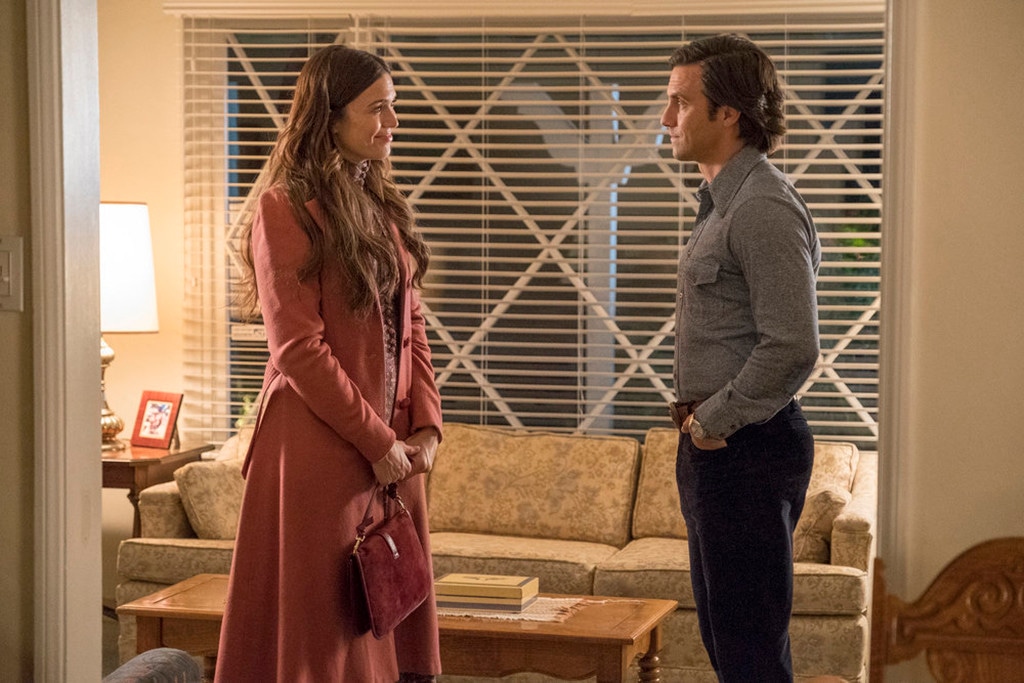 NBC
Hello, it's us, writing to you from a puddle of tears. 
Tonight's This Is Us was partly about Kevin (Justin Hartley) learning about his father, and partly about Randall (Sterling K. Brown) being a little overzealous, and partly about telling us who Rebecca's mustache boyfriend was, but the real stars of tonight's episode were the women. Kate (Chrissy Metz) faced her surgery, her former selves, and her father. Beth (Susan Kelechi Watson) found herself without a job and her role alongside Randall's wild ideas, and Rebecca (Mandy Moore) contemplated her mustachioed ex, the guy she barely knows, and he determination to be a woman who don't need no man. 
First, let's get to the real weepy part. Kate, after finding her entire family convinced she was about to die, went into surgery and dreamt that she was in her childhood home with her teen self (Hannah Zeile) and child self (Mackenzie Hancsicsak), as well as her dead dad (Milo Ventimiglia). Little Kate was thrilled about anything she might get to do one day, but teen Kate was jaded and sure that she could and should never have a kid. Meanwhile, present Kate was still trying to tell her teen self what not to eat.
In the end, her surgery was successful, and they managed to get eight eggs. 
Beth watched Randall fly across the country to tell Kate he was sorry for yelling at her for not wanting to adopt, and listened to Randall go on about how he's going to run for office in his dad's old neighborhood, and at the same time, got fired from her job instead of getting the proposal approval she was expecting. As she drank alone in the kitchen while Randall was gallivanting all over the country, she remembered a convo she had with William about how someday, it would be Beth's turn to be the star while someone else would have to hold down the fort. Perhaps that someday is coming up...
Back in the 70s, we picked up with that mustachioed man kissing Rebecca on her doorstep. Jack drove away and went home, where he busied himself with getting his mom away from his abusive dad. Rebecca, meanwhile, was faced with Alan (Hunter Parrish), the guy she dated for three years before he moved to London. We learned through flashbacks that back in high school, after years and years of learning how a woman should properly behave, she had joined shop class. The other boys made fun of her, but Alan was the one who befriended her. 
Now that Alan was back, he wanted Rebecca back, and he thought that instead of moving to Los Angeles to pursue her singing dream, she should move to New York with him. She said yes at first, but with just a feeling and some encouragement from Alan's cool mom (Jane Kaczmarek), she said no to New York and went in search of Jack. She found him doing dishes at somebody else's house, and she was pretty much done for. We obviously know at least some of the rest of the story. 
Finally, Kevin is officially on the hunt for information about his dad's time in Vietnam. After his movie premiere went super well, NPR's Terry Gross did some prying about his dad's time in the war, but Kevin knew absolutely nothing, other than what sounded like Jack's lie that he was "a mechanic." Now he's getting in contact with some of the men from letters Jack had kept, and we're probably about to learn some truly devastating things. We're never going to be ready, but bring it on anyway. 
This Is Us airs Tuesdays at 9 p.m. on NBC. 
E! and NBC are both part of the NBC Universal family.