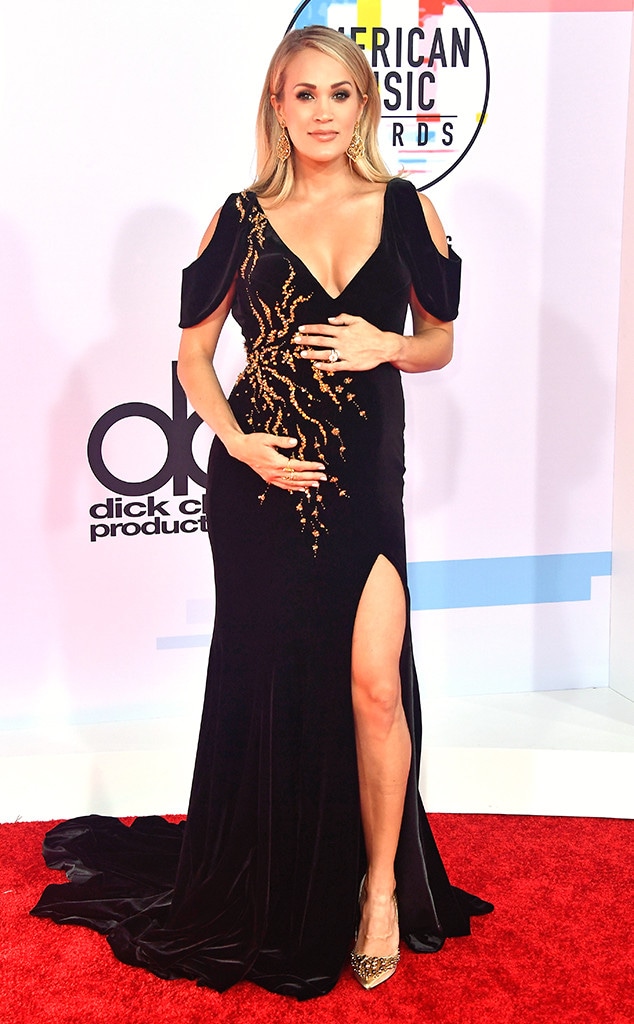 Frazer Harrison/Getty Images
Carrie Underwood's plus one to the 2018 American Music Awards is her bun in the oven!
The country singer arrived to the award show wearing a figure hugging black and gold dress, which she paired with pointed toe heels. She struck an elegant pose with her hands cradling her growing baby bump. 
Underwood is nominated for Best Country Female Artist and will be performing for the crowd at the Microsoft Theater in Downtown Los Angeles, Calif..
Recently, Carrie showed off the scar from her traumatic fall that resulted in her receiving more than 40 stitches. In the months following, the star underwent surgery to repair the resulting damage to her arm. She later spoke out about the incident, which occurred at her home, calling it a "freak accident."
Understandably, she took a break from sharing selfies and other photos of her face for some time, but found the courage to go back into the public when she performed at the 2018 ACM Awards in April.
Even though some people presumed she had plastic surgery, Carrie says it was quite the opposite. "I wish I'd gotten some awesome plastic surgery to make this [scar] look better," she previously told Redbook. "But I try not to worry too much about it. My mom will be like, 'Did you see they are saying this about you?' And I'll be like, 'Mama, I don't care. I'm just trying to raise my son and live my life.'"
Since then, the star has been fearlessly performing and announced she is expecting her second child with husband Mike Fisher. 
Fans can see her onstage when she goes on tour next year.