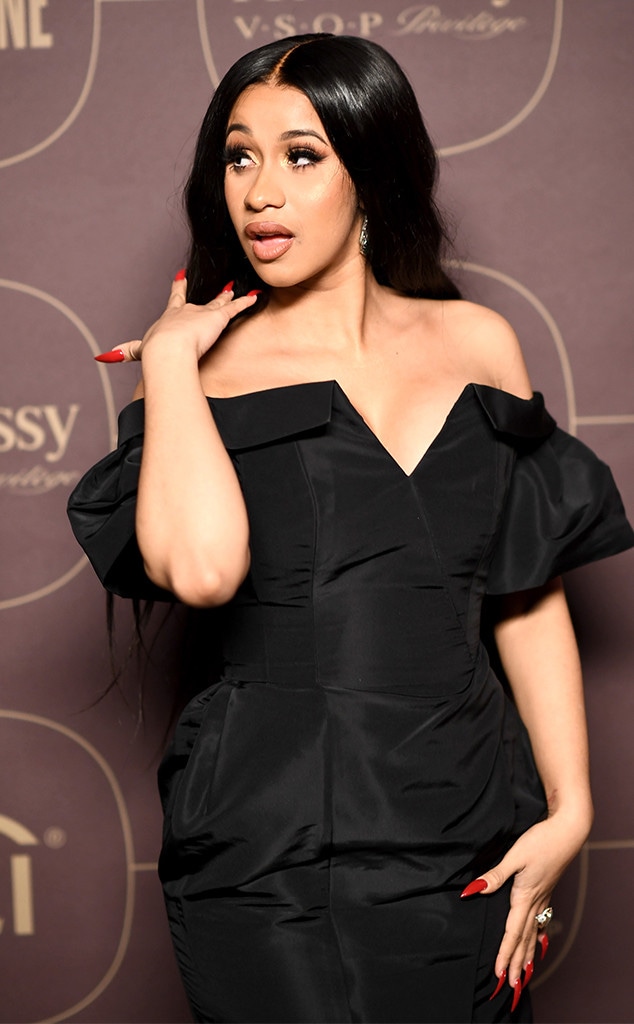 Dimitrios Kambouris/Getty Images
"You can't "f--k with [her], if you wanted to."
That line of "Bodak Yellow" was the first introduction to Cardi B for millions as she launched to #1 on the Billboard Hot 100 chart and into everyone's Spotify playlist. But the line isn't just a catchy lyric. It's a challenge to the many who have crossed Cardi's path during her meteoric rise to fame. The timeline of Cardi B's feuds includes reality stars, fellow rappers, and even lovers as she rings in her 26th birthday.
Before she went certified platinum, in 2015 Cardi B was cast on the sixth season of VH1's Love & Hip Hop: New York. An instant breakout personality, the show chronicled Cardi B as one of the rappers trying to make it in the industry and frequently followed a story line of her trying to convince DJ Self, who she had a romantic past with, that he should feature her music on his station. DJ Self chose to play games with Cardi instead of her songs, resulting in a physical altercation between her and a woman he brought to a party that he very well knew Cardi was invited to. When DJ Self brought it up to Cardi later, she ominously gave a response that launched a thousand GIFs, saying, "If a girl have beef with me, she gon' have beef with me foreva."
And that has stayed (mostly) true. On the after show of Love & Hip Hop: New York, host Nina Parker asked cast member Asia a question about her relationship with fellow costar and ex Swift. Before Asia could respond, Cardi sent a heel flying in Asia's direction—a signature move we all now know too well. Cardi then demanded that Asia admit she had an issue with her saying, "You judged me because I was a stripper. Say the truth." This dust in this case seems to have settled, with Cardi tweeting about the incident stating, "I'm not a bully. If I don't like somebody imma go ham like everybody would but I been apologized to Asia THOO." Still, Cardi made it clear to anyone watching that she's not one to shy away from a fight.
Deciding the Love & Hip Hop franchise was getting in the way of focusing on her music, Cardi left after just two seasons to make her own money moves. And just a few months later, it paid off when she skyrocketed to fame with "Bodak Yellow". But with great power comes the great responsibility of fighting off new haters, especially those speculating on her romantic life, notably with Offset.
Thaddaeus McAdams/Getty Images
If all's fair in love and war, then all bets are off when you are at war with the one you love. Before Cardi B and Offset welcomed daughter Kulture to the world, there were some bumps in the road regarding his fidelity that Cardi didn't back down from addressing. In October of 2017, the two got publicly engaged in Philadelphia at Power 99's Powerhouse. It seemed to be going swimmingly until a December iCloud hack allegedly caught Offset with another woman. Taking a page from Beyoncé's Lemonade, Cardi released "Be Careful" in March responding to the cheating allegations. In it, she warns her then-fiancé to be careful with her feelings or he may lose her. Some of the lyrics called out shady his behavior directly, such as, "Tell me where your mind is, drop a pin, what's the coordinates? / You might have a fortune, but you lose me, you still gon' be misfortunate".
Then in May, Cardi B found herself on the receiving end of harsh comments from Azealia Banks, who sounded off about the rising star on Power 105.1's The Breakfast Club. Banks called Cardi an "illiterate, untalented rat" and a "caricature of a black woman" before likening her to a "poor man's Nicki Minaj". Having a feud with Banks is a rite of passage for many artists, and Cardi responded on Instagram that, "I never asked to be a example or a role model I don't want to change my ways because I'm famous that's why I just mind my business. This is coming from a woman that bleached her skin but want to advocate. GOODBYE. I'm not apologizing or kill myself because of who I am." Cardi dropped the mic by temporarily deleting her Instagram and protecting her tweets, ending the fight by going dark before Banks could keep it going.
Kevin Mazur/MG18/Getty Images for The Met Museum/Vogue
Still, Banks' mention of a certain someone in that rant was no accident, which leads us into the most notable feud in Cardi's timeline: Nicki Minaj. The long-running and increasing tense showdown has overshadowed all drama that came before it and could serve as the second installment in Ryan Murphy's Feud series (Joan Crawford and Bette Davis who?). Culminating in a shoe throw heard around the world, let's back up to how this all began.
Initially, the two female rappers didn't have beef with one another. However, facts don't stop stans from doing what they do best, which is reading into lyrics. Claims of a rivalry began to heat up in 2017 when Nicki Minaj joined Katy Perry's track "Swish Swish". While the song overall is about Perry's feud with Swift, Cardi fans noted there seemed to be a diss from Minaj when she rapped, "My life is a movie, I'm never off set / Me and my amigos (no, not Offset)." Name-dropping Offset, Cardi's then-boyfriend, could have been because his hip-hop trio Migos was featured on "Bon Appétit", another song on Perry's album Witness. Either way, it provided enough for speculation that there were issues between the two, which only grew after Cardi joined Minaj's public enemy Remy Ma at the Hot 97 Summer Jam festival.
The two were asked if their lyrics were subtle shots at the other and the answer was a resounding no. They each denied any shade publicly, with Minaj shutting down accusations that lyrics from London on da Track's song "No Flags" had anything to do with Cardi. "It sure ain't. Wrote this one a cpl months ago too," the "Chun-Li" artist tweeted.
Cardi B similarly said there was no hidden jab at Minaj in her "No Limits" verse with G-Eazy. "We just conversated man. And that's it. People don't understand that I got beef with 10 bitches in the hood, and I still be in the hood," she told Power 105.1's The Breakfast Club in September.
And the truce lasted—if only for a little while. The two collaborated on the Migos track "MotorSport", finally uniting the two tour de force talents. But very quickly, the goodwill built on the song deteriorated. First, fans immediately noticed that the two didn't film the music video at the same time, stoking rumors that they couldn't be on set together due to drama. Later, Cardi B went on the record to Capital Xtra's The Norte Show that Nicki Minaj's verse on the song hadn't been recorded yet when she listened to it.  While she praised Minaj in the same breath saying, "I just felt it was a perfect opportunity for me to be on a track that's big like them", the comments rubbed Minaj the wrong way.
Dimitrios Kambouris/Getty Images for Harper's Bazaar
Speaking to Zane Lowe on Beats 1, Minaj explained, "I really fully supported her and up until this recent interview that she did, I had never seen her show me genuine love in an interview. And I can just imagine how many girls wish they could've been on a song with Nicki Minaj. I'm not saying it in a cocky way."
So, the lines were drawn. And while the Met Gala came and went without incident, New York Fashion Week was a different story. At the Harpers Bazaar ICONS bash, Cardi was on a mission to find Nicki Minaj after interpreting some of her Twitter favorites as a slight against Cardi's parenting skills. After finding her on a balcony, bystanders captured video of the "I Like It" star yelling, "Bitch, come here," and promising, "I will f—k you up!" in another. Somehow, in all the chaos, Cardi freed a shoe and sent it rocketing toward Minaj.
Since that incident, things have only heated up between the two. Hours after leaving the ICONS party, Cardi took to Instagram with a Notes app screenshot (the preferred platform for celebrities when captions don't suffice) with her statement. "I've let a lot of s--t slide! I let you sneak diss me, I let you lie on me, I let you attempt to stop my bags, f--k up the way I eat! You've threatened other artists in the industry, told them if they work with me you'll stop f--kin with them!! I let you talk big s--t about me!!"
Watch:
Cardi B's Attorney Speaks Out After Her NYC Police Booking
Minaj, who stated she was "mortified" by the incident, has since latched onto the #NickiStoppedMyBag hashtag that started trending after Cardi's post. Proof that the drama is far from over, Minaj just released jackets, T-shirts, and backpacks (but no heels) on her online store sporting the phrase "Nicki Stopped My Bag".
Minaj even chimed in on recent relational drama that reignited between Cardi and Offset. While things seemed to have been all good between the couple, on October 1st Cardi turned herself in to the NYPD after allegedly ordering an attack on two bartenders that, per TMZ, transpired as she believed one of them had slept with her husband. Minaj took to a Queen Radio episode saying, "You getting girls beat up because of what your man doing? Real bitches never do that—you never attack the woman...you take that up with your f--king man."
Between the recent comments and merchandise, it's clear that the feud between the two artists is far from over. Will it, as Cardi has said before, last "foreva"? Only time will tell. Either way, Cardi continues to smash records and take (many) names. Hopefully, with fewer shoes thrown on the way.