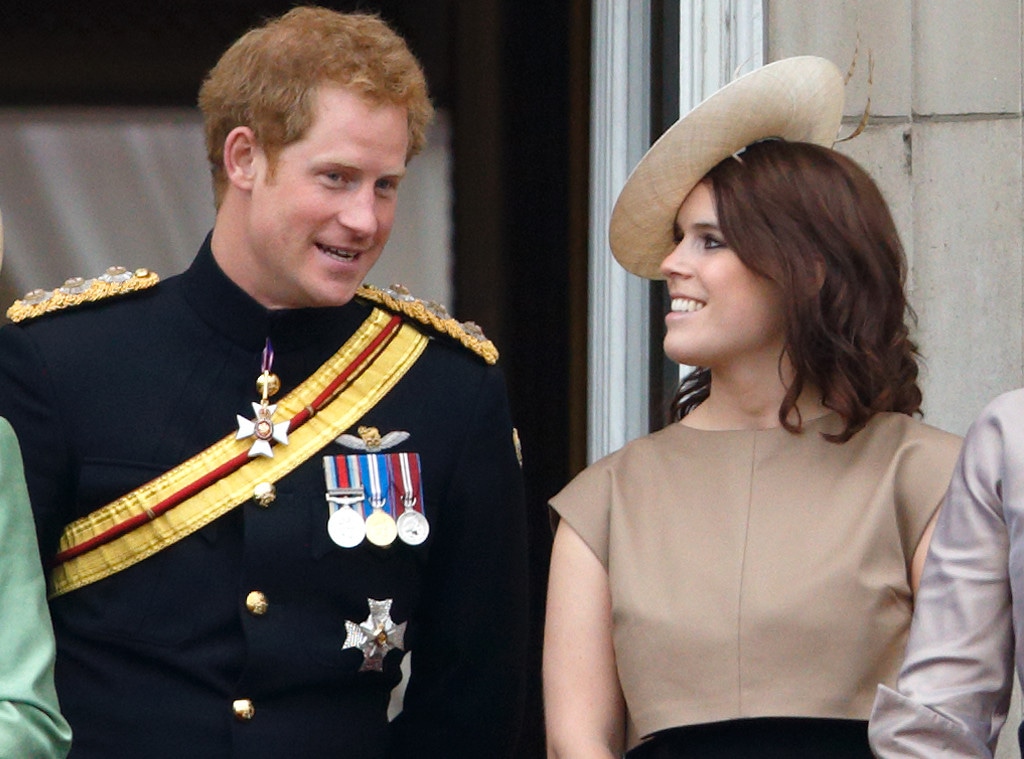 Max Mumby/Indigo/Getty Images
While Kate Middleton's wedding gown by Sarah Burton will go down in history as one of the all-time iconic dresses, the royal bride was very close to being upstaged on her big day by a couple of hats.
The elaborate Philip Treacy fascinators sported by Prince William's first cousins Princess Beatrice and Princess Eugenie instantly went just as viral as Pippa Middleton's bum or anything else that occurred on April 29, 2011, the audacity of headpieces turning into one of the event's prevailing themes.
Suffice it to say, the hats the sisters wore to Prince Harry and Meghan Markle's wedding on May 19 did not achieve liftoff. 
"There was a horrible article that had been written about Beatrice and she got really upset," Eugenie recalled the hullabaloo after Will and Kate's wedding in the September 2018 issue of British Vogue. "We were just about to step out and she had a bit of a wobble and cried. I was looking after her. And then about an hour later, I had a wobble and started crying and Bea was there for me."
But at least the ladies shut the party down later that night. 
After dancing the night away at Buckingham Palace in a "room" (more like a banquet hall, really) done up to look like a nightclub, Beatrice and Eugenie joined Harry, his sometimes-girlfriend Chelsy Davy, Pippa and brother James Middleton and other energetic revelers at the after-party at the nearby Goring Hotel, which is rumored to be connected to the palace via secret tunnel. Beatrice was spotted leaving in sneakers, having ditched her heels at some point.
CHRIS JACKSON/AFP/Getty Images
Eugenie and Beatrice were also VIPs at Harry and Meghan's wedding, where the Casamigos Tequila—Eugenie's fiancé, Jack Brooksbank, is the beverage's U.K. Brand Ambassador—flowed like wine and Casamigos co-founder George Clooney passed around shots himself.
Much fun is expected to be had once again when the cousins reunite for Eugenie's wedding on Friday—a daytime affair at St. George's Chapel in Windsor, to be followed by a luncheon reception hosted by the queen and a more boisterous party afterward at Royal Lodge, where the bride's long-divorced parents, Prince Andrew and Sarah Ferguson, Duchess of York, have been happily cohabiting in recent years.
Beatrice, Eugenie, William and Harry—along with their other first cousins, Princess Anne's grown offspring Mark Phillips and Zara Tindall and Prince Edward's kids, 14-year-old Lady Louise Windsor and 10-year-old James, Viscount Severn—all share a very particular bond as the grandchildren of Queen Elizabeth II and Prince Philip.
They are, simply, the next generation, the young royals upon whose shoulders the future of the monarchy's relatability, likability and sustainability rests.
Peter Nicholls/WPA Pool/Getty Images
Though the weight is far from distributed equally among them, the burden of expectations falling largely on William's shoulders as second in line to the throne, all of the cousins were born into a certain contract with the monarchy—in that they're supposed to refrain from dishonoring it as much as is humanly possibly.
"It's hard to navigate situations like these because there is no precedent, there is no protocol," Beatrice told British Vogue. "We are the first: We are young women trying to build careers and have personal lives, and we're also princesses and doing all of this in the public eye."
So who better to bond with than the people who just get it? Just as their parents did before them (to varying degrees of success), these royals stick together.
After announcing their engagement in January, Eugenie and Brooksbank, a nightclub manager whom she met on a ski holiday in Verbier, Switzerland—a favorite snowy destination for the young royals—became William and Harry's neighbors in Kensington Palace. The betrothed couple moved into three-room (not including the kitchen and bathroom) Ivy Cottage, which they share with Eugenie's Norfolk terrier, also named Jack.
Harry and Meghan, meanwhile, live in the two-room Nottingham Cottage, but are expected to move into roomier quarters at some point (though publicly the word is that they're staying put for now). Will and Kate live in "Apartment" 1A, a 20-room, 4-story residence that underwent a £1 million renovation before they moved in full-time when Prince George was a baby.
But the young royals are hardly rattling around alone in the 425-year-old estate—in addition to housing about 40 staffers that attend to the rooms and grounds overall, Kensington Palace is also home to the queen's cousins Prince Richard, Prince Edward (Duke of Kent, not to be confused with the queen's son, the Earl of Wessex) and Prince Michael, and their wives.
Meanwhile, before he met Meghan and began the process of settling down, Harry and Eugenie, a favorite confidante and drinking companion (she's a vodka soda "with loads of lime" kind of girl), made for a frequent sighting at some of London's trendiest hangouts, including the Goring Hotel, The Arts Club, Soho Farmhouse and Bunga Bunga, a pizzeria owned by the cousins' mutual friend Charlie Gilkes. Beatrice also enjoys her nightlife, and any combination of the three fun-loving royals could have been spotted at any given time.
And coupling up didn't put a damper on the fun. Harry and Meghan have double-dated with Eugenie and Jack, who also loves to try new restaurants—and even the old marrieds, William and Kate, would venture out for an evening with the cousins at the exclusive lounge Loulou's once in awhile. 
"The best thing about the royal family is that they're so lovely, they'll spot the people who are looking a little bit nervous and go straight over and take all that tension straight out the room," Zara's husband, Mike Tindall, told Good Morning Britain earlier this year. "That's what they're amazing at, and then suddenly you're in the family and they welcome you with open arms."
Tim Rooke/REX/Shutterstock
And because the royal family's social circle can apparently only expand so much, Eugenie is also a longtime close friend of Harry's ex-girlfriend Cressida Bonas (Eugenie introduced them, in fact, and she and Jack used to double-date with them too), meaning we're likely in for another big reunion at the wedding tomorrow. (Harry's ex Chelsy Davy attended his and Meghan's church ceremony, with 800 other people. She was not at the evening reception, but it was an impressive display of mature civility all the same.)
But now, Eugenie is said to think that Meghan is the ideal woman for Harry, and as one of the first members of the royal family to meet the former Suits star, she apparently welcomed her into the fold with open arms.
In fact, Eugenie and Jack were spotted with Harry and Meghan at a Halloween party at Soho House Toronto in 2016, before Harry had publicly confirmed he had a girlfriend.
"They have all become great friends," a source told the Sunday Express that November. "Eugenie loves Meghan to bits and believes she is perfect for Harry. They are thick as thieves and may even all go on holiday together soon. Eugenie has lots of friends who could let them stay and be discreet, away from prying eyes." 
Also notably, Harry has remained close over the years with Eugenie and Beatrice's mother, the Duchess of York, who overall had a rocky relationship with Princess Diana but, when they were close, they were dear friends. Their relationship first fizzled around 1990, but after Andrew and Sarah and Prince Charles and Diana announced their respective separations in 1992—which the queen later agreed with a cheeky assessment was her "annus horribilis"—they reconnected as royal outcasts. 
Sarah would bring her daughters to tea with Diana and her boys at Kensington Palace, and after both divorces were finalized in 1996, the officially single moms took their kids on vacation to the South of France. They were not speaking, however, when Diana died in 1997.
"Diana was one of the quickest wits I knew; nobody made me laugh like she did," Ferguson recalled in her 2011 book Finding Sarah. "We took vacations together with our children. Sadly, at the end, we hadn't spoken for a year, although I never knew the reason, except that once Diana got something in her head it stuck there for a while."
Sarah declined an invitation to a 10th anniversary memorial service for Diana in 2007, however, perhaps because Andrew was scheduled to be in Malaysia at the time and she thought it awkward, as the ice had not yet thawed between her and the queen. However, she was one of 500 invitees who passed the "loyalty test" when it came to having honored Diana's memory since her death.
In 2008, Sarah was invited back to Balmoral for the first time since 1992, but though she had since edged back into the queen's good graces, an unfortunate scandal in 2010 resulted in the duchess popularly known as Fergie watching William and Kate's wedding on TV like 24 million other people. Nor was she at Zara and Mike Tindall's wedding a few months later, while her daughters and ex-husband were at both. 
So it was big news when the  showed up at Harry and Meghan's wedding in May.
Sarah and Andrew appear to be practically as close as ever, but Elizabeth and Philip—and Charles, who hosted the nighttime reception—still reportedly didn't want the the duchess there.
Harry insisted, however.
Kirsty Wigglesworth/AP/REX/Shutterstock
"He absolutely, 100 percent wants her there and has told palace officials that in no uncertain terms," a source told the Daily Mail in February when the guest list was being assembled. At least it was a successful trial run for Philip, who's said to have vowed never to be in the same room with the Duchess of York again, but managed to tolerate the proximity during Harry's nuptials. (The Telegraph just reported, meanwhile, that the 97-year-old Duke of Edinburgh won't decide till Friday morning whether he's going or not, as he's now operating on a wake-up-and-see-how-he-feels schedule.)
The Duchess of York, who is very close to both of her daughters, has reportedly been closely involved with the wedding planning—and there's already speculation about how she might incorporate Diana's memory at the ceremony. One guess is that they'll play late princess' favorite hymns, which "would undoubtedly please William and Harry," a source told the Daily Express.
Appearing on BBC's The One Show in August, Sarah Ferguson said, "Jack and Eugenie are very contemporary, they are very inclusive, and they are all about love, and they want this wedding to be about that—to include everybody and to really absorb the love they have for each other with everybody else."