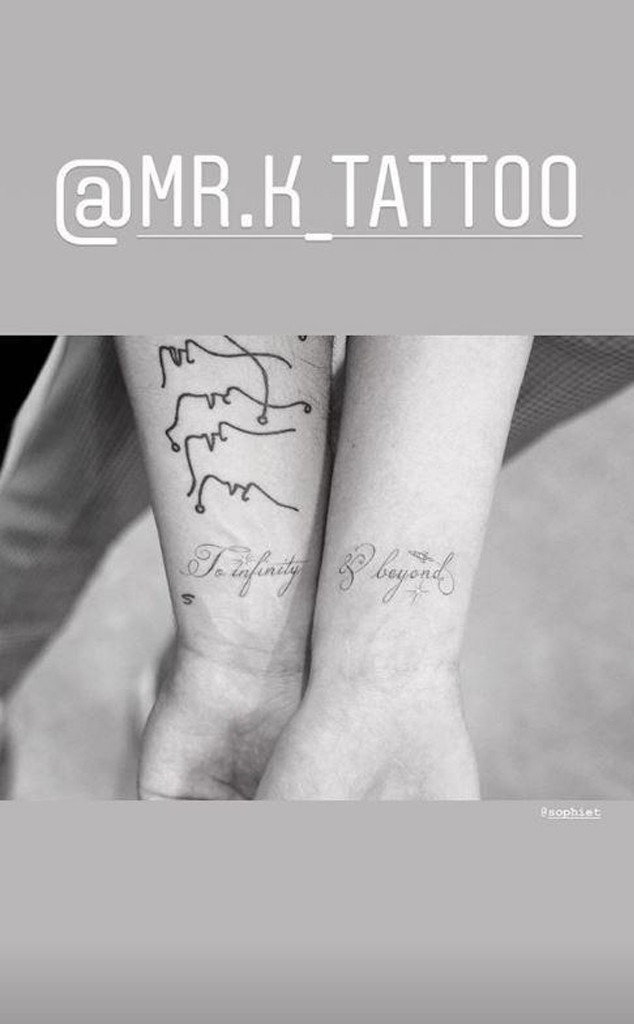 Instagram
This love story just got a bit more magical.
As Joe Jonas and Sophie Turner continue to celebrate their engagement, the Hollywood couple decided to mark their love story with brand-new matching tattoos.
As documented on Mr. K's Instagram page, the pair chose to tattoo the Toy Story quote "To Infinity And Beyond" across their wrists over the weekend.
"@joejonas @sophiet #toinfinityandbeyond," the tattoo artist shared on Instagram from Bang Bang Tattoos in New York City. "#joejonas #sophieturner #mrktattoo."
Joe would also share a similar picture on his Instagram Stories over the weekend while giving credit to the man who made it all possible.
Watch:
Will Sophie Turner Watch "GoT" With Boyfriend Joe Jonas?
As the couple keeps any and all wedding plans on the down-low, there's no denying the love and affection Joe and Sophie have for each other.
In addition to traveling the world including stops in Miami, the U.S. Open and Paris, the pair can't help but gush about each other in select interviews.
"I'm still like, Holy s--t! I'm engaged," Sophie previously told Marie Claire. "It's lovely to be engaged. Not like I achieved anything, but I found my person, like I'd find a house that I love and want to stay in forever. There's a sense of peace that comes with finding your person."
Back in October of 2017, the couple surprised fans when they announced their engagement on social media. "I said yes," Sophie shared on Instagram while showcasing the ring. 
They would later celebrate their new relationship status with family and close friends at Mamo in New York City.
"Beautiful night celebrating beautiful people. #JOPHIE," Nick Jonas wrote on Instagram.