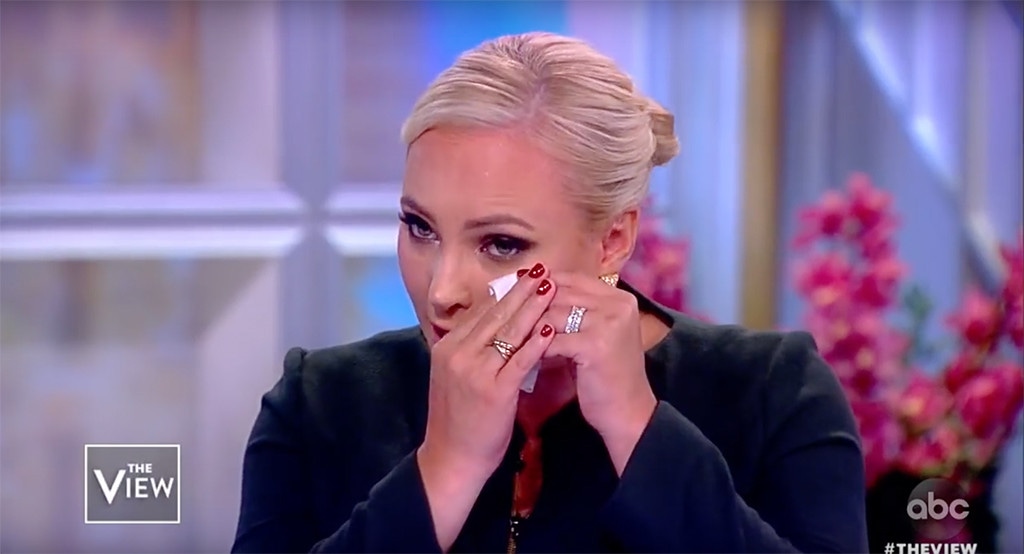 YouTube
It's been about a month since Meghan McCain took a break from The View following John McCain's death. On Monday, the TV star made a tearful return to the morning show and opened up about her father's passing. 
Meghan's eyes filled with tears as she received a warm welcome from the audience. She then told her co-hosts she missed them "so much" and thanked the show, the network and her fans for their support. She recalled riding in a motorcade behind her father's hearse and the moment that touched her heart.
"From the very moment I left, there were people in the country—all races, all ages, all creeds—out there with American flags waving, saluting, praying—everyone," she said. "He would have loved it."
While she admitted she "cried the entire way," she appreciated how "everyone came out and celebrated him with love."
"It made me so inspired that the ideals that my father espoused through his career are the ideals of America," she continued. "And I think there was a lot of talk about what died with him, and I'm here to tell you it didn't….And I need us to remember that. He believed in America and exceptionalism. He believed America is the greatest country in the history of the world. He believed that when your candidate's opponent says something racist in a rally, you push back. That is John McCain and that is what America is."
Meghan then took a moment to address her co-hosts individually. Starting with Whoopi Goldberg, she said her father "loved you" and broke down in tears recalling all the times she cried on Goldberg's shoulder. She also joked with Abby Huntsman about how she got "wasted" after her dad's diagnosis.
"She was heavily pregnant, and she watched me down Jack Daniels after Jack Daniels after Jack Daniels," she quipped. "I threw up, and her sister held my hair back."
She also described Yvette Nicole Brown as a "true friend" and said the co-host prayed with her backstage. Finally, Meghan spoke about Sunny Hostin and how "when somebody dies, you need Sunny around."
"None of us agree at this table on very much when it comes to politics in the world," Meghan added, "but we are all sisters here and support each other. But this is what America should be."
Afterwards, she invited the audience to be strong with her during this divided time.
"My father in his final farewell address, he said, 'We're Americans, and we can never surrender,'" she said. "That's how I feel. We can't surrender to what is happening in the country right now. I understand how divided and how scared a lot of people are, and it looks like the fabric of democracy is fraying. We do not surrender. I'm not surrendering; you don't do it, either. So you have to join me in not surrendering, OK? Because I'm still here fighting, and I want all of you to fight with me."
The U.S. senator died on Aug. 25, 2018. Meghan gave a heartfelt eulogy at his funeral, which her co-stars praised. 
Remembering her father, Meghan said she appreciated how he raised her to be strong.
"I will say that we're living in a time, some fathers raise their daughters to be seen and not heard. They raise their daughters not to speak out," she said. "Raise strong women. Really, it is the only thing that is keeping me right now is how tough he made me and he did that and I love him."
Watch the video to see her emotional return.