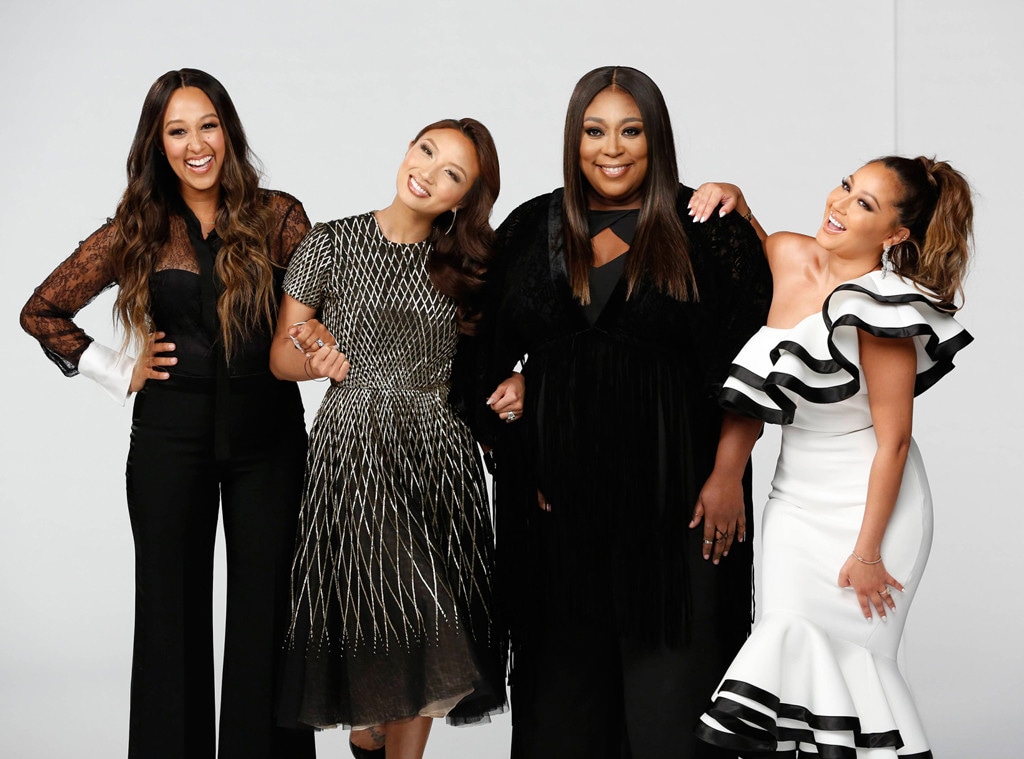 Warner Bros.
Nothing is off the table for the ladies of The Real!
The co-hosts are never afraid to be honest when discussing relationships, parenting and their personal lives, which make them totally relatable to their viewers.
The ladies' confessions are one of the main reasons that the show scored a finalist spot in the Daytime Talk Show of 2018 category at this year's People's Choice Awards.
Adrienne Houghton, Loni Love, Jeannie Mai and Tamera Mowry-Housley get real as a part of their popular "Girl Talk" segment and we are taking notes.
The co-hosts continually discuss hot-button issues, personal stories and anything related to celebrity news during this segment making The Real can't miss television!
Check out the clips below to see some of most intimate and relatable confessions from the ladies of The Real and be sure to vote for your favorite Daytime Talk Show of 2018 before the Friday, Oct. 19 PCAs voting deadline.
On Starting A Family
Houghton gets real about the difficulties of starting a family during this episode of the talk show. The Cheetah Girls star revealed that at the age of 34 getting pregnant hasn't happened for her as quickly or easily has she would've liked. The television personality shared how difficult is to have people prying into the most personal parts of her life and can sympathize will all women who are going through fertility struggles.
On the #WhyIDidntReport Movement
During this "Girl Chat" segment, Mai opened up about her sexual assault experience as a child and revealed why she struggled to come forward to her friends and family at the time. The 39-year-old stylist reminded viewers that no matter how long it takes for a person to come forward, it should not invalidate the experience of the victim. The co-hosts all agreed that there is always time to share your story no matter how long it takes.
On Shopping Therapy
There is no debate for Mai, she believes retail therapy is an important step in getting over a break up and starting a new chapter in your life. While chatting about shopping, Mowry-Housley also agreed with Mai and recalled a time that a pair of designer shoes helped her get over a break up. Love argued that spending money on experiences is the way to go following a tough time. In the end, Houghton might've had the most practical advice which was go to therapy instead of buying material things.
On Sex
It's time to get personal! The co-hosts revealed their favorite type of sex during this eye-opening chat, after a study showed that most people enjoy makeup sex the most. Mowry-Housley and Houghton agreed that they favor I miss you sex. The Sister, Sister star explained that she likes it because all her senses reconnect with husband, Adam Housley. On the other hand, Love feels that new sex is always best! Clearly, all topics are worthy of "Girl Talk" on this female-driven series.
On Losing Weight
Love talked about her desire to inspire women to have a healthy lifestyle no matter their size during this premiere week conversation. The 47-year-old comedian broke down the reasons why she chose to lose weight following season four of The Real. She talked about the small steps she made to make a change in her own life and how others can do the same. The co-hosts discussed the importance of having accountability for yourself and why you should take your time losing weight...without a fad diet trick.
On Manners
Mowry-Housley, a mother of two, discussed the importance of teaching manners to children from day one in the clip above. She explained that her children are all about saying yes, no, sir and ma'am. She then shared a personal story of the joy she felt when her son finally picked up on the manners she had been teaching him. The other ladies agreed that teaching manners fall on the shoulders of parents no matter what technology is available to reinforce the habits.
OK voters, the big show is just around the corner so make sure to get your ballots in before the Oct. 19 deadline and don't miss the People's Choice Awards airing live on E! on Sunday, Nov. 11.