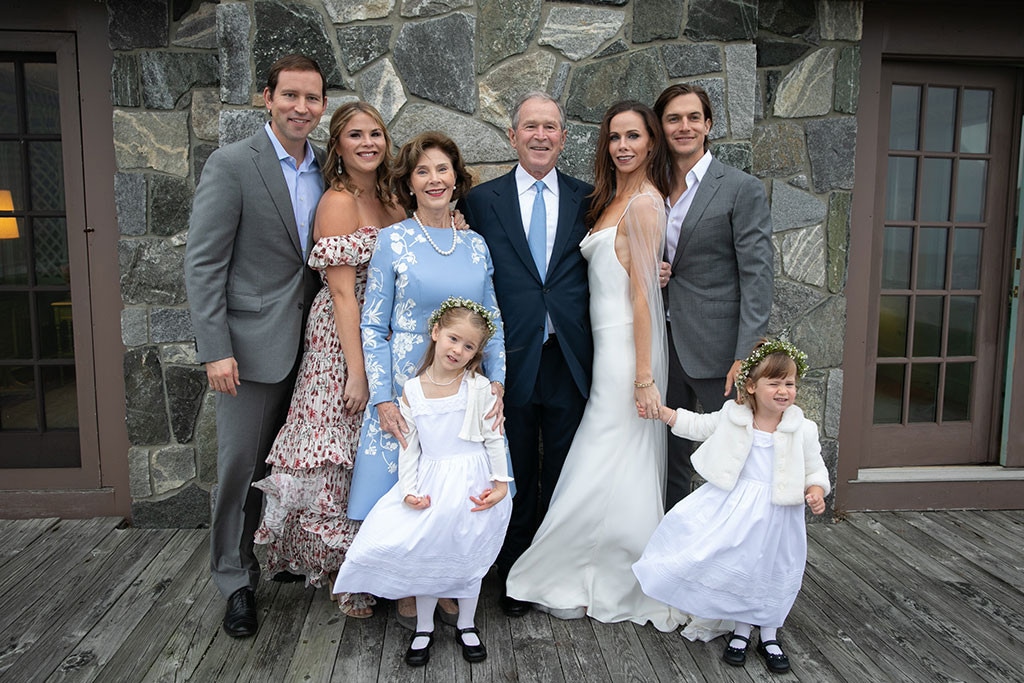 Paul Morse
Apparently, Vera Wang is the go-to designer for former First Daughters.
Barbara Bush wore a custom ivory silk gown when she married screenwriter Craig Coyne in Maine Sunday. She completed her look with a reminder of her namesake, who died at age 92 in April. "It's really sweet," the newlywed, who began dating Coyne late last year and tied the knot after a fast five-week engagement, told People. "The 'something borrowed' that I'm wearing is this bracelet that my grandfather gave to my grandmother on their 70th anniversary."
Bush followed fellow First Daughters Ivanka Trump and Chelsea Clinton, who also wore the designer when they wed Jared Kushner and Marc Mezvinsky in 2009 and 2010, respectively.
Vera Wang opened her eponymous design salon in 1990 and went on to open bridal boutiques around the world. In a New York profile, published in 2006, Wang insisted she's "so not a dress girl" and once viewed bridalwear as "a commodity" and "not fashion." But her designs went on to become an integral component of celebrity weddings, as she created custom looks for La La Anthony, Mariah Carey, Karenna Gore, Kim Kardashian, Jennifer Lopez, Jessica Simpson, Sharon Stone and Melania Trump. "I thought of myself not as a bridal designer but a fashion designer who happens to do white, ivory, nude. It's good because it's so off the radar. There are people out there who can't even cut on the bias," Wang said. "I do know how to make a dress."
Besides, Wang said, "Bridal pays the bills."
Here's a look at other celebrities who wore Vera Wang on their special day: