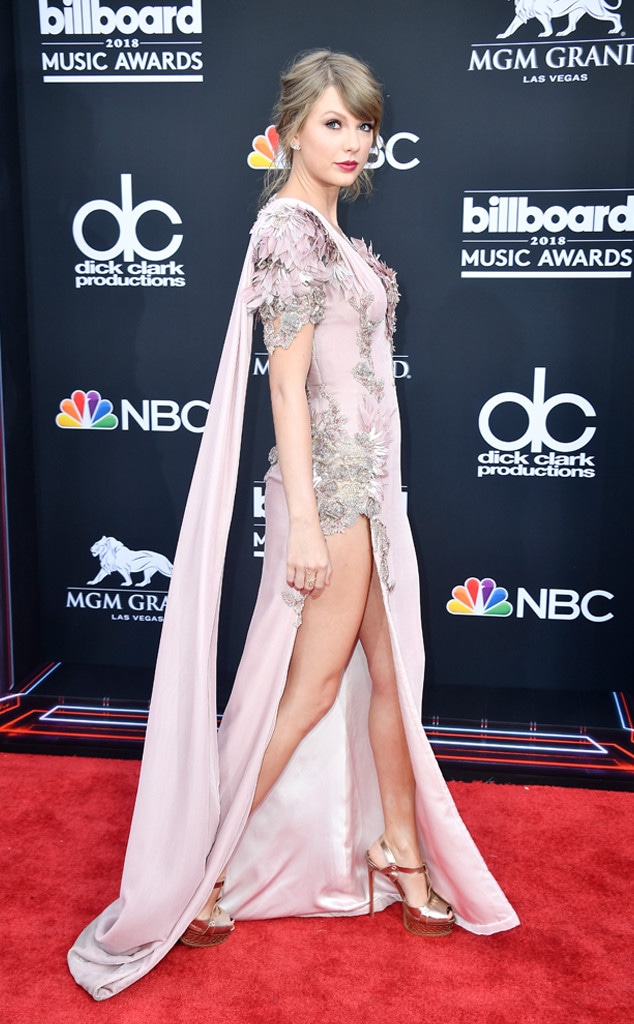 Frazer Harrison/Getty Images
Taylor Swift has broken her political silence.
The singer has been known to keep her party affiliations to herself, but she ended that trend in a long Instagram post on Sunday. In her upload, Swift reveals who she is voting for in the midterm elections on Nov. 6 and why. She will be voting in Tennessee, she explained. "I'm writing this post about the upcoming midterm elections on November 6th," she wrote.
She wrote that the last two years have had a great deal of impact on her and played a role in her decision to speak out. On Aug. 14, 2017, Swift won her case against David Mueller in which she accused him of groping her. The singer received a symbolic $1. The "Delicate" singer alluded to that trial in her Instagram statement. She wrote, "In the past I've been reluctant to publicly voice my political opinions, but due to several events in my life and in the world in the past two years, I feel very differently about that now."
In August, Swift brought up the trial during a concert in Tampa. She told the audience that the day of the performance was significant for her. "This exact day a year ago, I was not playing a sold-out stadium in Tampa," she explained to her fans. "I was in a courtroom in Denver, Colorado and, um, honestly I was there for a sexual assault case, and this day a year ago was the day that the jury decided in my favor and said that they believed me."
She added, "And I just wanted to say I'm sorry to anyone who ever wasn't believed because I don't know what turn my like would have taken if people didn't believe me when I said that something had happened to me. So, I guess I just wanted to say that we have so, so, so much further to go, and I'm so grateful to you guys for being there for me during what was a really, really horrible part of my life."
Back in her Instagram, Swift described what she looks for in an ideal political candidate. "I always have and always will cast my vote based on which candidate will protect and fight for the human rights I believe we all deserve in this country," she penned.
The "Look What You Made Me Do" artist blatantly acknowledged her core tenets in what she believes is right and wrong. She noted, "I believe in the fight for LGBTQ rights, and that any form of discrimination based on sexual orientation or gender is WRONG. I believe that the systemic racism we still see in this country towards people of color is terrifying, sickening and prevalent."
Additionally, Swift endorsed Senate candidate Phil Bredesen and Congressional candidate Jim Cooper. She will not be voting for Marsha Blackburn, despite her desire to "continue voting for women in office." Swift used very assertive language in her reasoning for voting against Blackburn. "Her voting record in Congress appalls and terrifies me. She voted against equal pay for women. She voted against the Reauthorization of the Violence Against Women Act, which attempts to protect women from domestic violence, stalking, and date rape. She believes businesses have a right to refuse service to gay couples. She also believes they should not have the right to marry. These are not MY Tennessee values," she wrote.
The singer then encouraged everyone to register to vote. She said, "So many intelligent, thoughtful, self-possessed people have turned 18 in the past two years and now have the right and privilege to make their vote count. But first you need to register."
Read her full statement above.